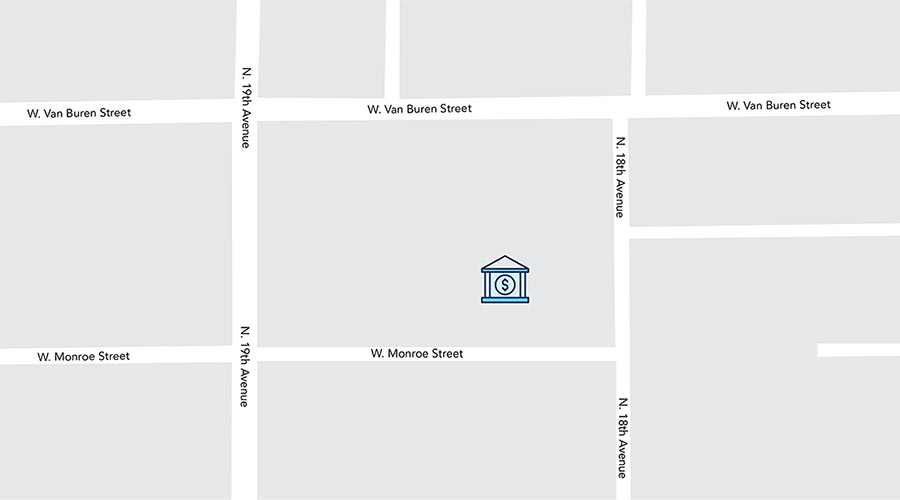 Public art adds enormous value to the culture, aesthetic and economic vitality of a community, and fosters local pride and a sense of belonging. OneAZ wanted to do our part in beautifying downtown Phoenix, which is why we engaged with local artist Laura-Spalding Best to commission two murals at our Monroe Street branch.
The murals are the final step in the renovation of our original branch, which opened in 1962 to serve Arizona state employees working in the capitol complex. Now, as we enter our 70th year of operation, we serve over 145,000 Arizonans across the state. What better way to honor our legacy than with two Arizona-focused murals?
The murals are on our east and west exterior walls. On the west side you'll see outlines of Arizona with urban and rural landscapes. The east side mural features sunset imagery with the state capitol building in the center, paying homage to OneAZ's origins as a state employee's credit union.
"Most of the inspiration comes from the location, because this branch has been here for so long and it's near the capitol," says Spalding Best. "One of the things I wanted to convey was the history of the building, and all of the different facets."
Next time you're in the area, be sure to stop by the Monroe branch, take a picture, and tag @OneAZcu Instagram or Twitter, or OneAZ Credit Union on Facebook! Then be sure to step inside the branch so our team can help you reach your financial goals. To see more images of the mural or request an appointment at the Monroe branch, click here.