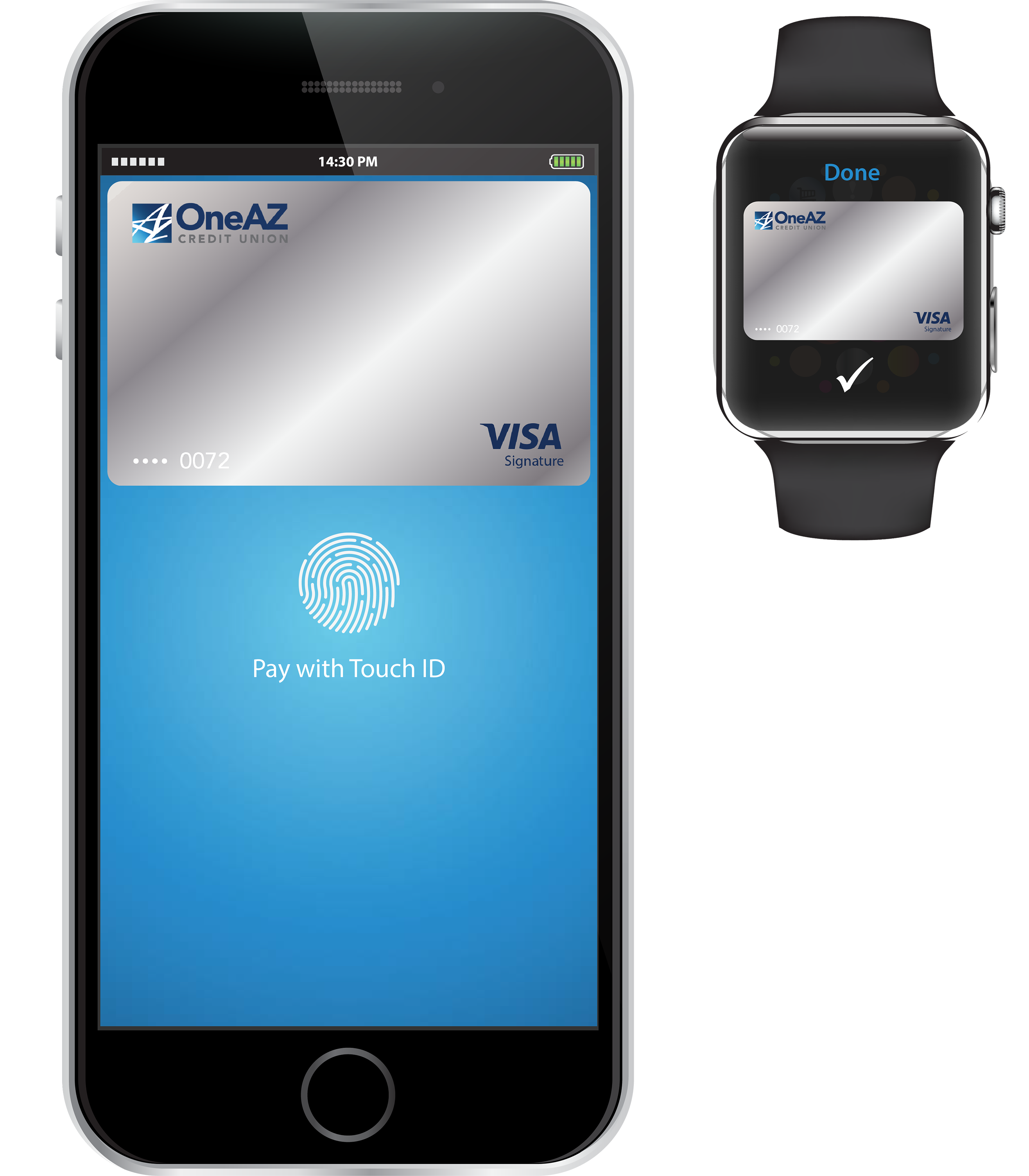 Apple Pay is here.
Pay on the go. Make purchases with your iPhone and Apple Watch at participating merchants.
Easy
Add your OneAZ Visa® credit or debit card in just four steps and start paying on the go! To use, hold your iPhone* to the merchant's contactless reader and within seconds, your transaction is complete.

Convenient
Shop at multiple stores and pay with your iPhone – it's the one thing you won't leave your home without!


Safe
Your OneAZ debit and credit card numbers are never transmitted during the transaction so your accounts are protected. If you lose your iPhone, you can lock or erase your device by using Apple's Find My iPhone feature.

How to enroll:
Go to Wallet and tap Add Credit Card or Debit Card
Follow the steps to add a new card. To add the card that you use for iTunes, just enter its security code.
Tap Next. The Credit Union will verify your information and confirm your Apple Pay eligibility. If we need more information to verify your card, we will ask you for it. After you submit the information, go back to Settings > Wallet & Apple Pay and tap your card.
After your card is verified, tap Next. You can start using Apple Pay immediately.
Note: If your iTunes account information on file does not match information on file for your credit or debit card, you may be prompted to call 855.553.4291 for further verification as a final step before enrollment. 
iPhone
In stores, within apps, and on the web in Safari
iPhone 7
iPhone 7 Plus
iPhone 6s
iPhone 6s Plus
iPhone 6
iPhone 6 Plus
iPhone SE
iPad
Within apps and on the web in Safari
iPad Pro 12.9 inch
iPad Pro 9.7 inch
iPad Air 2
iPad mini 4
iPad mini 3
Apple Watch
In stores and within apps, paired with iPhone 5 and later
Apple Watch
Series 2
Apple Watch
Series 1
Apple Watch
(1st generation)
Mac
On the web in Safari with an Apple Pay-enabled iPhone or Apple Watch
Models introduced in 2012 or later
Apple®, the Apple logo, iPhone® and iPad® are registered trademarks of Apple Inc. Apple PayTM and Touch IDTM are trademarks of Apple Inc.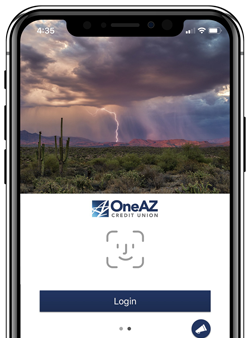 Banking in your pocket.
Mobile banking is available at your fingertips with our free myOneAZcu app.
Data rates apply.
Deposit checks
Schedule payments
Transfer funds
Compatible with