Watch your savings grow with some of the best Share Certificate of Deposit and Money Market rates in Arizona!1
Share Certificate of Deposit – 2.25% APY for 12 months
$2,000 minimum
2.23% dividend rate
Must open OneAZ checking account with direct deposit of $500 within 60 days to be eligible for promo rate
Savers Advantage Money Market – 2.00% APY for 12 Months
$25,000 minimum
1.98% dividend rate
Must open OneAZ checking account with direct deposit of $500 within 60 days to be eligible for promo rate
Star High Yield Money Market – 2.05% for 12 Months
$75,000 minimum
2.03% dividend rate
Must open OneAZ checking account with direct deposit of $500 within 60 days to be eligible for promo rate
2.25
For 12 Months
Share Certificate
2.00
For 12 Months
Savers Advantage
Money Market
2.05
For 12 Months
Star High Yield
Money Market
Why Choose OneAZ
It's about you, not your money.
You can customize your OneAZ experience by choosing from a full suite of business and personal financial services. We offer competitive pricing and loan rates to help you meet your financial goals, plus state-of-the-art online banking and a highly rated mobile banking app so you can manage your finances wherever you are.
We keep it local.
Arizona members have been trusting OneAZ Credit Union with their finances since 1951. As a not-for-profit, we reinvest our profits in our members and the community to strengthen the Arizona economy.
We're community-focused.
OneAZ Credit Union and OneAZ Community Foundation invest in the communities we serve. Together, we help students, nonprofits and disaster victims thrive financially, because we believe when our community succeeds, we all succeed.
Learn More
Have we mentioned our competitive rates?


Visit a Branch 
Open your account at one of our local branches today.
Call Us
Speak with one of our associates (Mon - Fri, 8 a.m. - 6 p.m.).
APY=Annual Percentage Yield. For membership eligibility, visit OneAZcu.com/membership.
Promotional Eligibility: Applicant must meet OneAZ Credit Union eligibility requirements. Requirements may be found at OneAZcu.com/membership. Applicant must establish membership with OneAZ. Offer ends September 30, 2019.

1 This Promotional APY offer is available only in branches. Minimum opening deposit of $75,000 required for Star High Yield Money Market. Minimum opening deposit of $25,000 required for Savers Advantage Money Market. Minimum opening deposit of $2,000 required for the Share Certificate.  
To receive the promotional APY rates, the following is required: 1) Open a NEW checking account 2) Have a monthly direct deposit totaling $500 or more made to this account within 60 days of account opening.  
To receive the promotional APY rates, the account must be opened with funds not currently held with OneAZ Credit Union. Promotional APY is not available on IRA CD, Business Money Market and Business CD.
This offer is not transferable.
2 For 2018 and newer vehicles that have never been titled. Auto loan APR may range from 3.49% to 18.00% based on credit qualifications, term of loan, and payment options. Loans through dealers do not qualify for promotional rate. 
3  Variable Rate Product. APR = Annual Percentage Rate. Rates and terms are based on your credit worthiness. The initial rate may range from 5.00% to 7.25% based on loan amount, CLTV and applicant's credit. The fully indexed corresponding APR may range from 5.00% to 7.25%. OneAZ may pay third party fees on your behalf, in which case these will be subject to recapture if loan is paid off or closed within 36 months. No $75.00 annual inactivity fee with balance and activity. Index (Prime Rate) is published in the Wall Street Journal as of the 15th of each month. Variable Rate Provision: To determine the APR we add a margin to the value of the index and round up to the nearest 0.25%. APR: Lifetime cap is 18.00%. Draw Period: 10 years. Repayment Period: Up to 15 years. Minimum Payment Requirements: You will be required to make payments during the draw period (10 years) and the repayment period (up to 15 years).
4 The HomeSmart program is made available to you through a relationship between OneAZ Credit Union and Home Rewards Group, Inc. Program Cash Rewards are awarded by Home Rewards Group, Inc. to buyers and sellers who select and use a real estate agent in the HomeSmart network. Home buyers or sellers are not eligible for Cash Rewards if they use an agent outside this network. Using OneAZ Credit Union for a mortgage is not a requirement to earn Cash Rewards. Cash Rewards amounts are dependent on the commissions paid to the agent. OneAZ Credit Union may have specific rules on how your Cash Rewards will be paid out. Cash Rewards incentives are available in most states; however, are void where prohibited by law or by the lender. Please contact the Credit Union to get details that may affect you.
5 See table below.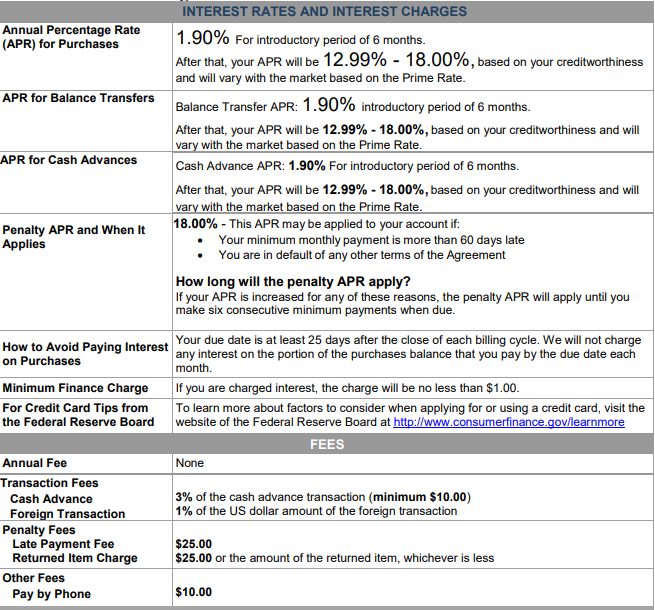 How We Will Calculate Your Balance: We use a method called "Average Daily Balance" (including new purchases).
Effective Date. The information about the costs of the card described in this disclosure is accurate as of August 15, 2019. This information may have changed after that date. To find out what may have changed, contact OneAZ Credit Union.