Why Choose OneAZ?
You've found the One. By choosing OneAZ, you're joining a local credit union dedicated to improving the lives of our members and their communities.
At OneAZ, our members are our mission. As a credit union, we are owned by our members and our earnings are returned to our members in the form of better interest rates and lower fees for services.
One Community
Uplifting our communities is a key pillar of our mission. Since 2016, the OneAZ Community Foundation has given nearly $750,000 to organizations that improve the communities we serve. When you join OneAZ, you're helping to enrich the lives of those around you. Each time a member swipes their OneAZ debit card, we donate one cent to the Foundation to fund local initiatives.
Need more information?
Chat with a loan expert about your needs.
Call or email anytime.
Why Choose OneAZ?
At OneAZ, our mission is to truly improve the lives of our members, our associates and the communities we serve. By becoming a member, you're joining a credit union that cares about your future – we are here to help you achieve your financial goals. We put you first by providing you with competitive rates, low fees and the personalized service you deserve.
You're a Member, not a number. Your membership is your ownership stake in OneAZ Credit Union. That means we're accountable to you, not investors or stockholders. You have a voice in how your credit union operates and get to vote for our Board of Directors.
Our profits are your savings. As a not-for-profit, we return our earnings to you in the form of lower interest rates, lower fees and better banking technology. Our team only cares about providing you with products and services that will benefit your financial well-being.
We keep it local. Banking at a local credit union like OneAZ keeps your money in Arizona. We're committed to strengthening Arizona's economy by providing affordable home and auto loans, empowering local entrepreneurs and small businesses, and supporting our members as they achieve their financial goals.
We invest in your community. We build stronger communities by providing support to nonprofits working in neighborhoods where our members live and work. The OneAZ Community Foundation uplifts the lives of Arizonans in need by awarding dozens of grants each year to local organizations across the state.
See what OneAZ members are saying about us!
OneAZ Credit Union is not responsible for the content on the ReviewTrackers and Facebook websites.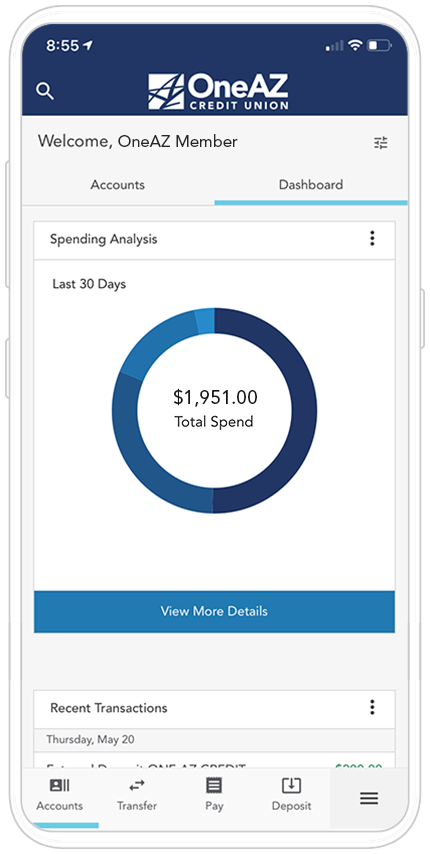 Data rates apply.

Now your bank is as mobile as you are.
Set Travel Notices
Card Controls
Financial Goal Setting
Seamless on All Devices
Alerts
Check Ordering
Compatible with:

APR = Annual Percentage Rate. This offer is subject to credit qualification, including verification of income, employment status, current debt obligations and other factors indicating your ability to repay the loan offered. Additional documentation will be required. Rates subject to change without notice. Click here for membership eligibility.
Rates as of May 12, 2023.