Checking that benefits you.
Benefits Checking
Exclusive 0.25% APR discount on auto and RV loans
Access to tri-bureau credit monitoring with alerts1
Identity theft restoration services
Access to dark web monitoring with alerts1
Earns dividends
Just $5/month for checking that benefits you
NO minimum balance
With both OneAZ checking accounts, you always get simple, secure digital banking options, like our free myOneAZcu mobile app.2
Access your money at 470 fee-free ATMs in Arizona and over 41,000+ across the U.S.
Free Checking
NO monthly maintenance fees
NO minimum balance
NO frills, just free checking
Arizona and Student checking accounts will automatically transition into our new Free Checking product on January 1, 2021.
No action is needed on your part to get Free Checking, and you can continue to use the same checks and debit card that you currently have.
For members in our Premium Checking product, your account will remain unchanged, and no action is required.
Click here to view the Change in Terms for changes to the rates and terms of your account(s).
Learn more about Benefits Checking
Your checking account is more than just a place to put your money. As your daily spending account, it should pack some serious power. That's where OneAZ's new Benefits Checking comes in. Benefits Checking comes with world-class perks that help you manage your finances, protect your identity and reach your financial goals.
Access to Credit Monitoring with Alerts: Get regular credit reports and real-time alerts when changes are made to your credit file.1
Identity Theft Recovery: Recover your identity with a fully managed program that includes reimbursement for identity restoration expenses.
Loan Discounts: Save 0.25% APR on Secured Loans like Auto and RV.
Access to Dark Web Monitoring with Alerts: Protect your private information with a monitoring service that alerts you when your passwords, emails, account info and more are found on the dark web.1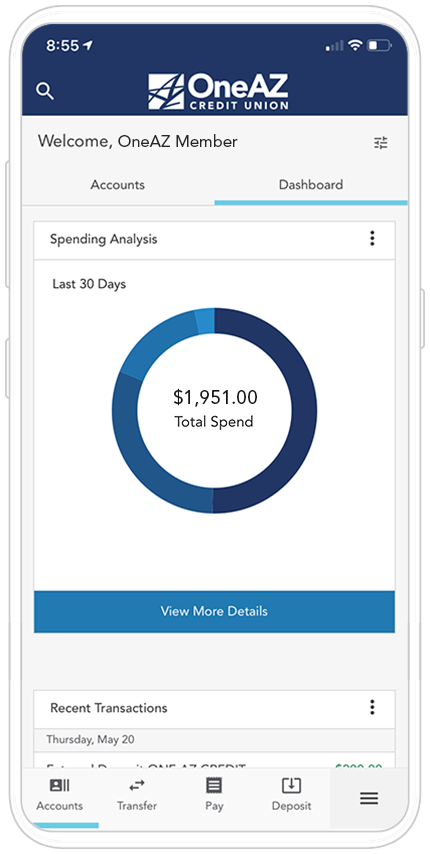 Data rates apply.

Now your bank is as mobile as you are.
Set Travel Notices
Card Controls
Financial Goal Setting
Seamless on All Devices
Alerts
Check Ordering
Compatible with: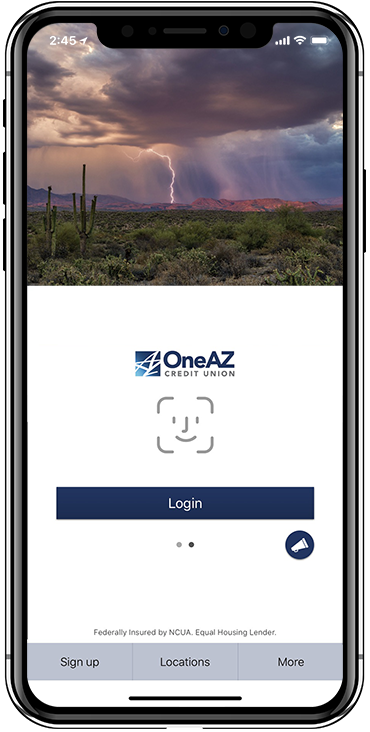 Understanding Your Credit Score
What does your score mean, and how do lenders—and even landlords and employers—use it to determine their decision? Here's how.
Keep Reading
How to Open a Checking Account
You've done the research, made your selection and now it's time to open your new checking account. Here's everything you need to know.
Keep Reading
5 Ways to Keep Your Money Local
Supporting Arizona businesses and organizations means your money stays local. Here are a few easy ways to keep more of your money in Arizona.
Keep Reading
1 MONITORING SERVICES ARE PROVIDED TO THE PRIMARY ACCOUNT HOLDER ON AN ENTITLED BASIS AND REQUIRE CONSUMER ACTIVATION. For additional details about the services, including terms, conditions, and limitations, please visit oneazcu.nxgstrategies.com.