$300

1
New Checking Bonus
Open a OneAZ checking account and unlock this exclusive offer.
Claiming your offer is as easy as 1, 2, 3:
2
Set up direct deposit.
Establish direct deposit activity within 60 days of account opening.
3
Receive your $300 checking bonus.
The $300 bonus will be deposited into your account following two (2) consecutive months of qualifying activity.
It pays to become a member!
To redeem this offer, you must click the link below when applying online. If you call or visit a branch, make sure to mention "$300 checking bonus".
Click
Redeem this offer online by clicking the exclusive link below.
Call
Mention "$300 checking bonus" when you call.
Associates available 24/7!
Visit
Mention "$300 checking bonus" when you visit your local branch!
Why Choose OneAZ?
We're accountable to you. We're not-for-profit so our earnings are returned to you in the form of lower interest rates, lower fees and enhanced banking technology. Plus, our team cares about your financial wellness and will help you make the best decisions for your well-being.
We keep it local. Arizona members have been trusting OneAZ Credit Union with their finances since 1951. As a not-for-profit, we reinvest our profits in our members and the community to strengthen the Arizona economy.
We're community focused. OneAZ Credit Union and OneAZ Community Foundation invest in the communities we serve. Together, we help students, nonprofits and disaster victims thrive financially, because we believe when our community succeeds, we all succeed.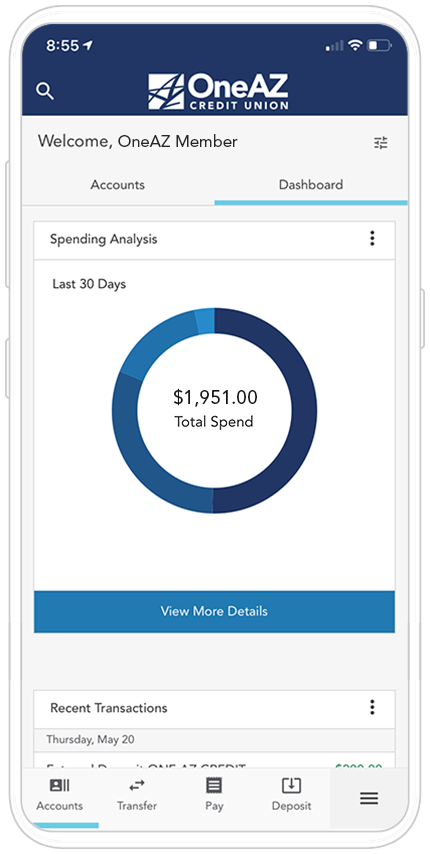 Data rates apply.

Now your bank is as mobile as you are.
Set Travel Notices
Card Controls
Financial Goal Setting
Seamless on All Devices
Alerts
Check Ordering
Compatible with:

See what OneAZ members are saying about us!
We are proud to provide an easy, enjoyable and effective experience to over 135,000 members.
OneAZ Credit Union is not responsible for the content on the ReviewTrackers and Facebook websites.
1 Promotional Eligibility: Offer available only to new OneAZ Credit Union members who are permanent residents residing in Arizona. Applicant must meet OneAZ Credit Union eligibility requirements. Requirements may be found at OneAZcu.com/Membership. Applicant must establish membership with OneAZ. Offer is not available to existing OneAZ Credit Union members or those who have closed their membership within the past 12 months. Offer subject to change.
Bonus/Account Information: To receive the $300 bonus, you must 1) Open a NEW checking account AND 2) Establish recurring monthly direct deposits within 60 days of account opening. Direct deposits totaling $1,000 or more, made to this account, will be verified for two consecutive months to be eligible for the bonus. Only one bonus payment may be received per member per year. Terms subject to change at the discretion of OneAZ Credit Union.
Important Information: Your direct deposit must be an electronic deposit of your paycheck, investment account, pension or government benefits (such as Social Security) from your employer or government agency. Person to Person payments (such as Venmo or Paypal) are not considered a direct deposit. After all the above requirements have been met, we will deposit the bonus payment in your new checking account within 15 business days. Bonuses are considered dividends and will be reported on IRS form 1099-INT (or Form 1042-S, if applicable).
This offer is not transferable and cannot be combined with any other promotions. Qualifying monthly direct deposits must continue in account for a minimum of 6 months.
Account Closure: : If the checking account is closed by the member or by OneAZ Credit Union within 6 months after opening, we will deduct the bonus amount from that account at closing.
Offer valid through September 30, 2022.