Welcome to Your OneAZ Visa® Credit Card.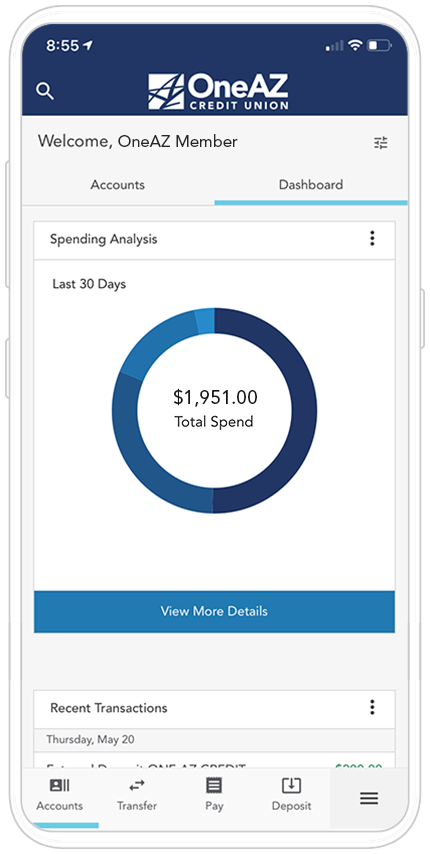 Data rates apply.

Now your bank is as mobile as you are.
Set Travel Notices
Card Controls
Financial Goal Setting
Seamless on All Devices
Alerts
Check Ordering
Compatible with:

You have the option to receive eStatements or paper statements. If you are not enrolled in Online and Mobile Banking, you will default to paper statements.
Once you are enrolled in Online and Mobile Banking, click on the three dots in the blue navigation bar and select Documents and Statements. Select Register and let us know if this is for a Personal Account or a Business Account.
Complete the required fields and select Next. Review the Consent to Electronic Documents and select the checkbox to confirm you have read and agree to the terms outlined. Then select Finish. This will complete your eStatement enrollment.
To turn eStatements off, click on the three dots in the navigation bar, select Documents and Statements, select Settings. From here, you can select the Discontinue box and click Submit.
There are multiple ways to make a payment on your OneAZ credit card. Take a moment to review your options below.
Online & Mobile Banking: Once you're logged in, select Make a Transfer then select New Transfer. On the New Transfer screen, choose the account you want to pay from, then select the loan account you want to pay. Enter your payment details and select from one-time, recurring, or 'schedule a payment' options. You may choose to pay from a OneAZ account or a non-OneAZ checking account, savings account or debit card. Payments may take up to three business days to post.
If the account you would like to transfer to is not in the drop-down menu, select New External Financial Institution. Follow the prompts to add the account you would like to transfer to and select Submit.
You may also select Pay a Loan with a Debit Card to make a one-time payment.
Telephone Banking: Call 844.663.2928 to use our automated payment service. There may be a fee associated with this service.
Call Us: If you have the funds available in a OneAZ account, you can contact our Member Care Center and ask them to apply these funds toward your loan. Our Member Care Center can also take payments over the phone with a credit or debit card; there may be a fee associated with this service.
Take a look at OneAZ's Account Disclosure Rate Supplement and Schedule of Fees and Charges to view current fees and rates.
In-person: Visit us at your local OneAZ branch and work with a teller to make your payment.
Mail: Send a check to our corporate office at the address below. Your name and address should be on the check, and the memo line should contain your loan number and payment due date.
OneAZ Corporate Office


ATTN: Deposit Operations




2355 W. Pinnacle Peak Rd.




Phoenix, AZ 85027
Yes! OneAZ will send you a text message immediately following suspicious activity. You can reply to the text message to let us know if the transaction(s) in question are valid.
If you do not respond to the text message, our team will send you a series of pre-recorded phone calls to notify you of the suspicious activity. If we don't hear from you through text or phone, an email will be sent asking you to review and provide feedback on the transaction.
Visit a Branch
Visit one of our 20 branches across Arizona to open a new account, apply for a loan or credit card, and more. We recommend scheduling an appointment prior to your visit!
Find an ATM
With your OneAZ Visa® Debit Card, you have access to 470 CULIANCE Network ATMs in Arizona and 41,343 across the nation.
We Can Help
Our team of experts is standing by to help you achieve your financial goals.
To open a new account, apply for a loan or get answers to your questions, contact our Virtual Team or make an appointment at your local OneAZ branch today.
Live Chat
Log in and click on the Chat icon in the top navigation.
Call
Call our team and get set up!
Visit
Stop by one of our branches today!
What Does it Mean to be a OneAZ Member?
Glad you asked! As a OneAZ member, you're putting your money—and your trust—in an organization that offers personalized service, competitive loan rates and a community focus. We've been helping Arizonans like you reach their financial goals since 1951, and we're ready to work with you, too. After all, together, Arizona moves forward.
You own a share. As a member, you own a share in OneAZ Credit Union—that means we answer to you, not stockholders. Plus, you have a say in who serves on our Board of Directors, who make decisions in members' best interests.
You're giving back to the community. The OneAZ Community Foundation, funded by OneAZ Credit Union members, has given over $1.5 million to nonprofits and community members.
You benefit from profits. We're not-for-profit, so our earnings are returned to members in the form of better rates, lower fees and technology that makes it easier for you to manage your money.
You are part of our mission. OneAZ's mission is about improving the lives of our members, associates and the communities we serve. For membership eligibility, click here.
You Deserve Great Checking
Access your cash at 25,000+ fee-free ATMs nationwide.
Your Card. Your Choice.
Choose cashback or rewards with our low-rate credit cards.
Home Sweet Home Loan.
Get competitive rates on customizable home loans.