Your OneAZ Home Equity Line of Credit.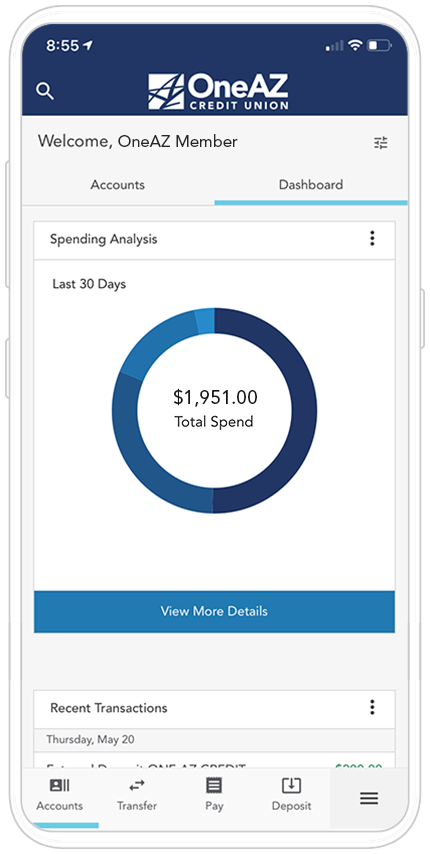 Data rates apply.

Now your bank is as mobile as you are.
Set Travel Notices
Card Controls
Financial Goal Setting
Seamless on All Devices
Alerts
Check Ordering
Compatible with:

HELOC FAQs
When your HELOC funds, an initial $10,000.00 draw must be completed. The funds from your initial draw will appear on your monthly statements and in Online and Mobile Banking.
If you are paying off debt with your initial draw, a check from OneAZ to the 3rd party will be sent through the U.S. Postal Service.
You may draw on your line of credit for 10 years before the repayment period begins.
OneAZ must be promptly notified of any changes in your homeowner's insurance. You are required to maintain a homeowner's insurance policy for the duration of your Home Equity Line of Credit.
Connect with our team at 800.453.0195 or email HomeLoanDepartment@OneAZcu.com to notify OneAZ of a change in home insurance.
Your Home Equity Line of Credit balance will appear in Online and Mobile Banking. Within Online and Mobile banking, you may select to receive your monthly statements through mail or electronically. If you select eStatements, you will receive an email each month once your statement is ready to view.
You may also arrange payment notifications in Online and Mobile Banking.
Interest on your Home Equity Line of Credit is calculated using the simple interest method. Under the simple interest method, interest is accrued each day.
When you complete a payment to pay down the principal balance of your HELOC, please remember interest has also accrued and will become due on your next statement.
Please allow 10-15 business days for the funds to be received and processed by your 3rd party provider. OneAZ may review lost mail options with you on the 16th business day.
In most cases, a fee may be assessed for early termination on a Home Equity Line of Credit. When closing the loan, lien release and processing fees will be assessed. Please review your contract for additional details.
You Home Equity Line of Credit term is 25 years. You may draw on your line of credit for the first 10 years. Then there is a 15-year repayment period.
During the repayment period, you are no longer allowed to draw against your line of credit. You will pay the balance due in the form of a monthly principal and interest payment.
A Pay Down request lets OneAZ know you would like to pay down your principal balance only and keep your line of credit open.
A Pay Off request lets OneAZ know you would like to pay off your loan balance and close out your line of credit.
OneAZ can assist with paying off your HELOC through email. When you are ready to pay off your HELOC, please email us at HomeLoanDepartment@OneAZcu.com. In the email Subject Line, enter your last name followed by, Payoff Demand.
Upon receiving your request, our team will complete your Payoff Demand and email you a PDF copy. This copy can be used to complete your pay off at one of our local OneAZ branches.
You may also schedule an appointment to meet in-person with a personal banker at your local OneAZ branch.
We Can Help
Our team of experts is standing by to help you achieve your financial goals.
To open a new account, apply for a loan or get answers to your questions, contact our Virtual Team or make an appointment at your local OneAZ branch today.
Live Chat
Log in and click on the Chat icon in the top navigation.
Call
Call our team and get set up!
Visit
Stop by one of our branches today!
Visit a Branch
Visit one of our 20 branches across Arizona to open a new account, apply for a loan or credit card, and more. We recommend scheduling an appointment prior to your visit!
Find an ATM
With your OneAZ Visa® Debit Card, you have access to 470 CULIANCE Network ATMs in Arizona and 41,343 across the nation.
Why Choose OneAZ?
At OneAZ, our mission is to truly improve the lives of our members, our associates and the communities we serve. By becoming a member, you're joining a credit union that cares about your future – we are here to help you achieve your financial goals. We put you first by providing you with competitive rates, low fees and the personalized service you deserve.
You're a Member, not a number. Your membership is your ownership stake in OneAZ Credit Union. That means we're accountable to you, not investors or stockholders. You have a voice in how your credit union operates and get to vote for our Board of Directors.
Our profits are your savings. As a not-for-profit, we return our earnings to you in the form of lower interest rates, lower fees and better banking technology. Our team only cares about providing you with products and services that will benefit your financial well-being.
We keep it local. Banking at a local credit union like OneAZ keeps your money in Arizona. We're committed to strengthening Arizona's economy by providing affordable home and auto loans, empowering local entrepreneurs and small businesses, and supporting our members as they achieve their financial goals.
We invest in your community. We build stronger communities by providing support to nonprofits working in neighborhoods where our members live and work. The OneAZ Community Foundation uplifts the lives of Arizonans in need by awarding dozens of grants each year to local organizations across the state.