Home sweet home loan.
The process of finding and financing a new home can be tricky for even the most seasoned homebuyers. OneAZ's mortgage team will be by your side through the whole process to answer questions and give advice. Plus, you're not dealing with underwriters at an out-of-state bank. Our entire team lives and works in Arizona, which means your file stays local from application to closing!
Finance Your Home
Ready to get started? Select your preferred loan type below to learn more and apply today!
OneAZ mortgages by the numbers.
1,952
Home loans closed in 2020
19
Mortgage Loan Officers serving Arizona
Questions?
Our mortgage team is standing by to help you achieve your financial goals.
Contact our Virtual Team
Speak with an experienced mortgage loan officer 24/7.
Visit a Branch
Meet with a mortgage loan officer at your local OneAZ branch.
Discover Arizona's hottest mortgage rates.
Purchase a home with OneAZ's hot rates on conventional, jumbo and more.
For a limited time, save 0.25% APR1 on your interest rate.
1 APR = Annual Percentage Rate. Conditions apply. Rates and terms subject to change at any time. Promotional interest rate is available on purchase loans only.
In order to qualify for the 0.25% discount, you will need to agree to the following: open OneAZ Checking account, establish a monthly $1,000 direct deposit, and set up Auto Pay for the new loan.
Offer does not apply to FHA, VA, or USDA mortgages. 
See what OneAZ members are saying about our mortgages!
OneAZ Credit Union is not responsible for the content on the ReviewTrackers and Facebook websites.
What Are My Mortgage Options?
If you're ready for the homebuying process, start familiarizing yourself with the basics of home loans so you can choose the right mortgage for you!
Keep Reading
Why Should I Get Prequalified for a Home Loan?
Learn what prequalification means and why it's the best first step in purchasing a home.
Keep Reading
Purchase the Home of Your Dreams with 5 Easy Tips
So you're ready to purchase your first home—where do you start? Getting into the home of your dreams begins by following a few simple tips!
Keep Reading
See why local Arizona realtors trust OneAZ with their clients.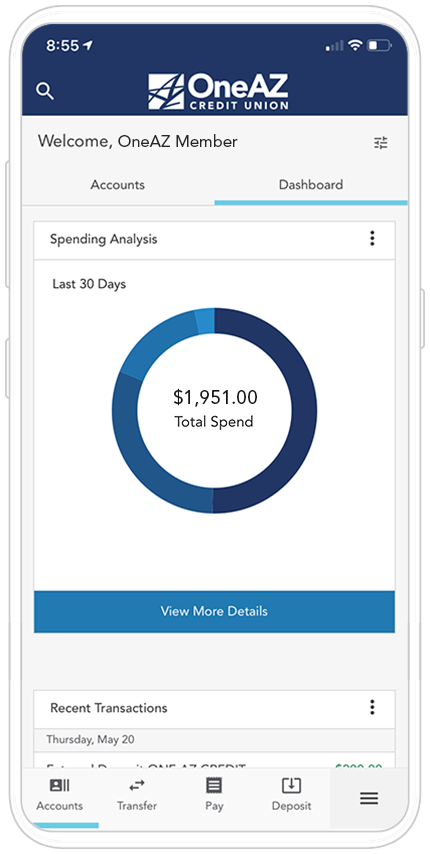 Data rates apply.

Now your bank is as mobile as you are.
Set Travel Notices
Card Controls
Financial Goal Setting
Seamless on All Devices
Alerts
Check Ordering
Compatible with: