Refinance & Save
with OneAZ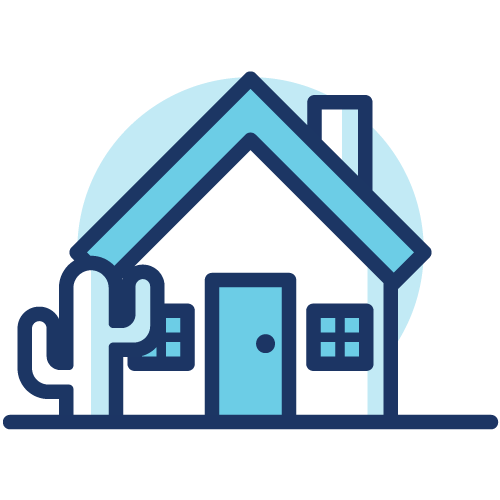 Let's Talk About You.
What Are Your Refinancing Options?
A team of refinance professionals, as well as experts in the Arizona market, are ready to help you refinance your home loan based on your individual needs.
Plus, you will benefit from these OneAZ member benefits:
Reduce your monthly payment
Lower your interest rate
Eliminate or reduce Private Mortgage Insurance
No origination fees
Finance closing costs
Local underwriting and processing – meaning faster turnaround times on our refinancing solution
Many financing options: conventional, jumbo, professional, renovation, FHA/VA and USDA loans.
We're here for you 24/7.
Whether you have questions or are ready to apply, our mortgage loan officers are available 24/7.
"I want to take advantage of lower interest rates."
If you are looking to update your adjustable rate to a fixed rate loan, refinancing is a great option. Depending on the current market rates a refinance loan can assist you with lowering your current mortgage interest rate.
"I want to reduce monthly payments."
Refinancing your current mortgage to a lower interest rate or extending the term of your current loan can assist with lowering your monthly payments.
"I want to consolidate other debt into one loan."
If you have multiple loans or credit cards with high interest rates and have equity in your home, a debt consolidation refinance may be the solution for you. You may have the ability to lower your interest rate while lowering your overall payments. This can make it easier for you to track payments and the total loan amount.
"I want to free up some cash."
If you are looking to remodel your home or have unexpected expenses and you have equity in your home a cash out refinance may be for you.
You'll have a refinancing expert in your corner to guide you through the process.
You'll know the options that are available and if refinancing is a good fit for you. You'll also learn if there are any costs associated with refinancing your home.
The refinancing process.
1. Contact an expert.
We'll discuss your goals and needs, get an overall picture of your financial situation, then guide you towards your best refinancing option.
2. Lock-in rate.
Once you speak with an expert you can complete an application and lock-in your new low rate.
3. Closing
Once you're processed and approved we will set a closing date. We'll ensure you understand all the documentation and have everything you need.
Here's what you'll need to get started:
Two (2) years of tax returns
Two (2) years of W-2s
Most recent bank statements
Most recent pay stubs (minimum of 30 days)
If you own a home, your mortgage statement, insurance declaration and most recent tax statement for any other properties you own
Why choose a credit union? Glad you asked.
Getting your home loan through OneAZ Credit Union means you get someone in your corner, ready to help get you where you want to be and answer any and all questions along the way. It's more important than just a refinance loan, it's a relationship.
Here's what it means for you:
Better rates and lower fees.
A credit union is owned by members, and earnings are returned in the form of better interest rates and lower fees for services.
Local expertise at your service.
Arizona-based experts in the market who understand the local real estate landscape will put their knowledge to work for you.
A team that has your back.
You'll get a team of people who are available to provide advice, answer any questions and help you navigate the process.
Frequently Asked Questions
80% for a primary residence. To discuss any other refinance option please contact a mortgage expert at 1.855.505.4663.
Rates change daily. Please contact your local mortgage expert at 1.855.505.4663 for today's rates.
Rates as of December 1, 2022.
Disclosures: The following is provided as an Example Only. Each scenario is different. Assumes existing loan of $275,000 or $750,000 with/without Standard Mortgage Insurance (MI). Assumes excellent credit and ≤ 80% LTV on a Single-Family Residence. Assumes Owner Occupied, Rate and Term Refinance, on a similar loan amount. Removing/Reducing Mortgage Insurance (MI) can result in substantial savings. Varying loan amounts, terms, etc., may result in increased/reduced savings. Contact a OneAZ MLO for information regarding your situation. Rates, Terms and Conditions are subject to change at any time.
Example #1: $275,000 3.75% Existing Conforming Loan
3.75% Existing Mortgage - Without Mortgage Insurance
$1,274 Current Mo. PI Pymt @ 3.75%
$1,160 New Mo. PI Pymt @ 3.00%
$114 Mo. Savings
× 12 Annualized
$1,368 Annual Savings

3.75% Existing Mortgage With Mortgage Insurance (MI)
$1,274 Current Mo. PI Pymt @ 3.75%
$97 Current Mo. MI Pymt @ 0.42 MI Factor
$1,371 Current Mo. PIMI Pymt
$1,160 New Mo. PI Pymt @ 3.00%
$0 Eliminate Mo. MI Pymt
$211 Mo. Savings
× 12 Annualized
$2,532 Annual Savings
Example #2: $750,000 3.75% Existing Jumbo Loan
3.75% Existing Mortgage - Without Mortgage Insurance
$3,474 Current Mo. PI Pymt @ 3.75%
$3,163 New Mo. PI Pymt @ 3.00%
$311 Mo. Savings
× 12 Annualized
$3,732 Annual Savings

3.75% Existing Mortgage With Mortgage Insurance (MI)
$3,474 Current Mo. PI Pymt @ 3.75%
$262 Current Mo. MI Pymt @ 0.42 MI Factor
$3,736 Current Mo. PIMI Pymt
$3,163 New Mo. PI Pymt @ 3.00%
$0 Eliminate Mo. MI Pymt
$573 Mo. Savings
× 12 Annualized
$6,876 Annual Savings