Apply in as few as five minutes.
Click
Open an account online!
Call
Call our team and get set up!
Visit
Stop by one of our branches today!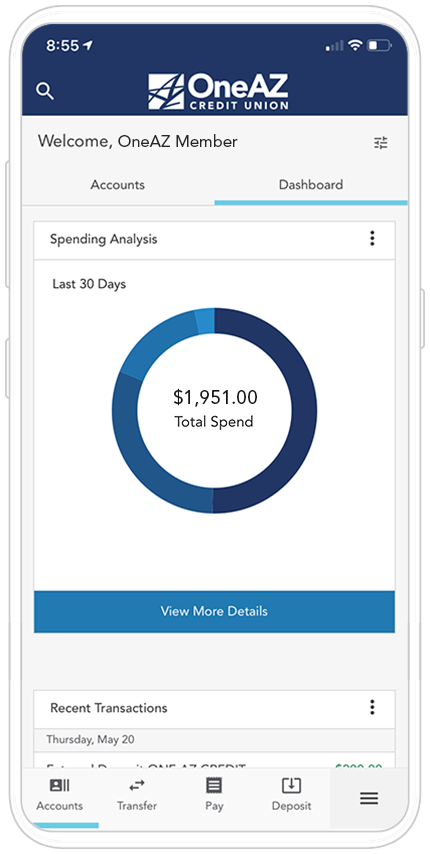 Data rates apply.

Now your bank is as mobile as you are.
Set Travel Notices
Card Controls
Financial Goal Setting
Seamless on All Devices
Alerts
Check Ordering
Compatible with: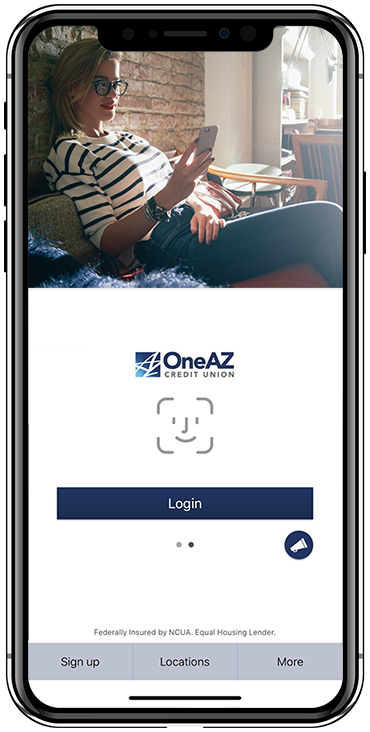 Visit a Branch
Visit one of our 20 branches across Arizona to open a new account, apply for a loan or credit card, and more. We recommend scheduling an appointment prior to your visit!
Find an ATM
With your OneAZ Visa® Debit Card, you have access to 470 CULIANCE Network ATMs in Arizona and 41,343 across the nation.
What Does It Mean to be a OneAZ Member?
Glad you asked! As a OneAZ member, you're putting your money—and your trust—in an organization that offers personalized service, competitive loan rates and a community focus. We've been helping Arizonans like you reach their financial goals since 1951, and we're ready to work with you, too. After all, together, Arizona moves forward.
You own a share. As a member, you own a share in OneAZ Credit Union—that means we answer to you, not stockholders. Plus, you have a say in who serves on our Board of Directors, who make decisions in members' best interests.
You're giving back to the community. The OneAZ Community Foundation, funded by OneAZ Credit Union members, has given over $1.5 million to nonprofits and community members.
You benefit from profits. We're not-for-profit, so our earnings are returned to members in the form of better rates, lower fees and technology that makes it easier for you to manage your money.
You are part of our mission. OneAZ's mission is about improving the lives of our members, associates and the communities we serve. For membership eligibility, click here.
See what OneAZ members are saying!
We are proud to provide an easy, enjoyable and effective experience to over 145,000 members.
OneAZ Credit Union is not responsible for the content on the ReviewTrackers and Facebook websites.
"As longtime OneAZ members, we have found our home when it comes to banking. OneAZ Credit Union knows us, they know our kids, and they are a part of our community.
See what other members have to say about OneAZ. See Testimonials
Need more information?
Contact an associate by completing this form.
Already submitted an application?
Check your status now.
Personal Banking Resources
Credit & Debit Card Resources
Home Budget
See where your money goes and find out where you can improve.
APR = Annual Percentage Rate. APY = Annual Percentage Yield.
1 Monitoring services are provided to the primary account holder on an entitled basis and require consumer activation. For additional details about the services, including terms, conditions, and limitations, please visit oneazcu.nxgstrategies.com.
2 Checking is free; however, fees incurred—such as a stop payment or NSF fee—will apply. For complete terms and conditions, refer to the published Membership Account Agreement and Schedule of Fees and Charges.