New to OneAZ?
You can submit your credit card application and become a member at the same time.
Already a Member?
Existing members can submit your credit card application by clicking the link below.
6-Month Introductory APR1
Earn Cash Back on Every Purchase
Turn your everyday purchases into cash when you pay with the OneAZ Visa Signature Credit Card. Earn 1.5% cash back on all eligible purchases that can be redeemed for statement credit or deposited into your OneAZ Checking account. Plus there are NO annual fees!
Features and Benefits
1.99% 6-month introductory APR. After introductory period, APR may range from 15.49% to 18.00% based on applicant's credit.1
Standard 1.50% rebate on qualifying purchases2
ZERO annual fee
ZERO transfer balance fees
24/7 fraud protection by Falcon
Visa® Signature Concierge service
Travel-related benefits
Roadside dispatch
$5,000 minimum limit
Cash advances at ATMs
Online account access
Extended warranty
Year-end summary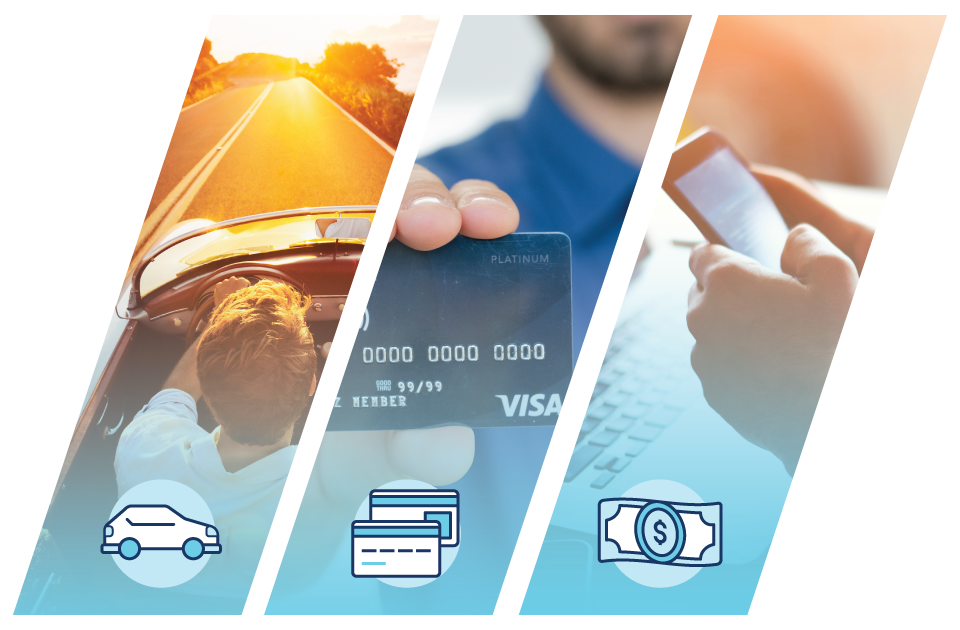 Instant Offers
Get personalized offers for auto, credit card, and personal loans without impacting your credit score.
Signature Credit Card Quick Links
Click
Apply for a credit card online!
Call
Call our Virtual Team and get set up!
Schedule
Schedule an appointment with a personal banker.
Credit Card Resources Guide
At OneAZ, we want you to have the tools and the knowledge to make confident, smart decisions about your finances.
Tips for New Credit Card Holders
For those starting their college career or starting a new job, keep your eye out on offers for credit cards. Figuring out how to manage credit cards is critical for new borrowers.
Keep Reading
See what OneAZ members are saying about our credit cards!
OneAZ Credit Union is not responsible for the content on the ReviewTrackers and Facebook websites.
"As longtime OneAZ members, we have found our home when it comes to banking. OneAZ Credit Union knows us, they know our kids, and they are a part of our community.
See what other members have to say about OneAZ. See Testimonials
APR = Annual Percentage Rate.
1 All loans subject to credit and income approval. Please see table below.
INTEREST RATES AND INTEREST CHARGES
Annual Percentage Rate (APR) for Purchases

1.99%

for introductory period of 6 months.
After that, your APR will be

15.49% - 18.00%

, based on your creditworthiness and will vary with the market based on the Prime Rate.
APR for Balance Transfers
Balance Transfer APR:

1.99%

for introductory period of 6 months.
After that, your APR will be

15.49% - 18.00%

, based on your creditworthiness and will vary with the market based on the Prime Rate.
APR for Cash Advances
Cash Advance APR:

1.99%

for introductory period of 6 months.
After that, your APR will be

15.49% - 18.00%

, based on your creditworthiness and will vary with the market based on the Prime Rate.
Penalty APR and When It Applies

18.00%

- This APR may be applied to your account if:


Your minimum monthly payment is more than 60 days late
You are in default of any other terms of the Agreement

How long will the penalty APR apply?


If your APR is increased for any of these reasons, the penalty APR will apply until you make six consecutive minimum payments when due.
How to Avoid Paying Interest on Purchases
Your due date is at least 25 days after the close of each billing cycle. We will not charge any interest on the portion of the purchases balance that you pay by the due date each month.
Minimum Finance Charge
If you are charged interest, the charge will be no less than $1.00.
For Credit Card Tips from the Consumer Financial Protection Bureau
To learn more about factors to consider when applying for or using a credit card, visit the website of the Consumer Financial Protection Bureau at http://www.consumerfinance.gov/learnmore.
FEES
Annual Fee
None
Transaction Fees:
Cash Advance
Foreign Transaction

3% of the cash advance transaction (minimum $10.00)
1% of the US dollar amount of the foreign transaction
Penalty Fees:
Late Payment Fee
Returned Item Charge

$25.00
$25.00 or the amount of the returned item, whichever is less
Other Fees:
Pay by Phone

$20.00
How We Will Calculate Your Balance: We use a method called "Average Daily Balance" (including new purchases).
Effective Date. The information about the costs of the card described in this disclosure is accurate as of March 1, 2023. This information may have changed after that date. To find out what may have changed, contact OneAZ Credit Union.
Loss of Introductory APR: We may end your introductory APR and apply the penalty APR if you make a payment more than 60 days late.
Billing Rights: Information on your rights to dispute transactions and how to exercise those rights is provided in your account agreement.
These Account Disclosures for the Visa Signature Credit Card are part of and integrated with your Credit Card Agreement and Disclosure with OneAZ Credit Union.
THINGS YOU SHOULD KNOW ABOUT THIS REBATE PROGRAM
How is the Rebate Reward Calculated?
The Rebate Reward is calculated on each individual purchase transaction and rounded (up or down) to the nearest whole dollar. The individual results are then added together and we subtract any returns, credits, or adjustments to determine the net rebate earned. The Rebate Reward is calculated monthly.
How do I redeem my Rebate?
After your rebate is calculated at the end of your statement cycle, you may choose how and when your earned cash rebate will be redeemed in our convenient Online Banking System.
You may choose to redeem the earned cash rebate as a statement credit on your OneAZ CU Signature Visa Credit Card Account balance or as a deposit into your OneAZ CU savings or checking account.
Rebate Reward Participation
There is no fee to participate in the OneAZ CU Rebate Reward program and you are automatically enrolled when opening a OneAZ CU Visa Signature Credit Card.
Rebate Reward Disputes:
All Rebate Rewards disputes must be made in writing and sent to:
OneAZ Credit Union
Attn: Card Services
2355 W. Pinnacle Peak Road
Phoenix, AZ 85027
You must contact us within 60 days after the error appeared on your statement. You must notify us in writing
All decisions by OneAZ regarding point disputes are final.
When we receive your letter, we must do two things:
Within 30 days of receiving your letter, we must tell you we received your letter. We will also tell you if we have already corrected the error.
Within 90 days of receiving your letter, we must correct the error or explain to you why we believe the statement is correct.
IMPORTANT DISCLOSURE FOR ACTIVE MEMBERS OF THE MILITARY AND THEIR DEPENDENTS:
Federal law provides important protections to members of the Armed Forces and their dependents relating to extensions of consumer credit. In general, the cost of consumer credit to a member of the Armed Forces and his or her dependent may not exceed an annual percentage rate of 36 percent. This rate must include, as applicable to the credit transaction or account: the costs associated with credit insurance premiums or debt protection fees; fees for ancillary products sold in connection with the credit transaction; any application fee charged (other than certain application fees for specified credit transactions or accounts); and any participation fee charged (other than certain participation fees for a credit card account). To receive this notice verbally, please call 1.844.663.2928 during our normal business hours: Monday - Friday 8:00 am - 6:00 pm.