Go Jacks!
As the official financial institution of NAU athletics, we're pleased to partner with Lumberjack fans far and wide. We are excited to offer a  collection of financial solutions uniquely designed for the students, faculty, staff, alumni and fans of the NAU Lumberjacks.
Congratulations on your 3-Peat Men's Cross Country National Championship!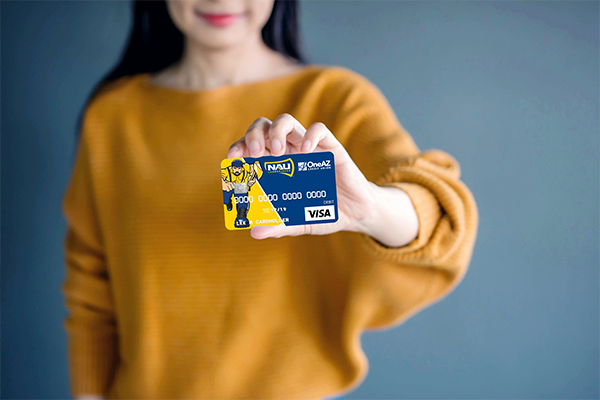 The only debit card for lumberjacks. 
OneAZ Credit Union has been serving the Flagstaff area since the early 1970's. Our 2nd official branch office opened on Beaver Street right by campus. Get your Lumberjacks debit card by visiting one of our Flagstaff branch locations today!
Visit a branch to get your Lumberjacks
 


debit card today!
How does $250 sound?
Enter for a chance to win by completing the form. One winner will be randomly selected to win $250 each month. Just think of all the NAU Lumberjacks swag you can buy with $250! For official rules, click here.
Get your Lumberjacks
debit card today!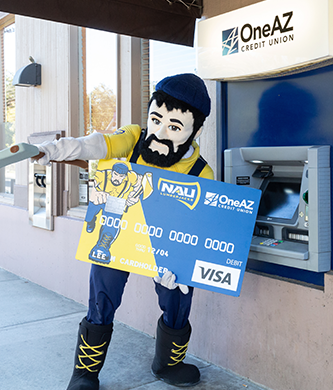 Why Choose A Credit Union? Glad you asked.
Let's face it: big banks are everywhere, so it's easy to think that they're the best option for you. Why not put your money—and your trust—in an organization that offers personalized service, competitive rates and a community focus?
Here's what that means for you:
Better rates and lower fees.
A credit union is owned by members, and earnings are returned in the form of better interest rates and lower fees for services.
Local expertise at your service.
Arizona-based experts in the market who understand the local real estate landscape will put their knowledge to work for you.
Experience all that Arizona Has To Offer
We offer loans for recreational vehicles, motorcycles, and boats to help you explore in style.
Get More For Your Mortgage
We understand that when buying a home, one size does not fit all. Learn more about our home loan offerings tailored to fit your needs.