Money Management for Arizona College Students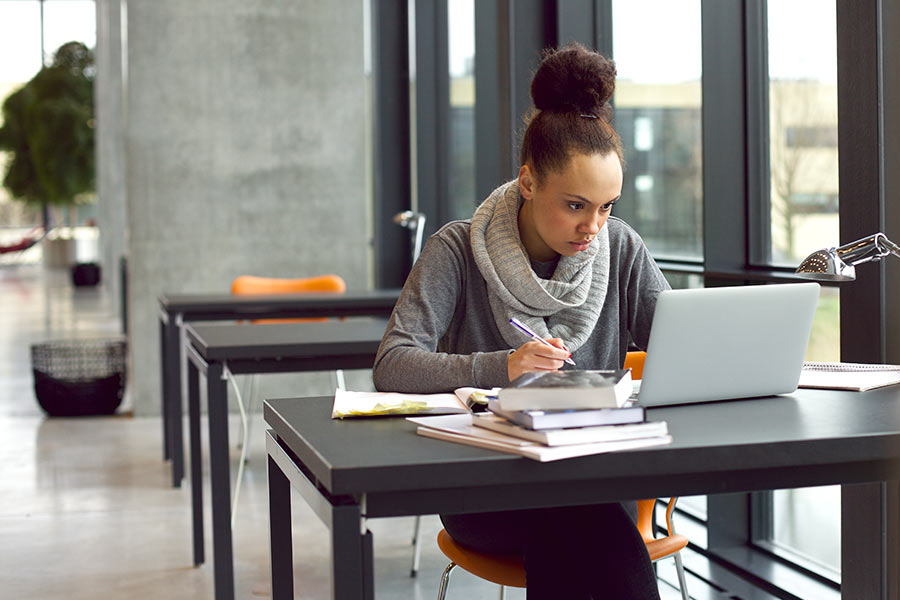 College students across Arizona are back on campus and in the classroom. For new students, the transition from high school to college is a time of new experiences, new discoveries, and new responsibilities.
For many students, it may be the first time they're out on their own. They may be living away from their homes for the first time, which means managing spending and savings away from the guidance of their parents. Money management can be an intimidating subject, especially if you're just starting out. OneAZ is here to give you the run-down of what you need to know to manage your funds so you can focus more on studying than on worrying about expenses.
Budgeting
Whether you're on a college campus for the first time, or in your last year before embarking on your professional life, it can be difficult to manage your funds. Between books, housing, food and your off-campus activities, the costs can really add up! If you're struggling to juggle all those costs, consider creating a budget.
We've outlined simple tips for creating a budget and managing your money.
The first thing you want to do is have a clear idea of what your goal is. It doesn't need to be complicated. Maybe it's saving to pay off some student loans or having a little extra spending money for your weekends. Whatever your goals are, defining them will help you focus on successfully achieving them.
Next, you'll want to figure out your monthly income. Maybe it's money you're getting from your parents or from a job you're working on nights and weekends. Whatever cash you have coming into your bank account, you should add it up, so you have a clear idea of how much you're taking in each month.
Now that you've added up all your earnings, you'll subtracted all your known expenses. Things like housing, food, utilities, car payments, gas and insurance are typically your biggest expenses each month, but don't forget smaller items like streaming services or gym memberships, which add up over time.
Hopefully, once you've subtracted all your regular spending, you've got some left over. It's a good idea to examine how you've spent that extra money. Have you been saving it or spending it on extracurricular activities? This is a great time to see if there's anyway to reduce those costs or even eliminate them all together.
Now that you've outlined your income and spending, consider making saving a priority each month. Decide on an amount you'd like to save and set up an automatic transfer each month.
Saving Money in College
Expenses like books, housing, meal plans, and off-campus activities can easily drain your bank account. However, there are plenty of ways you can cut down on costs and save money. Chris Peach details 10 ways you can get an A in savings while keeping up that GPA. Here are the highlights:
Take advantage of free student checking. OneAZ Credit Union offers free checking that really is free. That means no monthly maintenance fees and no minimum balance. You'll be able to focus on your studies instead of worrying about checking account costs.
Save money with student discounts. Many businesses give discounts to students or run special promotions for those in school. Don't miss out on these savings. Always carry your student ID with you because you never know when you'll have the chance to save!
Find textbooks that won't break the bank. Textbooks can cost hundreds of dollars, but there are ways to save. If you can, avoid buying new. Look online for used books to save big! There may be a few doodles or notes in the margins, but that's a small price to pay for the savings.
Ditch your car. Phoenix, Tempe, Tucson and Flagstaff all have great public transportation systems. For students, passes are typically discounted so you don't have to break your budget to get across town.
Find savings in campus amenities. Take advantage of amenities you're paying for through tuition, like the campus gym or free movie nights. The savings on these may be small, but they can add up over time.
Cut down on your living expenses as much as possible. It may be much cheaper to live in a dorm rather than an overpriced apartment off campus. Compare costs and choose the option that will save you money. If you do decide to live off campus, make sure to have a couple roommates to lower your rent. Remember, the most cost effective living arrangement is at home.
Hang up on that expensive phone plan. There are plenty of options for phone plans on a budget. Shop around to find the best option for the amount of data you use and your budget.
Be careful with your credit card usage. College can be a great time to establish credit. If you're using a credit card make sure to use it wisely. That means paying off the balance each month so you're not charged interest. Take advantage of low interest rate credit cards and rewards cards like our suite of cards at OneAZ.
Scholarships aren't just for new students. Billions of dollars in scholarships are given out each year. If you're not applying for these funds, you could be missing out on a lot of help for your tuition and books.
Don't settle for the 5 year plan. That one extra year of college will cost you thousands of dollars in tuition, books and housing.
OneAZ is here to help you achieve all your financial goals. As a member-focused credit union, your financial wellbeing is our top priority. Learn more about your finances with our financial resources guide.
APR = Annual Percentage Rate