Ready to Join?
Need more information?
Chat with a loan expert about your needs.
Call Monday through Friday between 8:00 a.m. and 6:00 p.m. or email anytime.
See what OneAZ members are saying about us!
OneAZ Credit Union is not responsible for the content on the ReviewTrackers and Facebook websites.
Three Things to Look for in a Balance Transfer Credit Card
Keep your personal information—and your money—safe this season by following a few simple tips.
Keep Reading
Financial Planning & Investing: Should you DIY or Trust a Pro?
Figuring out your finances can be a daunting task. From financial planning to investing, there's a lot to take into consideration.
Keep Reading
The Top Tech Features for Your New Car
Here are five features that will take your morning commute or weekend road trip to the next level.
Keep Reading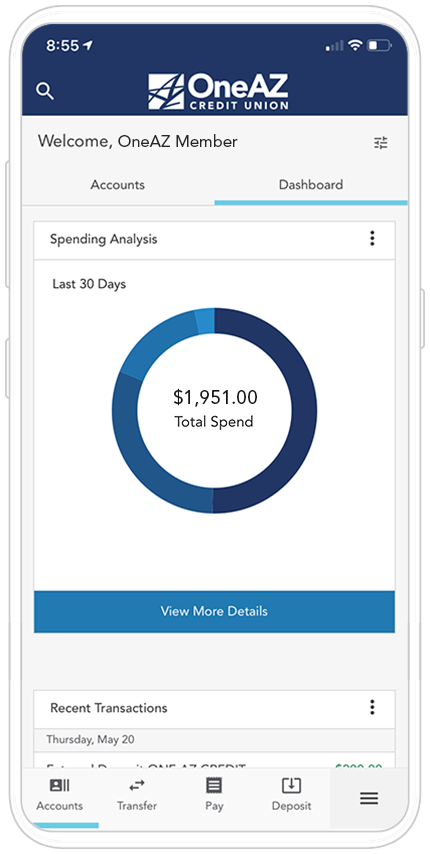 Data rates apply.

Now your bank is as mobile as you are.
Set Travel Notices
Card Controls
Financial Goal Setting
Seamless on All Devices
Alerts
Check Ordering
Compatible with:

APR = Annual Percentage Rate. This offer is subject to credit qualification, including verification of income, employment status, current debt obligations and other factors indicating your ability to repay the loan offered. Additional documentation will be required. Rates subject to change without notice. Click here for membership eligibility.
Rates as of January 1, 2022.