Funds Availability & Check Clearing Schedule
When will my funds be available after I deposit a check?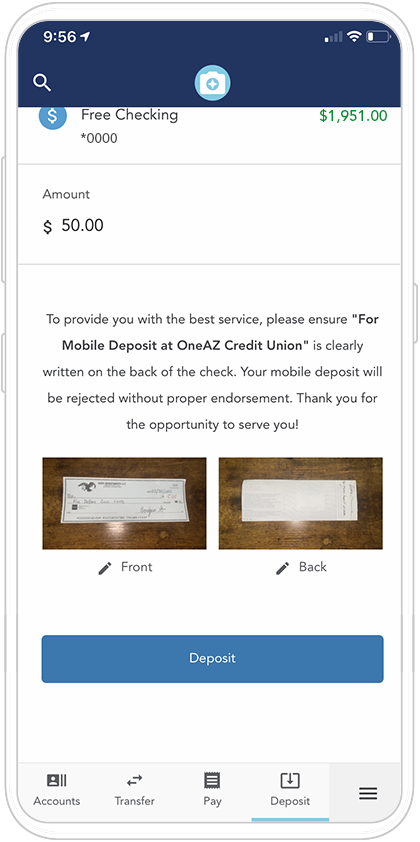 What are my options for depositing a check?
There are a few ways to deposit a check into your OneAZ account.
Visit an ATM on the CULiance network
Use your mobile device for deposits under $5,000
See a teller at your local branch
Funds Availability Policy:
OneAZ members are protected by Regulation CC – a federal regulation that requires credit unions and other financial institutions to ensure that deposits are available for withdrawal within a standard time frame.
| | Deposit Channel | ATM | Mobile | Branch | |
| --- | --- | --- | --- | --- | --- |
| | | | | | |
| | Deposit limit? | No | Yes, $5,000 | No | |
| | Amount released upon deposit | Up to $225 | Up to $225 | Up to $225 | |
| | Amount cleared one business day after deposit | Up to $225 | Up to $225 | Up to $225 | |
| | Amount cleared two business days after deposit | Up to $5,075 | Up to $5,000 | Up to $5,075 | |
| | Remaining amount clears on | 7th business day after deposit | N/A | Up to 9th business day after deposit | |
| | | | | | |
Our team is here to help.
For assistance with a manual deposit clearing review, please contact our Member Care Center at 844.663.2928.
OneAZ's Check Clearing Schedule
If you make a deposit before 5pm on a business day, that will be considered your day of deposit. If you make a deposit after 5pm or during non-business hours, the next business day will be considered the day of deposit.
A business day is defined as Monday through Friday and excludes Federal Holidays. View our branch and ATM locations to find our hours.
Mobile Deposit will become available once you have been a member with OneAZ for 31 days. However, you may gain access to Mobile Banking at any time once you are a member.
After your first 90 days of membership, you can request a manual deposit review and request expedited clearance as needed. Alternatives to check deposits.
If you're looking for a faster way to transfer money, consider one of these options offered by OneAZ:
Have questions about your new accounts?
Find out everything you need to know about your accounts by clicking on the dedicated resources below.
U.S. checking or savings account required to use Zelle®. Transactions between enrolled consumers typically occur in minutes. At OneAZ, we additionally require that you must have an active checking account and be at least 18 years of age.
Zelle® and the Zelle® related marks are wholly owned by Early Warning Services, LLC and are used herein under license.