Schedule an appointment with a personal banker at our Prescott - Gurley St. branch!
Address

Branch Phone

Member Care Center

Services

Drive-Thru
ATM
Coinstar
Account opening
Loans
Wealth Management
Branch Lobby Hours

Mon. & Fri. - 9:00 AM - 6:00 PM
Tues., Wed., & Thurs. - 9:00 AM - 5:00 PM
Drive-Thru Hours

Mon. & Fri. - 8:30 AM - 6:00 PM
Tues., Wed., & Thurs. - 8:30 AM - 5:30 PM
Prescott Selects OneAZ as Best Credit Union
Prescott-area residents selected OneAZ Credit Union as the Best Credit Union/Bank in the 2019 Daily Courier Reader's Choice Awards!
Keep Reading
Why Should I Choose a Credit Union?
Let's face it: big banks are everywhere, so it's easy to think that they're the best option for you. Why not put your money—and your trust—in an organization that offers personalized service, competitive rates and a community focus?
Keep Reading
What is a HELOC? | Part 1
A home equity line of credit, or HELOC, is a revolving line of credit that is guaranteed by the equity in your home. With a HELOC, you can borrow for home improvements, unexpected expenses or to consolidate debt.
Keep Reading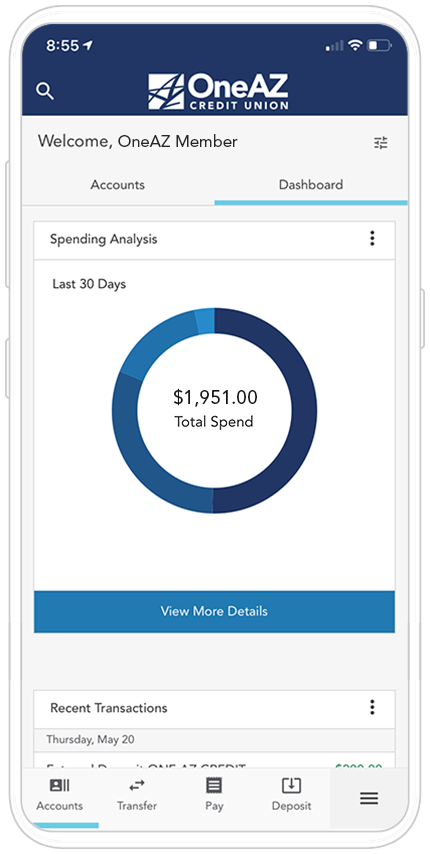 Data rates apply.

Now your bank is as mobile as you are.
Set Travel Notices
Card Controls
Financial Goal Setting
Seamless on All Devices
Alerts
Check Ordering
Compatible with: