Schedule an appointment with a personal banker at our Phoenix - Happy Valley Rd. branch!
Address

Branch Phone

Member Care Center

Services

Drive-Thru
ATM
Coinstar
Account opening
Loans
Wealth Management
Branch Lobby Hours

Mon. & Fri. - 9:00 AM - 6:00 PM
Tues., Wed., & Thurs. - 9:00 AM - 5:00 PM
Drive-Thru Hours

Mon. & Fri. - 8:30 AM - 6:00 PM
Tues., Wed., & Thurs. - 8:30 AM - 5:30 PM
An Update from Kim Reedy, President and CEO
Since 1951, OneAZ Credit Union has been committed to improving the lives of our members, associates and the communities we serve. That is true in times of abundance and of uncertainty. Today, I want to share with you how we continue to practice our mission through this period.
Keep Reading
Stay on Top of Your Finances During COVID-19
The ongoing spread of coronavirus, or COVID-19, has taken a toll not only on health, but on finances, too. Many Arizonans and Americans are finding themselves suddenly out of work or with reduced income and no end in sight.
Keep Reading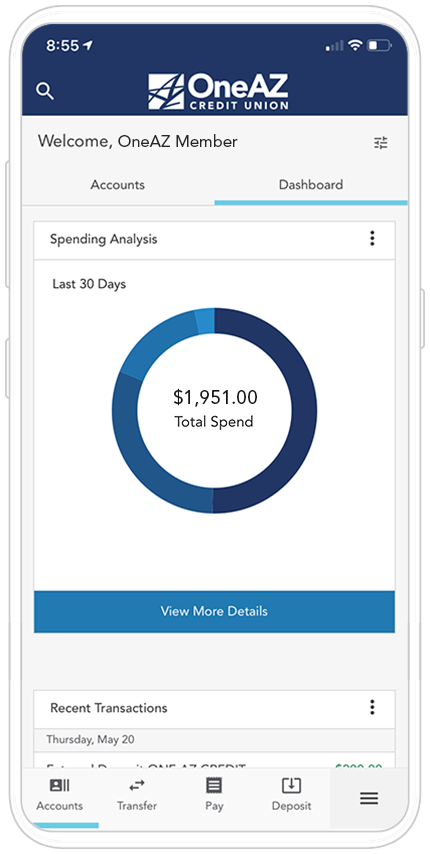 Data rates apply.

Now your bank is as mobile as you are.
Set Travel Notices
Card Controls
Financial Goal Setting
Seamless on All Devices
Alerts
Check Ordering
Compatible with: