Now Accepting New Loan Applications by Phone 24/7
Apply for a new mortgage, refinance, auto loan and more around the clock!
Discover Arizona's hottest mortgage rates.
Purchase a home with OneAZ's hot rates on conventional, jumbo and more.
For a limited time, save 0.25% on your interest rate.
1 Conditions apply. Rates and terms subject to change at any time. Promotional interest rate is available on purchase loans only.
In order to qualify for the 0.25% discount, you will need to agree to the following: open OneAZ Checking account, establish a monthly $1,000 direct deposit, and set up Auto Pay for the new loan.
Offer does not apply to FHA, VA, or USDA mortgages.
You and OneAZ.

A

perfect

match.
Financial Resources Guide
We are dedicated to your financial well-being!
Learn everything you need to know to live your best financial life. From budgeting basics to home buying tips, our Financial Resources Guide has all the tools you need to manage your money in one place.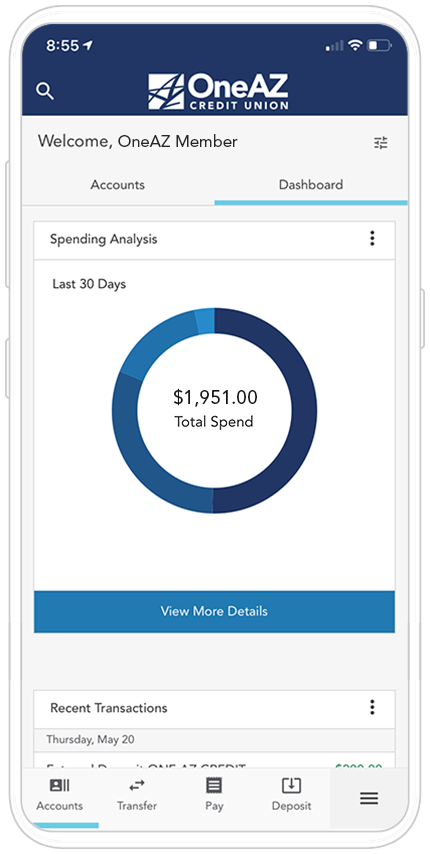 Data rates apply.

Now your bank is as mobile as you are.
Set Travel Notices
Card Controls
Financial Goal Setting
Seamless on All Devices
Alerts
Check Ordering
Compatible with:

Our Values
We are member-centric, associate-focused and community-oriented
We are equitable, transparent and trustworthy
We are inclusive and celebrate diversity
We are dedicated to providing the best member experience
We educate members and have their best interests at heart
Visit a Branch
Visit one of our 20 branches across Arizona to open a new account, apply for a loan or credit card, and more. We recommend scheduling an appointment prior to your visit!
Find an ATM
With your OneAZ Visa® Debit Card, you have access to 470 CULIANCE Network ATMs in Arizona and 41,343 across the nation.
We Can Help
Our team of experts is standing by to help you achieve your financial goals.
To open a new account, apply for a loan or get answers to your questions, contact our Virtual Team or make an appointment at your local OneAZ branch today.
Click
Apply online today!
Call
Speak with one of our loan professionals.
(Mon - Fri, 8 a.m. - 6 p.m.)
Visit
Finance your loan at one of our local branches today.
Why Choose a Credit Union?
Let's face it: big banks are everywhere, so it's easy to think they're the best option for you.
Why not put your money—and your trust—in an organization that offers personalized service, competitive rates and a community focus?
A credit union is owned by members, and earnings are returned in the form of better interest rates and lower fees for services.
Arizona-based experts in the market who understand the local real estate landscape will put their knowledge to work for you.
APR = Annual Percentage Rate. APY = Annual Percentage Yield.
Rates as of August 1, 2022.