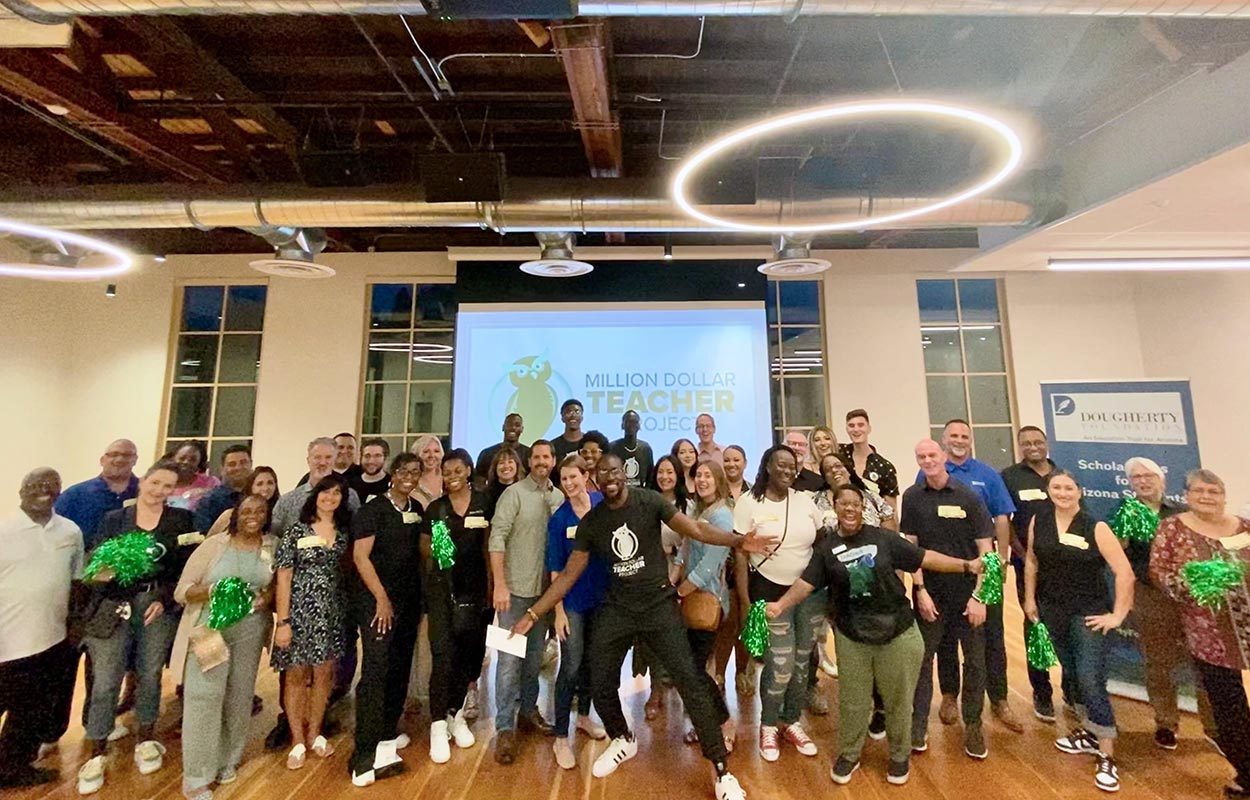 PHOENIX (August 5, 2022)—OneAZ Credit Union is proud to announce a $12,500 Legacy Grant donation to The Million Dollar Teacher Project's "In Teachers We Trust Endowment" to support Arizona teachers. The "In Teachers We Trust Endowment" will serve as a capital base for supporting innovative strategies to increase teacher compensation, as well as scholarship programs, financial hardship grants, and field trip assistance.
On July 29th, OneAZ Credit Union presented the Million Dollar Teacher Project with the donation during their Adult Field Trip Fundraising event. Along with a donation from the Dougherty Foundation and other private donations, the grant from OneAZ helped the Million Dollar Teacher Project exceed a goal they thought may take a full year. "OneAZ and the OneAZ Community Foundation strive to improve lives in the communities where our members live and work," said Sam Wheeler, Chairman of the OneAZ Community Foundation. "This Legacy Grant allows the Million Dollar Teacher Project to accelerate its work of ensuring that local teachers have everything they need to shape the minds of Arizona's most precious resource – our children."
"The Million Dollar Teacher Project set a goal of raising $25,000 to establish this fund and with the support of OneAZ Credit Union, The Dougherty Foundation and our generous donors we exceeded that goal during our annual fundraiser on July 29th, 2022, raising over $26,000 – in one night!" Lloyd Hopkins, Executive Director Million Dollar Teacher Project.
"Our goal in supporting the Million Dollar Teacher Project is to help eliminate the financial barriers for teachers to earn college degrees, certifications, and to engage in crucial ongoing skill development." Joyce Medina Harper, Executive Director Dougherty Foundation.
About OneAZ Credit Union
OneAZ Credit Union is a member-owned financial institution serving 160,000 members with 20 branch locations across Arizona. As a credit union with over $3.0 billion in assets, OneAZ is owned by its members, who benefit from better rates, lower fees for service and improved technology. Since 1951, OneAZ has strived to help Arizonans meet their financial needs through a full suite of personal and business banking solutions. OneAZ's mission is to truly improve the lives of its members, its associates, and the communities it serves. Insured by NCUA.
###