After a thorough evaluation of system capabilities and member experience, we have chosen to discontinue the atHome Deposit function on December 2, 2019.
Why is atHome Deposit going away?
atHome Deposit is an outdated function in OneAZ Online Banking. This function can often have errors, such as blurry or unclear check photos, which can result in rejected deposits.
Instead, we are empowering members like you to make quick and easy deposits using the free myOneAZcu mobile banking app. The app is available for free download in the App Store for Apple devices or the Google Play Store for Android devices.
To make a deposit in the myOneAZcu mobile banking app, follow these simple steps:
If applicable, download myOneAZcu from the App Store (Apple devices) or the Google Play Store (Android devices)
Open the app and log in using your OneAZ Online Banking login information
On the bottom navigation bar in the app, click "Check Deposit"

Select the account you would like to deposit the check in, and enter the exact amount listed on the check

Sign the back of the check and write "for mobile deposit at OneAZ Credit Union"
Click the camera icon to take a picture of the front of the check, then take a picture of the back


Ensure the photos are clear and legible, then click "deposit"

The mobile app will produce a success message and will offer you the option to email a receipt that includes the deposit details

Please retain the original check for 60 days from the date of the deposit in a safe secured location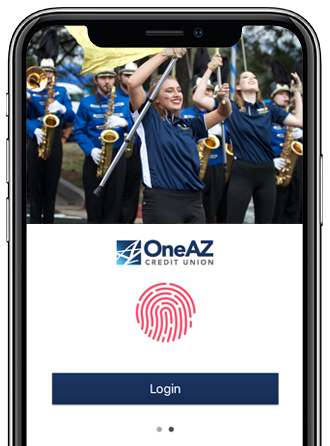 Banking in your pocket.
Mobile banking is available at your fingertips with our free myOneAZcu app.
Data rates apply.
Deposit checks
Schedule payments
Transfer funds
Compatible with