Qualified Groups for Membership
To become a member of OneAZ Credit Union, all you need is $5 to open your Share Savings account. This represents your ownership in the Credit Union. If you live in Arizona, are related to an existing member, or work for a qualified employer, you are eligible for membership. 
Faculty, Staff, Students and Alumni:
Arizona State University
Coconino Community College
Holbrook School District
Northern Arizona University
Pima Community College
The University of Arizona
Immediate Family Members of Current Members
"Immediate Family" means persons related by blood or marriage and include foster and adopted children.
Former spouses, surviving children, and relatives of deceased members.
People and organizations sponsored by existing members.
Allstate Insurance Company
American Express Travel Related Services, Inc. and Affiliates
Arizona Association of Counties
Arizona Charter Schools Association (ACSA) and member schools
Arizona Educational Loan Program
Arizona Public Employees' Program
OneAZ Credit Union, its subsidiaries and contractors
City of Douglas
City of Holbrook
County Supervisors Association of Arizona
Federal Government in Arizona State Buildings
John H. Harland Company
Payment Systems for Credit Unions (PSCU)
Retired State of Arizona
State Deferred Compensation Plan
State of Arizona
The Arizonan Tax Research Association
United Way of Greater Tucson
Other Qualifications
Persons under contract to purchase real property in counties served and will reside in the home at least part time.
Persons under contract to purchase real property for business purposes in counties served, must be a majority owner and actively managing the business.
Eligibility
In order for an applicant to be eligible to join the Credit Union, the applicant must:
Agree to purchase one share in the Credit Union.
Not have caused the Credit Union a loss. Those persons who have caused the Credit Union a loss, and who have not repaid or are not repaying the loss, shall not be eligible to membership in the Credit Union.
The Credit Union may approve additional eligibility requirements related to financial or other risks posed by potential members.
Why Choose OneAZ?
At OneAZ, our mission is to truly improve the lives of our members, our associates and the communities we serve. By becoming a member, you're joining a credit union that cares about your future – we are here to help you achieve your financial goals. We put you first by providing you with competitive rates, low fees and the personalized service you deserve.
You're a Member, not a number. Your membership is your ownership stake in OneAZ Credit Union. That means we're accountable to you, not investors or stockholders. You have a voice in how your credit union operates and get to vote for our Board of Directors.
Our profits are your savings. As a not-for-profit, we return our earnings to you in the form of lower interest rates, lower fees and better banking technology. Our team only cares about providing you with products and services that will benefit your financial well-being.
We keep it local. Banking at a local credit union like OneAZ keeps your money in Arizona. We're committed to strengthening Arizona's economy by providing affordable home and auto loans, empowering local entrepreneurs and small businesses, and supporting our members as they achieve their financial goals.
We invest in your community. We build stronger communities by providing support to nonprofits working in neighborhoods where our members live and work. The OneAZ Community Foundation uplifts the lives of Arizonans in need by awarding dozens of grants each year to local organizations across the state.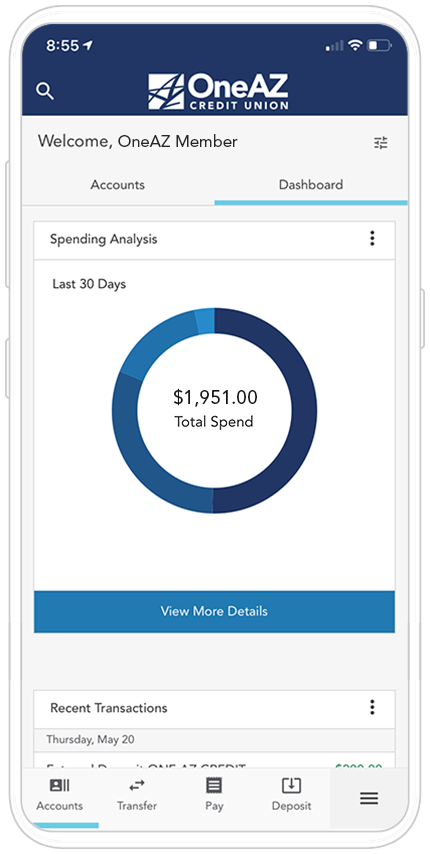 Data rates apply.

Now your bank is as mobile as you are.
Set Travel Notices
Card Controls
Financial Goal Setting
Seamless on All Devices
Alerts
Check Ordering
Compatible with: