Qualified Groups for Membership
To become a member of OneAZ Credit Union, all you need is $5 to open your Share Savings account. This represents your ownership in the Credit Union. If you live in Arizona, are related to an existing member, or work for a qualified employer, you are eligible for membership. 
Faculty, Staff, Students and Alumni:
Arizona State University

Coconino Community College

Holbrook School District

Northern Arizona University

The University of Arizona
Immediate Family Members of Current Members
"Immediate Family" means persons related by blood or marriage and include foster and adopted children.

Former spouses, surviving children, and relatives of deceased members.

People and organizations sponsored by existing members.
Allstate Insurance Company

American Express Travel Related Services, Inc. and Affiliates

Arizona Association of Counties

Arizona Charter Schools Association (ACSA) and member schools

Arizona Educational Loan Program

Arizona Public Employees' Program

OneAZ Credit Union, its subsidiaries and contractors

City of Douglas
City of Holbrook

County Supervisors Association of Arizona

Federal Government in Arizona State Buildings

John H. Harland Company

Payment Systems for Credit Unions (PSCU)

Retired State of Arizona

State Deferred Compensation Plan

State of Arizona

The Arizonan Tax Research Association

United Way of Greater Tucson
Other Qualifications
Persons under contract to purchase real property in counties served and will reside in the home at least part time.

Persons under contract to purchase real property  for business purposes in counties served, must be a majority owner and actively managing the business.
Eligibility
In order for an applicant to be eligible to join the Credit Union, the applicant must:
Agree to purchase one share in the Credit Union.

Not have caused the Credit Union a loss. Those persons who have caused the Credit Union a loss, and who have not repaid or are not repaying the loss, shall not be eligible to membership in the Credit Union.
The Credit Union may approve additional eligibility requirements related to financial or other risks posed by potential members.
What Does it Mean to be a OneAZ Member?
Glad you asked! As a OneAZ member, you're putting your money—and your trust—in an organization that offers personalized service, competitive loan rates and a community focus. We've been helping Arizonans like you reach their financial goals since 1951, and we're ready to work with you, too. After all, together, Arizona moves forward.
You own a share. As a member, you own a share in OneAZ Credit Union—that means we answer to you, not stockholders. Plus, you have a say in who serves on our Board of Directors, who make decisions in members' best interests.
You're giving back to the community. The OneAZ Community Foundation, funded by OneAZ Credit Union members, has given over $1.5 million to nonprofits and community members.
You benefit from profits. We're not-for-profit, so our earnings are returned to members in the form of better rates, lower fees and technology that makes it easier for you to manage your money.
You are part of our mission. OneAZ's mission is about improving the lives of our members, associates and the communities we serve.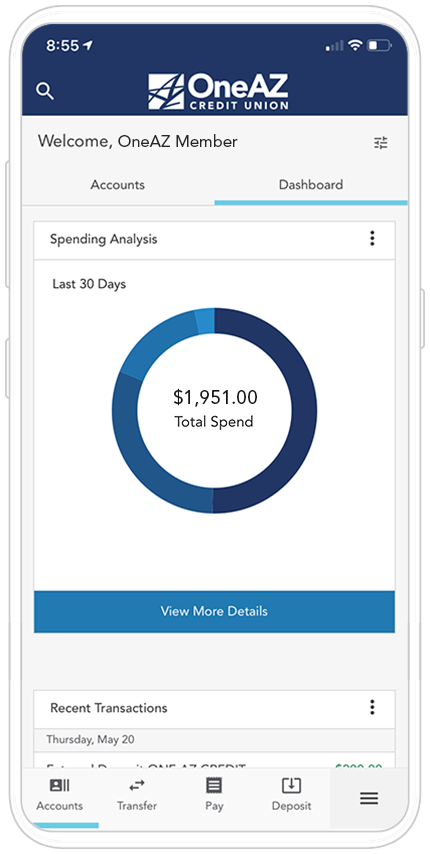 Data rates apply.

Now your bank is as mobile as you are.
Set Travel Notices
Card Controls
Financial Goal Setting
Seamless on All Devices
Alerts
Check Ordering
Compatible with: