Personalized Banking in the Digital Age
Published: August 5, 2022
Internet banks ("fintechs"), digital banking apps, decentralized currencies. It may seem like banking is becoming more and more digital and less and less personal. In fact, today nearly 65% of the United States population uses some sort of digital banking. As we are all well aware by now, digital banking has made our lives much easier when it comes to managing our daily finances.
However, if doing business with your screen has made you feel a bit disconnected, you're not alone.
In fact, many of us today have almost forgotten what it was like to walk into a local branch where the teller knew you by name and was willing to work with you on a personal level when it came to your banking needs.
While most of the relationship banking in the United States has all but vanished, the good news is there are still financial institutions in your community that are combining personalized banking alongside the world of online and mobile banking.
What if there was a way to take all the good parts from digital banking and combine them with the personalized banking experience we once had when we visited branches in person?
Upgraded Technology
OneAZ Credit Union not only offers digital banking, they have improved their fintech beyond many of the big national banks.
When it comes to convenience, online and mobile banking have made our lives a lot easier.
Most of us today deposit checks on our mobile devices, send money to friends using mobile payment services and pay for goods and services all online.
With OneAZ Credit Union's Next Level Banking, you now have access to the following features and capabilities:
Set travel notices
Access to advanced card controls
Financial goal setting
Financial health checkups
Fraud alerts
Account aggregations from other institutions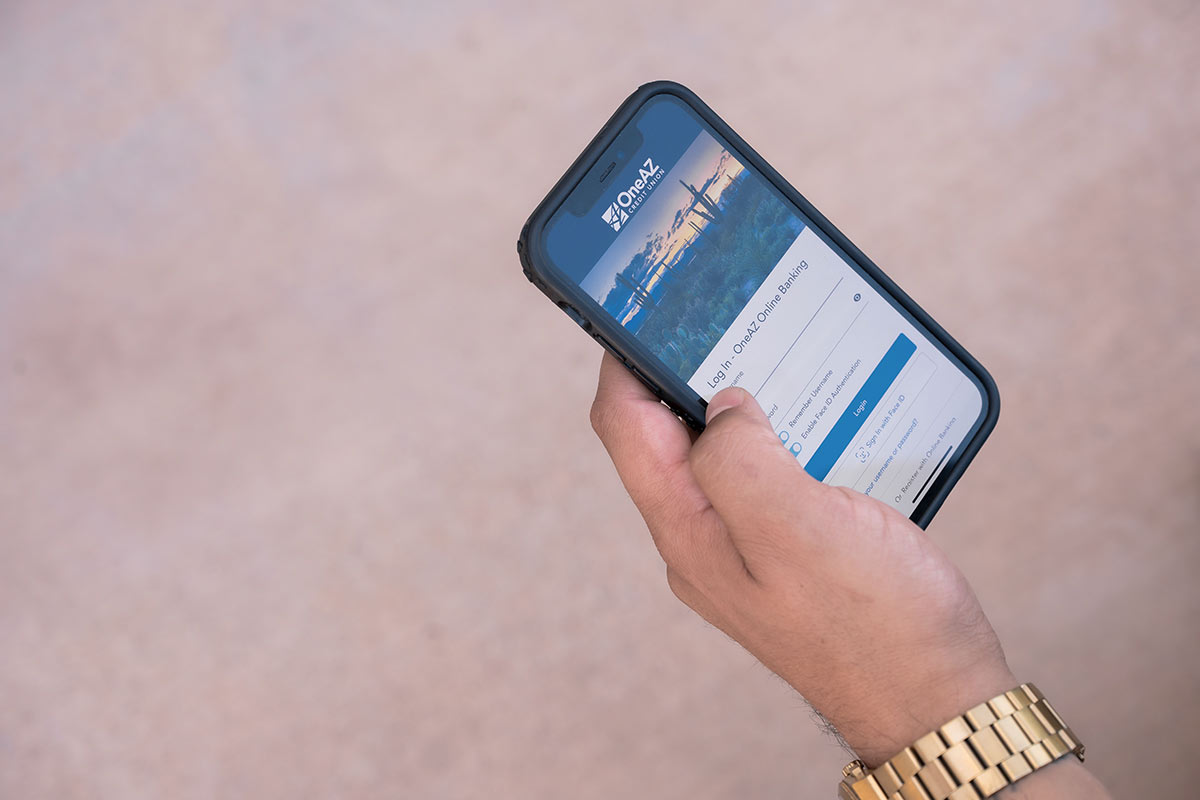 Credit Unions and banks have even taken it a step further to not only offer convenience, but also offer tools to help you manage your finances better.
For example, OneAZ Credit Union's Next Level Banking has financial health tools to help you create savings goals along with a financial health checkup tool so you can see in real-time your overall financial health.
Upgraded banking technology has also allowed OneAZ to take convenience to the next level by offering Early Pay for members enrolled in direct deposit. Early Pay delivers your paychecks to your OneAZ account up to 2 days before payday!
A Focus on Relationships
Credit unions exist for the purpose of serving their members.
As the large national banks continue to move further away from relationship banking, credit unions and local banks are moving towards building a relationship with you.
For example, OneAZ Credit Union in Arizona has a mission to improve the lives of their members — not their "customers". In fact, credit unions aren't owned by investors — they're owned by you and I, the members.
This is why when you walk into a branch at OneAZ Credit Union, you're not treated as a customer, but as a member.
The staff at the branch will know you by name, and if they don't, they take the time to get to know you. Instead of just being another customer in line, you have the opportunity to sit down face-to-face with a banker and discuss your personal financial situation and goals.
Committed to Community
Credit unions are uniquely focused on improving local communities.
Did you know when you bank with large national banks, money leaves the state and the community you live in?
Local credit unions on the other hand do just the opposite by taking the money you deposit and plugging it back into the community you represent. Your deposits may be used to help a local business get started, help a family obtain a mortgage, or help some start building credit. Credit unions have a direct impact on the economies where their members live, work and play.
Credit Unions are also dedicated to improving the communities they serve through charitable service.
For example, since 2016, OneAZ Credit Union's Community Foundation has provided nearly $750,000 in grants to hundreds of nonprofit organizations across the state of Arizona.
Unlike the large national banks, OneAZ Credit Union is improving the community their members live and work in.
Ready to Become a Member?
Making the switch to becoming a member at OneAZ Credit Union can be done in a few different ways.
Simply open an account online, over the phone or by visiting any of the 20 branches across the state of Arizona.
Chris "Peach" Petrie is the founder of Money Peach. Money Peach partnered with OneAZ to provide free financial education to members across the state. To learn more about OneAZ's partnership with Money Peach, click here.
APR = Annual Percentage Rate