What's the Difference Between Pre-qualification, Pre-approval and a Mortgage Commitment Letter?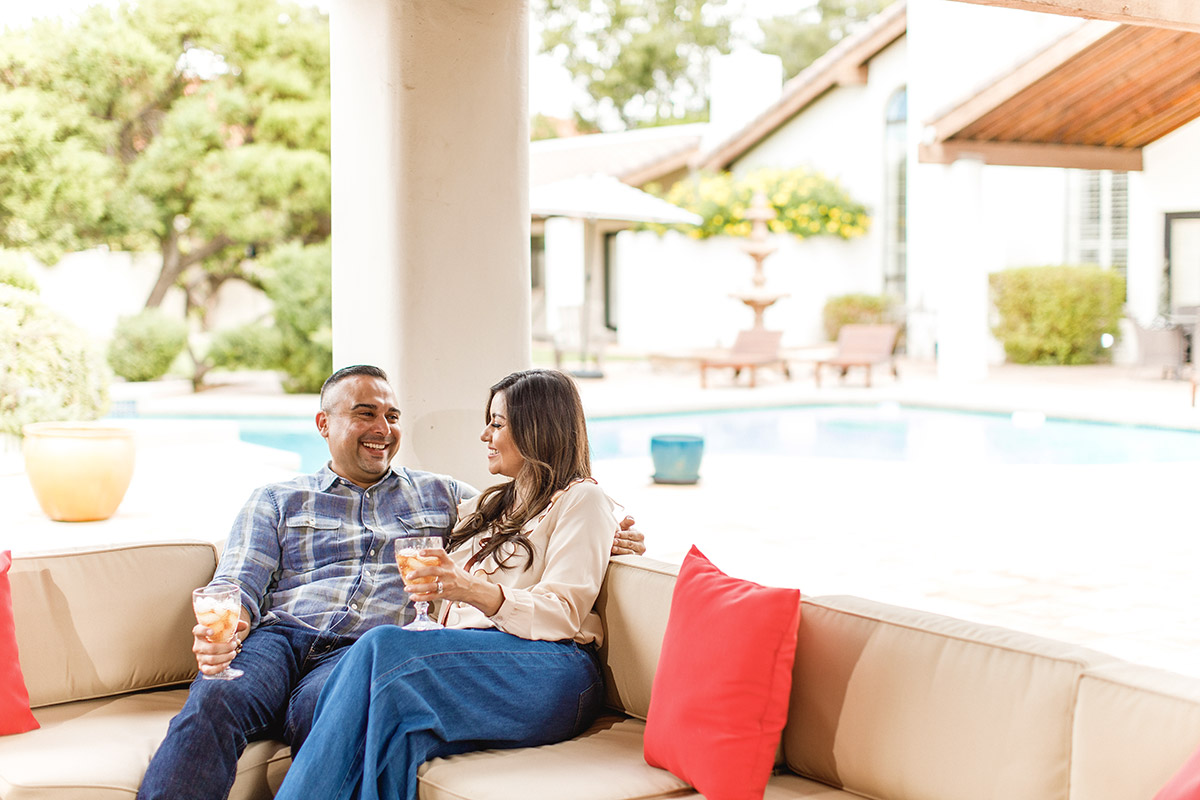 Buying a home is one the biggest purchases any of us will ever make, and it's a lot of work in both a buyer's and a seller's market!
Interest rates are on the rise, with experts anticipating them to climb between 4.8% and 7.0% by the end of 2022. This means home buyers are scrambling to purchase a home and lock in today's rates.
Buyers need every advantage they can get when competing to purchase a home in a seller's market, and some of the best advantages you can give yourself are getting pre-qualified, pre-approved or obtaining a mortgage commitment letter if your lender offers one.
But what's the difference between the three?
Pre-Qualification
Prequalification is a quick snapshot of what you may be able to receive for financing. It's a good first step in your homebuying journey and can be done with a very basic online application or following a quick conversation with your lender.
Make sure you have basic information like your income, assets and debt so that your lender can make an assessment about whether you'd qualify for a loan.
While pre-qualification is the most informal step in the homebuying process it can be a confidence builder. Once you're pre-qualified, you'll have an idea about which home loan options fit your needs and goals. If you've been asking whether to go with a 30-year fixed-rate loan or an adjustable rate mortgage, a pre-qualification may give you a better idea of which option is best for you.
Also, don't underestimate the confidence boost you'll get with the knowledge of your ability to obtain financing for your future dream home.
For homebuyers looking to get started on the housing market, OneAZ offers pre-qualification. It's simple and easy to do online, over the phone or in person at your local branch.
Pre-Approval
Preapproval on the other hand requires a much more detailed application and thorough review of your finances. In fact, when it comes to preapproval, you should expect to provide the following financial information to your lender:
Proof of income - W2, tax returns, profit and loss statements, real estate income, proof of other sources of income.
List of Assets - Bank statements, retirement accounts, and other brokerage accounts.
Total Debts - Monthly debt payments and monthly mortgage payments.
Other Records - Rent payments, divorce settlements, or bankruptcies.
Credit History - Requires a hard pull on your credit to be used by the mortgage underwriter in determining your loan approval.
The bottom line is preapproval is more stringent than prequalification. Also, you can only get a mortgage commitment letter (either conditional or final) only after you have been preapproved.
What is a Mortgage Commitment Letter?
A mortgage commitment letter is a formal document prepared by your lender stating you are approved to receive a home mortgage loan.
This letter is extremely valuable for home buyers because it demonstrates to both real estate agents and sellers that you are a serious buyer.
With a mortgage commitment letter in hand, you can show agents and sellers that you have already gone through the pre-approval process and that you are either conditionally or fully approved for a mortgage loan.
In fact, many real estate agents and sellers won't even consider an offer if the buyer doesn't have a loan commitment letter in hand. This is especially the case during a seller's market — a real estate market with high demand, low inventory, and where buyers must compete to purchase the home from the seller.
The Two Different Types of Mortgage Commitment Letters
There are two different types of mortgage commitment letters: conditional and final.
A conditional mortgage commitment letter states you are approved for a home loan once certain conditions are met.
All mortgage commitment letters will actually start off as conditional agreements and once all conditions are met, you will then receive a final loan commitment letter.
Conditions will vary from state to state and from lender to lender, but typically you will need to meet the following conditions in order to move to a final approval.
Purchase Agreement - A legal contract between you and the seller outlining the details of the home sale transaction.
Home Appraisal - The appraisal assures the lender the home is worth its purchase price, and can also be sold to cover losses if you default on your mortgage. The lender will not lend more than the appraised value of the home.
Homeowners Insurance - Proof of homeowners insurance.
Proof of Title - This shows who currently has legal ownership and liens on the property you are purchasing.
Proof of Funds for Down Payment - The lender will want to see you have the cash on hand to pay the down payment and to cover closing costs. Depending on your loan, down payments can range between 3.5% to 20% of the purchase amount and closing costs will range from 2% to 5% of the loan amount.
Final Underwriting Approval - Once all documents have been received, the mortgage underwriter will either approve or deny the loan application.
Once all the conditions have been met from the conditional loan approval letter, the lender will issue a final commitment letter promising the borrower a certain loan amount.
The final commitment letter, often referred to as firm commitment, will also include an end date for the final approval. If the loan is not funded before the end date, the offer expires and the borrower will have to reapply for the loan.
Here is a sample for a final loan commitment letter: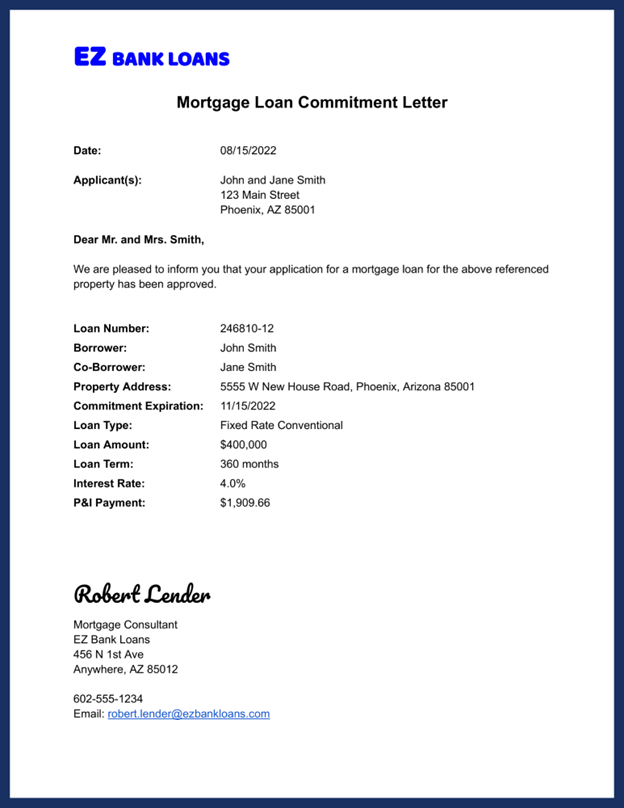 Important: Approval vs Affordable
Whether you choose to get pre-qualified, pre-approved, or a mortgage commitment letter, it's important to make sure you can actually afford the home loan you're seeking.
Take a look at your monthly budget and determine how much mortgage payment you can comfortably afford each month.
When a homebuyer purchases a home with a larger monthly payment than they can actually afford, their new home may go from a blessing to a curse.
A good rule of thumb is to make sure your total mortgage payment is no more than 25% of your monthly take-home pay. Once you know how much mortgage payment you can afford, you can determine the loan amount that fits comfortably inside your budget.
You can utilize a mortgage calculator to determine the affordable loan amount based on your interest rate and the monthly payment you can afford.
Let's take a look at a quick example:
Monthly take-home pay:

$6,000

25% of take-home pay:

$1,500 (max monthly payment)

Maximum mortgage loan amount:

$315,000
**Note: Example is based on a 30-year fixed rate conventional mortgage for $315,000 at 4.0% and only includes principal and interest portion of the monthly payment.
Pre-qualification vs. Pre-approval vs. Mortgage Commitment Letter Comparison
| | Pre-qualification | Pre-approval | Mortgage Commitment Letter |
| --- | --- | --- | --- |
| Benefits | A simple first step to house hunting that give you an idea of your loan options and how much you might be able to afford. | Your lender determines how much money you can borrow to purchase a home based on an in-depth review of your income, assets, debt payments and credit history. | Gives you a formal document to show to sellers stating a lender is willing to finance the money for a home mortgage loan. |
| Process | Quick online application or over the phone conversation with a lender. | An in-depth review of your income, assets, debt payments and credit history. | Requires an in-depth review of your income, assets, debt payments and credit history, like a pre-approval. A final commitment letter can take up to 45 days. |
Chris "Peach" Petrie is the founder of Money Peach. Money Peach partnered with OneAZ to provide free financial education to members across the state. To learn more about OneAZ's partnership with Money Peach, click here.
APR = Annual Percentage Rate