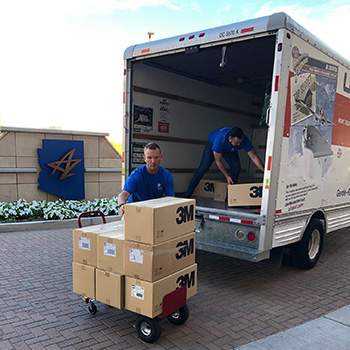 PHOENIX (March 31, 2020)—When OneAZ Credit Union assessed its inventory of N95 respirator masks to protect front line associates, the credit union realized it had more than needed and immediately looked for an opportunity to help the medical community.
Like many businesses, OneAZ Credit Union had built a large supply of N95 masks in 2009 in preparation for the H1N1 "Bird Flu" pandemic. After confirming with 3M that the properly stored masks do not expire and are still effective, OneAZ Credit Union reached out to Banner Desert Medical Center's ICU unit designated to receive COVID-19 patients. Importantly, the 40,000 masks donated were identified as being above and beyond the credit union's current and projected needs.
"Our first priority is the safety of our associates. Once we confirmed that supply, our focus shifted to the medical community – where we have been looking at every way possible to make a positive impact during these uncertain times. We believe Arizona will come through this stronger if we all work together for the greater good," said Kim Reedy, CEO for OneAZ Credit Union.
OneAZ Credit Union's COVID-19 efforts include modified business practices, a committed $200,000 in emergency COVID-19 Community Impact Grants for the nonprofit community and now this donation of N95 masks.
"We are so thankful to OneAZ Credit Union for this generous donation of N95 respirator masks for our health care workers on the front lines of the COVID-19 pandemic. In these difficult times, support from local businesses and our community is helping Banner Health in so many ways as we work to keep our patients and our health care workforce safe. We applaud and thank OneAZ Credit Union for being such a generous partner," said Andy Kramer Petersen, President & CEO, Banner Health Foundation.
The Banner Health Foundation is gratefully accepting donations of medical supplies and Personal Protective Equipment from businesses and/or community members who have supplies that they do not currently need. Donations can be dropped off at Project C.U.R.E., 2100 W. 14th St., Building T3 Tempe, AZ 85281, Monday through Friday, 9 a.m. – 3 p.m.
"We encourage the local business community to take the time to inventory their true needs and then donate anything they can spare to help protect our medical community and slow the spread of COVID-19," said Reedy
About OneAZ Credit Union
As a Credit Union, OneAZ is owned by its members and its earnings are returned to its members in the form of better interest rates and lower fees for service. With 20 locations and more than 140,000 members, OneAZ Credit Union has been serving Arizona since 1951, when two state employees recognized the need for a member-owned credit union. To learn more, visit oneazcu.com. Insured by NCUA.
###