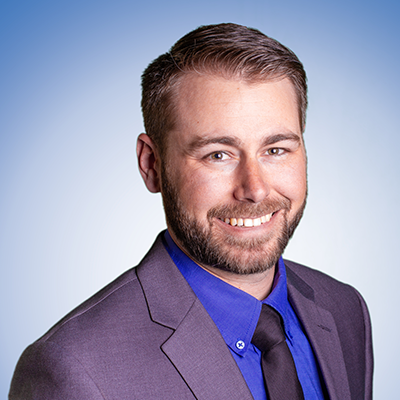 Joel Justin
Northern Region Workplace Banking Program Manager
Serving OneAZ members since: 2015
Joel's key to success: Never give up, always keep your goals in sight. No matter what gets thrown your way, push forward and always remain true to your faith.
A little about Joel
Joel has over eight years of financial industry experience, with four years at OneAZ Credit Union. As the Northern Region Workplace Bank Program Manager, Joel is a link between OneAZ and the communities we are part of, helping our Credit Union anticipate the growing needs of Northern Arizona businesses. Joel is passionate about supporting and strengthening the local business community.
After graduating with his Bachelor of Science in American Political Studies from Northern Arizona University, Joel moved to Flagstaff permanently and began working for a national bank. As he became more familiar with Flagstaff and the financial industry, Joel built relationships within the local business community. He made it his goal to be in a position where he could serve members on a unique level and foster business growth throughout the state, which led to his role with OneAZ.
In his free time, Joel enjoys spending time outdoors with his wife and dog, traveling and doing home improvement projects.
Uniting Lumberjacks for Life
As the official financial institution of NAU Athletics and a partner of the NAU Foundation, we're pleased to support Lumberjacks far and wide.
Keep Reading
5 Ways to Keep your Money Local
It's easy to think that opting for a national brand is the best use of your money. However, supporting Arizona businesses means your hard-earned money, once spent, continues to work for you and improve the economy.
Keep Reading
Prescott Selects OneAZ as Best Credit Union
Prescott-area residents selected OneAZ Credit Union as the Best Credit Union/Bank in the 2019 Daily Courier Reader's Choice Awards!
Keep Reading