Why Should I Choose a Credit Union?
Published: January 18, 2018
Revised: May 25, 2022
Let's face it: big banks are everywhere, so it's easy to think that they're your best option. So why choose a credit union? Because you're putting your money—and your trust—in an organization that offers personalized service, competitive loan rates and a community focus. When you're considering a credit union vs. banks, here are just a few reasons why you should choose a credit union to help you reach your financial goals.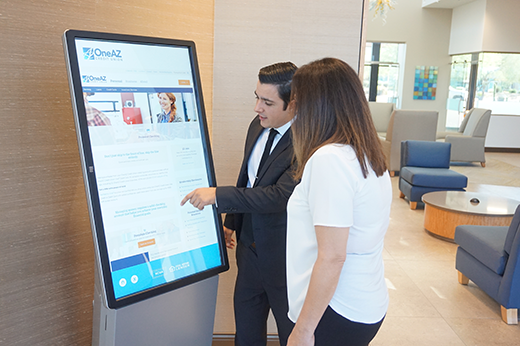 What is a credit union?
A credit union is a not-for-profit financial institution owned by members, who have a share in the organization and therefore a vote in how things are run. Credit unions operate with their members' best interests in mind and strive to provide excellent, personalized service to match their great rates.
Credit unions vs. banks
The main difference between a credit union and a bank is that credit unions answer to its members, not corporate shareholders. Profits are returned directly to members in the form of more competitive rates, lower fees and better products.
It's about you, not your money
Credit unions focus on providing an excellent member experience. You're not just a number on a spreadsheet or a dollar sign on the bottom line. At OneAZ Credit Union, we always have members' best interests at heart—it's one of our core values—so every decision we make is done to benefit you.
Members run the show
Unlike big national banks, there aren't stockholders making the decisions and reaping the benefits at credit unions. Every member owns a share of the organization, meaning they have a say in how the organization is run. You have the power to vote for your Board of Directors, who make decisions on your behalf and in members' best interest. You can even attend the Annual Meeting for exclusive updates on financial successes and new bylaws and a report from the President.
We embrace new technology
It's a common misconception that credit unions are slow to adapt to modern technology. At OneAZ Credit Union we offer mobile technology including Apple Pay, mobile check imaging and a state- of-the-art text banking program. This year, we will begin using mobile devices in branches for more convenient member service.
Your money is safe with us
Credit Unions are insured by the National Credit Union Administration (NCUA) up to $250,000 per account. That means your money is federally backed and secure with us. Plus, credit unions are not-for-profits, so earnings are reinvested in the organization to make improvements that benefit members and keep your money and information safe.
We're community-focused
Credit unions are owned and operated by your neighbors, friends and trusted financial partners. That means we invest in local non-profits and organizations that strive to improve the communities they serve. Thanks to the generosity of our members and business partners, OneAZ Credit Union invested over $110,000 in 2017 alone to support education, families, disaster victims and more.
At OneAZ Credit Union, we're all about helping you reach your financial goals and supporting you every step of the way. Ready to join our community? Visit a branch or go here to become a member today!
APR = Annual Percentage Rate