Move Your Money: Reasons People Are Moving Their Money From a Bank to a Credit Union
Published: May 5, 2022
Revised: May 25, 2022
At the end of 2021, there were almost 130 million credit union members across the United States. Compare that to 2011 and you can see membership with credit unions has grown by millions!
So, why are so many people moving their money to a credit union?
At first glance, banks and credit unions may appear similar but the truth is they are more different than they are alike.
1. Credit Unions Are Member-Focused
Credit unions are geared towards making decisions that are best for their members. You see, when you join a credit union, you actually become an owner in that institution. As a member-shareholder, you get to vote for positions on the Board of Directors. Those board members are then accountable to you and make decisions based on your interests, not the interests of stockholders or corporate profit goals.
Another great thing about credit unions is that they are not-for-profit. Unlike traditional banks that exist to make money from customers, credit unions return any earnings back to their members through lower loan rates, better products and service, and enhanced technology. That's all to say that because credit unions aren't out to turn a profit, they can focus on what's best for their members.
So, who can become a credit union member? Almost anyone! Gone are the days when you had to meet strict requirements for credit union membership.
For example, to become a member of OneAZ Credit Union, you need to live in the state of Arizona, be related to an existing member, or work for a qualified employer. If you meet any of these qualifications, you are eligible for membership.
Then, once you qualify you'll need to open your Share Savings account with $5. This $5 is actually your ownership in the Credit Union and it's your key to unlocking the benefits of banking with a credit union focused on doing what's right!
2. Better Interest Rates and Fees
These are some of the most tangible benefits from banking with a not-for-profit credit union.
One of the ways banks earn profits is through elevated interest rates and charging its customers fees. Since credit unions don't need to worry about creating profits for investors, they can afford to give you the lowest interest rates on the market for credit cards, home loans, auto loans, home equity loans, personal loans – you name it!
Sometimes there's just no way around fees. If you take out a mortgage to buy a new home, there are going to be closing costs. And if you overdraw your bank account, you're going to face an overdraft fee. The difference with a credit union is that they can keep those closing costs and service fees much lower because they don't need to post profits for investors.
While banks and credit union also charge fees for checking accounts, credit unions often also have free checking options so members have access to the benefits and security of a checking account, without any of excessive fees. For example, OneAZ Free Checking boasts no monthly maintenance fees AND no minimum required balance.
Remember, banks must create profits for their investors through their customers, and one of the fastest ways to do that is through fees.
While credit unions still charge fees, they will have fewer and lower fees as a way to pass the savings back onto the members.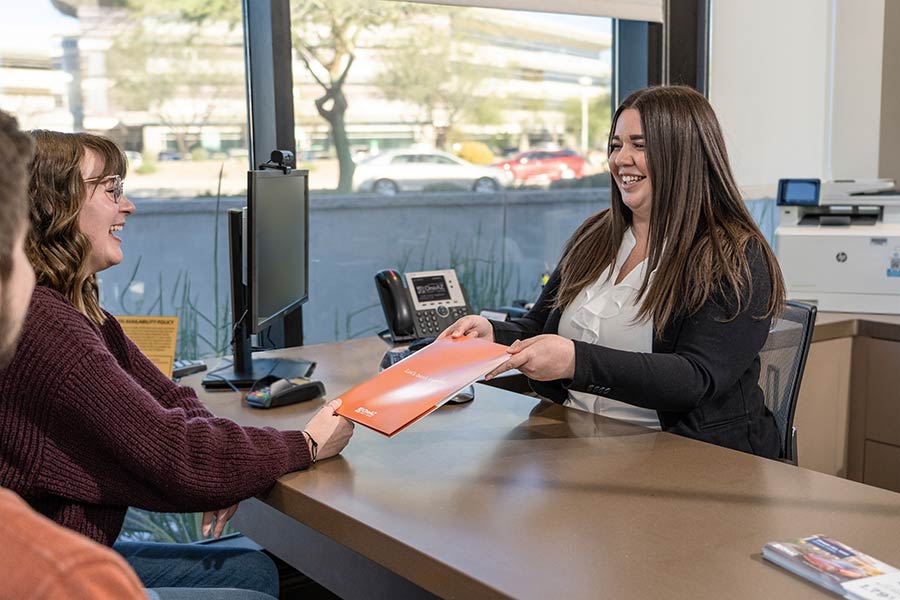 3. Keep Your Money Inside Your Community
Did you know when you bank with a large national bank, money leaves the state and the community you live in?
Local credit unions like OneAZ Credit Union on the other hand do just the opposite - by taking the money you deposit and plugging it back into the community where you live.
They do this by loaning it to your neighbors to buy new homes or cars, and investing in local businesses that provide jobs to members of your own community. All that keeps your cash inside your community and improves the economy for everyone.
Also, your local credit union is active in giving back. Because credit unions are member-focused, they work to improve the lives of the communities where their members live and work. For example, the OneAZ Community Foundation has provided nearly $750,000 in funding to Arizona nonprofit organizations since 2016.
4. Competitive Technology and Convenience
In the past, it may have been true that banks had a leg up on credit unions when it came to banking technology. But that is far from the case today.
In fact, credit unions like OneAZ have surpassed the technological capabilities of the larger national banks when it comes to digital banking.
For example, Next Level Banking offered by OneAZ Credit Union has everything you would expect today when it comes to digital banking. You can deposit a check on your mobile device, send money to friends or family, and you can even set up credit and debit card controls to protect your account.
But, unlike most of the large national banks, Next Level Banking takes it a step further and helps you create financial goals. From your online dashboard, you can create savings goals, do a financial health checkup and look over your personalized spending analysis.
Another former advantage of large national banks used to be their convenience. They may still have more physical branch locations when compared with local credit unions. But ask yourself: Besides getting cash, how often are you actually driving to the bank? I mean, almost everything we do at the bank can now be done from our phones or online, right?
Today the main reason to visit a branch is to go to the ATM and this is one area where credit unions are similar to banks — there are fee-free ATMs everywhere.
In fact, when you become a member of OneAZ Credit Union, you will have access to over 41,000 fee-free ATMs across the United States.
5. Security
Did you know that in 2021, internet crime victims lost nearly $7.0 billion?
While you may be worried about becoming a victim of cybercrime, the good news is your money is safe at a credit union like OneAZ.
OneAZ has your back, actively working to prevent scams before they negatively impact your life. In fact, OneAZ's team of investigators has saved members millions of dollars by detecting potentially fraudulent activities and stopping it in its tracks.
The best way to protect yourself from scams is always remain vigilant. Remember, never give out your personal information to anyone online or over the phone. This includes sharing user IDs, passwords, or any one-time PINs needed to login to online banking. If you believe you may be the victim of fraud, contact your bank and law enforcement immediately.
Also, whether you have a checking account at a bank or at a credit union, the federal government insures your deposits in case the financial institution fails. Each depositor is insured up to $250,000 through either the Federal Deposit Insurance Corporation (FDIC) at the bank or the National Credit Union Administration (NCUA) at the credit union.
6. Better Customer Service
If you ever want to feel like you're just another number, then open an account at one of the large national banks.
But if you want a personal relationship and a partnership with the institution where you keep your money, then become a member of a credit union. You'll see and feel the difference when it comes to customer service.
Whether you're visiting a branch, asking about a loan, or opening up a business account, the difference in customer service between a credit union and a large corporate bank is night and day.
With the large national banks, you feel like just another number. At a credit union, associates know you by name, they care about your financial well-being and are there to help you make the best financial decisions based on your needs.
This member-focused service means associates care about your financial well-being. In fact, did you know that under the Federal Credit Union Act, credit unions were organized for the purpose of promoting both frugality and careful money management among the communities they serve?
This is why credit unions continue to offer financial literacy for their members. For example, OneAZ Credit Union has an entire pillar dedicated to financial literacy by offering resources to help members improve their financial lives.
You definitely don't get that from a bank.
It's Time to Move Your Money
When you move your money from a bank to a credit union, you go from being just another account number to becoming a member who has a voice and owns a share in their financial institution.
Credit union members receive better customer service, better rates, and lower fees. More importantly, when you move your money from a bank to a credit union, the money you deposit stays inside your community instead of leaving the state you live in.
Combine that with the best in financial technology and the financial resources to help you improve your life, and you quickly understand why so many have moved their money to a credit union.
If you're ready to join the millions of other members of credit unions and you live in the state of Arizona, move your money to OneAZ Credit Union.
You can become a member online, over the phone or by visiting any of the 20 branches across the state of Arizona.
Chris "Peach" Petrie is the founder of Money Peach. Money Peach partnered with OneAZ to provide free financial education to members across the state. To learn more about OneAZ's partnership with Money Peach, click here.
APR = Annual Percentage Rate