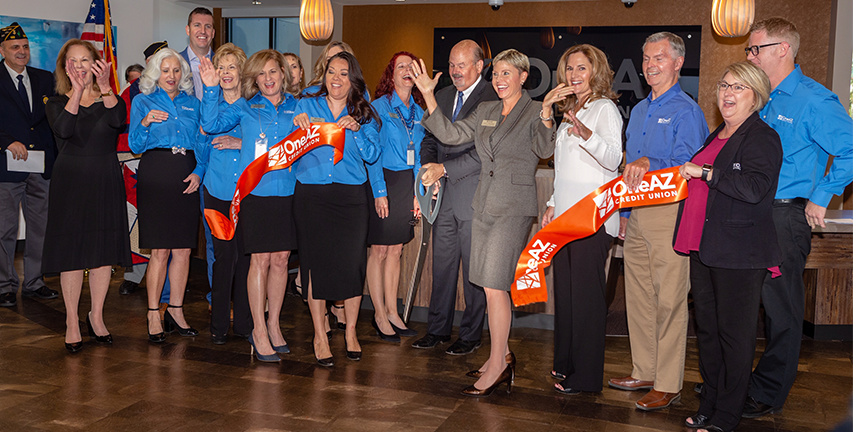 The Oro Valley community came together to celebrate the grand opening of the new OneAZ Credit Union branch, on the corner of First Avenue and Oracle, last week. The grand opening event honored local veterans, non-profits and volunteers who enhance and support the community.
The Quilts of Valor Foundation, a non-profit that provides custom-made quilts for service members and veterans touched by war, made a special mark on the grand opening event. Marianne Woodside and American Legion Post 132 Commander Steve Didio presented quilts to Verne Luther, a World War II Navy veteran; Karl Rhein, an Army National Guard medic and Golder Ranch firefighter; and Donald Topar, an Army veteran and Oro Valley Police Officer. The quilts provide healing and comfort for veterans, and each one was handmade by Woodside.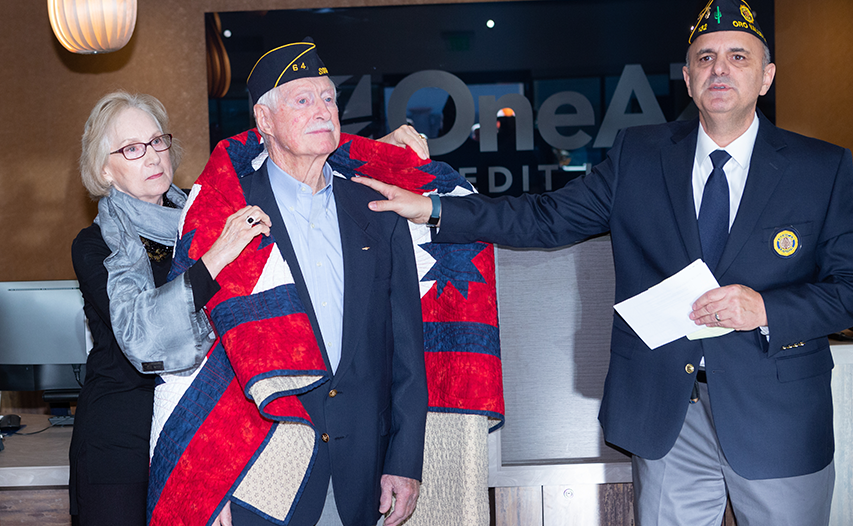 The Oro Valley community puts a strong emphasis on honoring veterans and local heroes. Southern Arizona Veterans and First Responders Living Memorial is a group working to erect a memorial in nearby Naranja Park. OneAZ Credit Union and the OneAZ Community Foundation provided a $2,500 Community Impact Grant for the memorial, which is funded entirely by donations. OneAZ also honored Alexie Danna, a 9-year-old Oro Valley resident who works tirelessly to raise funds for Honor Flights. The organization sends veterans to Washington, D.C. to visit memorials erected in their memory, and Alexie has raised funds for seven veterans' memorial visits. She was presented with a necklace featuring seven pearls, one for each flight.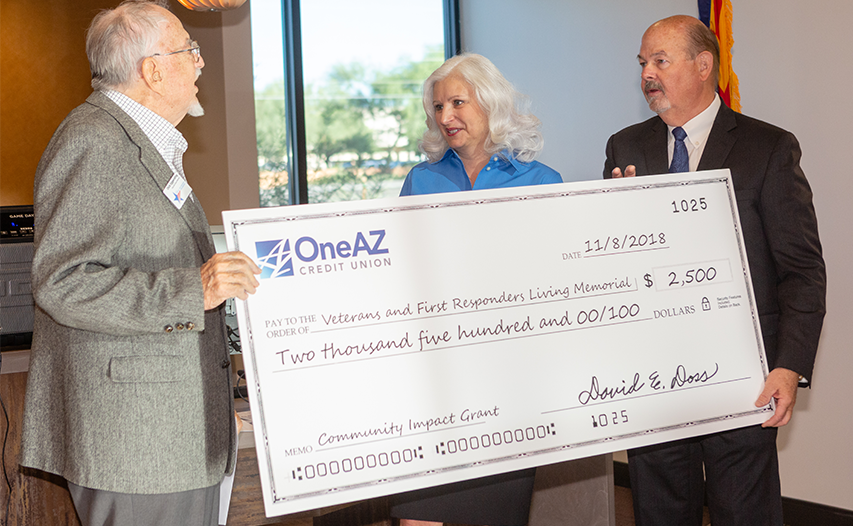 The grand opening event also included a live performance by the Pusch Ridge Christian Academy band and choir, a visit from Oro Valley Council Member Rhonda Pina and a ribbon cutting ceremony. Local radio station My 92.9 broadcast live from the location and handed out prizes, and guests enjoyed a catered breakfast and lunch.
OneAZ knows the best neighbors bring something to the table, so we thought we'd do the same. New and existing members who visit the OneAZ Oro Valley branch any time in the month of November can take advantage of special rates for the grand opening! Learn more here or stop by the branch at 10718 North Oracle Road to get started.