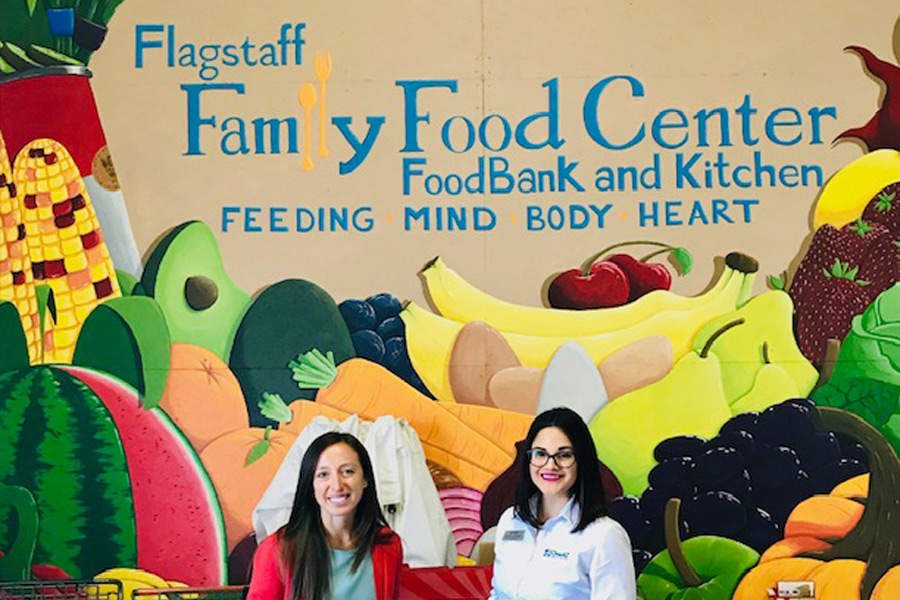 30 years ago, George McCullough saw a need for hunger relief services in the Flagstaff area. He began giving out his business cards to those in need and offering to pay for their meal at the Grand Canyon Café. Soon, his work evolved into the Flagstaff Family Food Center. The center's soup kitchen opened its doors on Christmas day in 1991 and has been serving the hungry ever since.
The Food Center now feeds between 1,300 and 1,500 people every day through various programs, including the soup kitchen, food bank, mobile pantries and homebound delivery service. "We try to be accommodating to people in different situations," says Carrie Henderson, development director. "We want to make sure we're able to give something to anyone in need."
Flagstaff Family Food Center received a OneAZ Community Impact Grant in 2019 to help expand their homebound senior delivery program. "We know there are still vulnerable members of our community who we're not reaching, and we want to know that we're doing everything we can to help them," says Henderson. "The grant that OneAZ provided is really important to help us get food into the hands of people who need it."
When the COVID-19 pandemic hit in 2020, even more families in Flagstaff began turning to the Food Center for assistance. "COVID-19 and its ongoing economic impacts have been particularly challenging for our most vulnerable community members," says Henderson. "Seniors who cannot leave their homes, families struggling to make ends meet with children no longer receiving free or reduced-price lunch at school, hard-working individuals who have had their hours cut or jobs lost, and our neighbors on the Navajo Nation who are seeing the highest levels of coronavirus nationwide."
OneAZ provided an additional grant to Flagstaff Family Food Center as part of the Emergency COVID-19 Community Impact Program. The program gave grants to nonprofits that were hit hard by the pandemic, which often brought reduced funding, a lack of volunteers and even forced temporary closures. The additional funding helped with the food center's increased needs and safety-focused operations, including no-contact emergency food box distribution and to-go-style hot meals.
"On average, our food assistance programs have increased by 80% since the beginning of the COVID-19 crisis," says Henderson. "We expect the need to remain high as our neighbors work hard to get back on their feet." That increased need, coupled with an expected 35% decrease in individual donations as a result of COVID-19, means every dollar the food center receives makes a difference right now. "OneAZ has helped us fill these gaps by increasing payroll costs, supplies and community outreach efforts."
To learn more about OneAZ Community Foundation and the Community Impact Grants program, click here.