Mahalo means grateful—that's the motto for Phoenix-based shave ice truck Mahalo Made.
In 2017, Lady La had a vision of spreading gratitude throughout the Valley of the Sun with uniquely handcrafted shave ice. "Mahalo is an expression of gratitude," says La. "I have strong family ties to Hawaii and wanted to honor how grateful I was to serve the community with the name Mahalo Made."
Traveling the valley in a refurbished airstream, La and her team serve up Japanese kakigori-style shave ice that looks like a work of art. Think layers of fluffy ice infused with vibrant organic syrups, topped with fresh cream and fruit.
From its first stop at an Asian night market in Phoenix two years ago, Mahalo Made has expanded to offer unique merchandise, from t-shirts and sweatshirts to stickers and pins—and even a limited-edition candle. Though the COVID-19 pandemic has put Mahalo Made's usual operations on hold, La sees opportunity for growth in 2021, with plans for its first brick-and-mortar location in the future.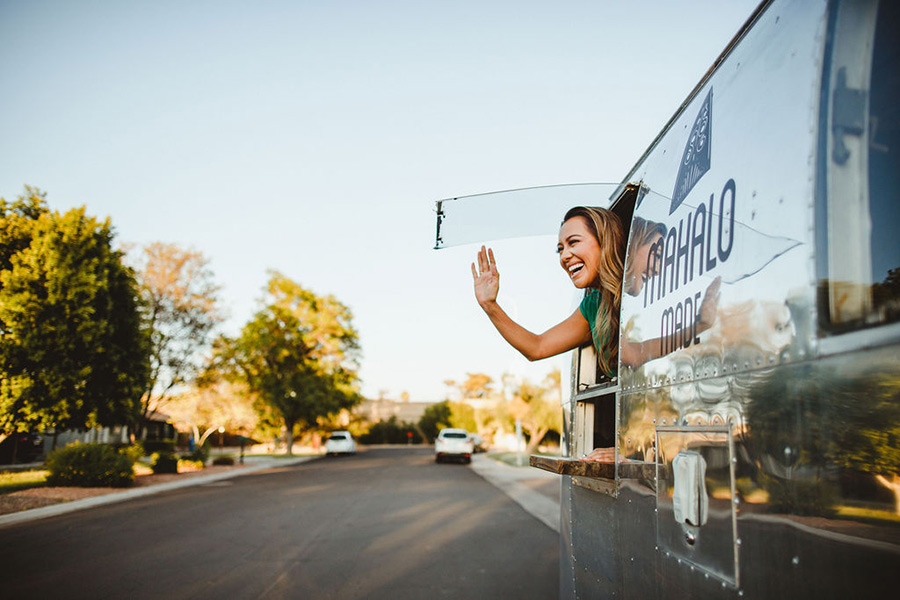 As for following her dreams and opening a small business? "There are a lot of challenges," says La, who refurbished the Mahalo Made airstream by hand in her backyard—with a little help. "Literally building my business by hand gave me a lot of confidence in my abilities. I owe the success of seeing it through to my family and friends, who kept encouraging me when I was down."
In 2020, Lady La and Mahalo Made partnered with OneAZ Credit Union. Together, OneAZ and OneAZ and Mahalo Made served free shave ice to over 200 community members at a special Valentine's Day branch event. The partnership was a natural fit for La, who has been a member ever since she opened her first savings account at age 13. She worked with OneAZ to make her dream of Mahalo Made a reality and hopes to continue that relationship as her business grows. "I know OneAZ is a huge partner for local small businesses, and when Mahalo Made opens its doors at our first location, I am planning to work with OneAZ to make that happen!"
Interested in working with OneAZ to support your own business? Our team of business banking experts is ready to help you reach your financial goals!