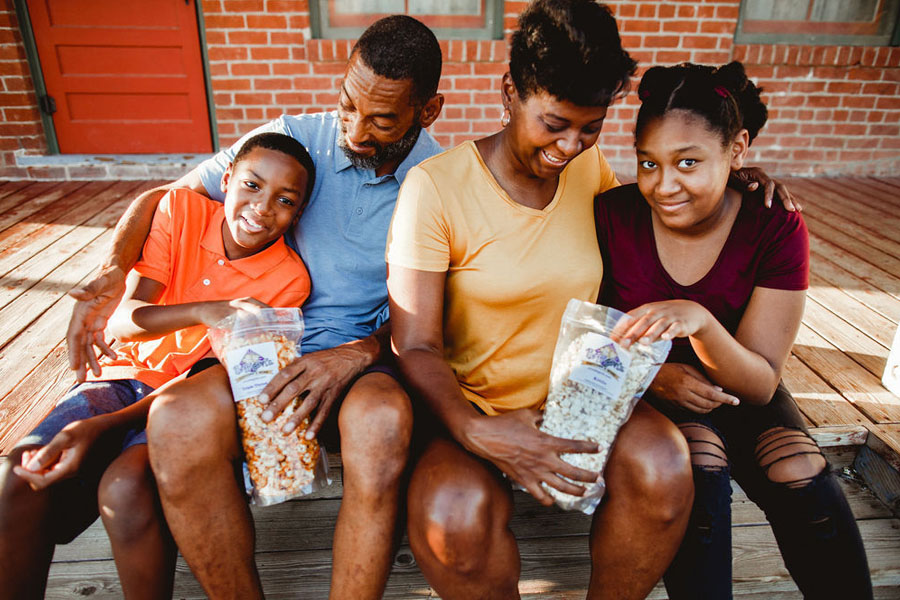 Not everyone dreams of starting their own business. For Kimberly and Corey Horton, entrepreneurship wasn't in their life plan until the economic downturn of the mid-2000s hit them particularly hard. Like many Arizonans, they had to act strategically to secure the life they wanted for themselves and their children. With planning, hard work and an investment from their own savings, Purple Gurl's Popcorn & More made its debut in 2012.
"Purple Gurl's was born out of our love of sharing treats with our friends and neighbors," says Kimberly. "We wanted something that we could grow, call our own and show our kids that hard work pays off."
Kimberly and Corey started making shelf-stable confectionery popcorn in their home kitchen under Arizona's Cottage Food Program, which allows Arizonans to make and sell food products safely from home. Their humble debut at a farmer's market in Scottsdale marked the start of a challenging but rewarding journey. "We had to basically beg people to try our popcorn and baked goods," laughs Kimberly. But by showing that their delicious product was backed up by excellent customer service, they gained a loyal customer base. "Now, people are recommending us to their friends and family, and that's the best compliment we can get."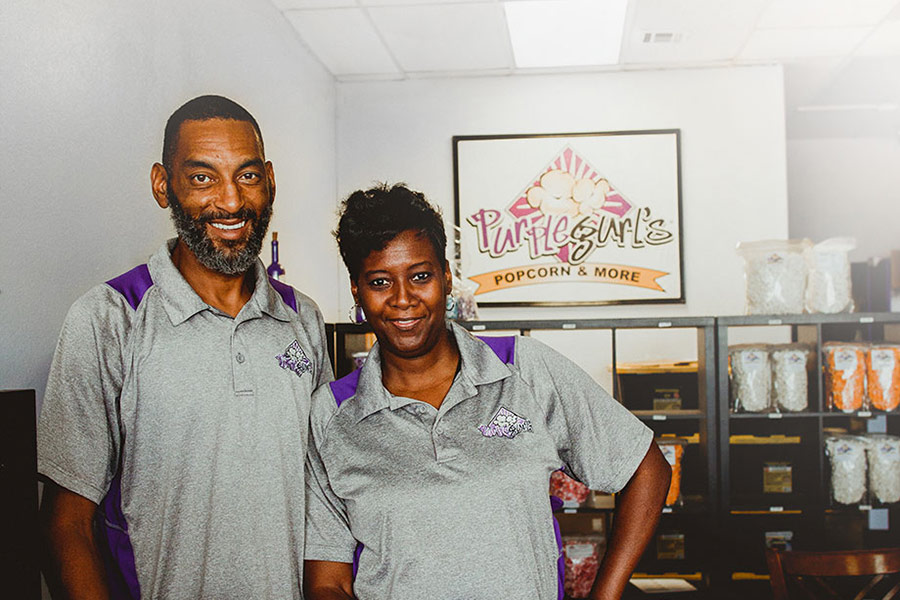 Eight years after their first farmer's market sale, Purple Gurl's is operating out of a commercial kitchen with a brick-and-mortar location in Glendale. Their motto? "3 kernels and you're hooked." It's easy to see why, with over 40 unique flavor-packed options like "Bananas Popster"—a bananas foster-inspired popcorn mixed with banana chips—and Dragon's Breath, a blend of three super-spicy peppers. They also offer baked goods like lemon cake and sweet potato pie, and fresh-scooped ice cream.
When it came time to open their business banking accounts in 2012, OneAZ was a natural choice for Kimberly and Corey, who have been members since 1998. "Being able to go to our local branch at ASU West, call Ann or email Brandy directly, has given us that personalized service that makes us feel special, like family." Kimberly and Corey always aiming for growth. "We know that when we make our first million dollars, OneAZ will be there cheering us on!"
Interested in working with OneAZ to support your own business? Our team of business banking experts is ready to help you reach your financial goals!