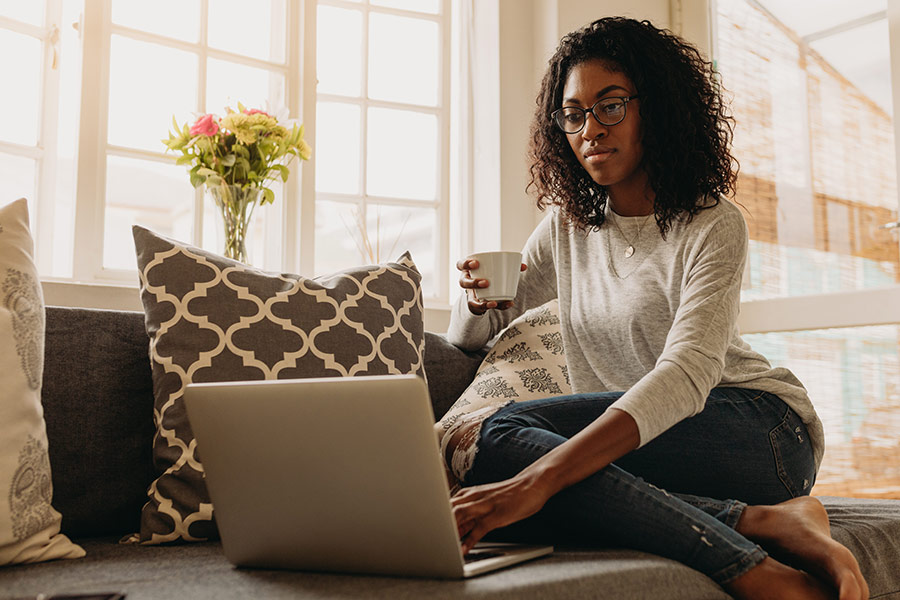 Scammers are always on the prowl for easy targets, and the internet and social media make it easier than ever for them to find victims. Understanding how fraudsters work is the first step to being prepared and keeping your personal information secure.
Here's how to protect yourself from potential scams:
Never give personal information, like account information or Social Security Number, over email, text or phone unless you initiate contact through a trusted and reputable company's secure email or phone number.
Following harmful links is an easy way to be scammed. Never click suspicious links or open unknown attachments in emails.
Be wary of unsolicited telephone calls and emails from individuals claiming to be IRS, Treasury, or DES (Department of Economic Security) employees. Remember, the IRS's first form of communication is always by mail, not by phone. Only use official government websites (which always end in .gov) to get updates on your payment status or to provide direct deposit information. The IRS will never tell you to send money back because you were overpaid, and you do not have to pay a fee to receive your stimulus payment or unemployment funds.
Be wary of jobs that offer salaries, flexibility and income earning potential that seem too good to be true. Look for misspellings and email addresses that end in .net or Gmail, Yahoo, and other free email account services. Most legitimate companies have company email addresses that end in .com or .org.
Be wary of charitable companies that have recently launched. Be especially cautious if asked to send money via peer to peer (P2P) or other payment methods or social networking sites. Do not be pressured into donating. If you would like to donate, do your research and verify that a charity is legitimate and properly registered.
Trust your instincts and err on the side of caution. If you receive an email, phone call or other communication that doesn't seem right, it likely isn't. When in doubt, contact the organization—like the IRS or your bank or credit union—directly at a reputable phone number or email address that is clearly listed on the organization's official website to confirm whether the communication you received is real or fraudulent.
As always, be sure to practice vigilance. You should never share login information, like passwords and PINs, with anyone. Together, we can stay in the know and avoid scams. If you believe you have been victim of a scam, please contact OneAZ at 844.663.2928.