9 Steps to Create a Very Merry Holiday Budget
Planning early, setting spending limits and keeping track of your holiday spending can help you create and stick to a holiday budget.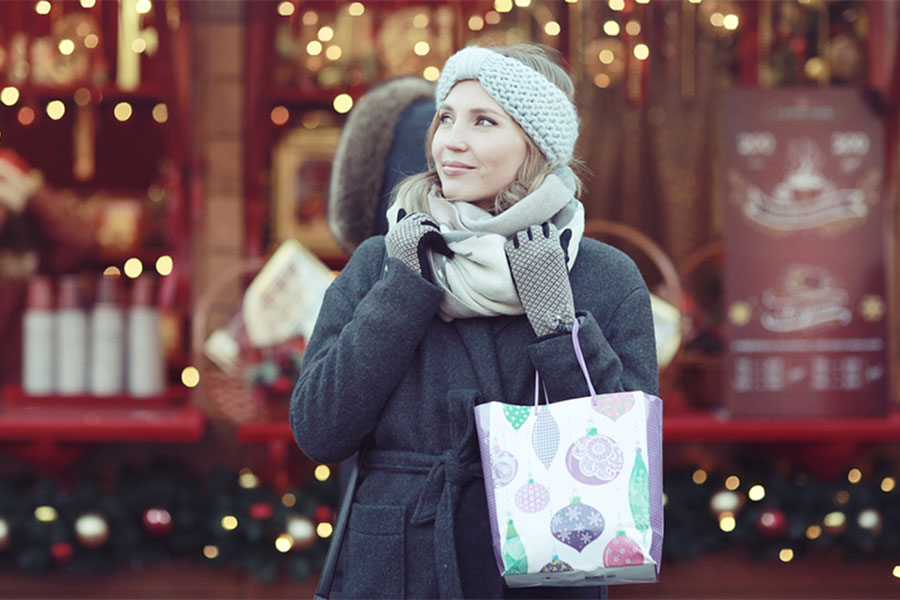 What We'll Cover
Different budgeting methods
How to increase your holiday savings
How to protect your finances and avoid scams during the holidays
While the holidays are meant to be a jolly time of year, plenty of Grinch-like factors can bring stress to the season. You know the ones – travel, family coordination, busy calendars, and dare we say the F-word...
Finances.
According to the National Retail Federation, Americans have spent about $1,000 on average for holiday-related purchases per year:
$641 on gifts
$224 on food and decorations for holiday events
$139 on other non-gift purchases
And if you're flying across the country to visit family, you can tack on a few more hundred dollars.
The trouble with this is when you're unprepared for holiday expenses and start the new year off $1,000 (or more) in debt.
But that's not you, not this year.
If you want to end the year feeling good about your finances, you'll need to create a holiday budget early. Keep reading for budgeting methods, steps to create a holiday budget, and how to protect your finances during the holiday season.
Holiday Budgeting Methods
Creating a holiday budget really means creating a regular life budget with a category for holiday saving or spending. As you begin thinking about your holiday budget, it helps to know what budgeting method works for you. The zero-based budget or the 50/30/20 budget methods work well for holiday finance planning.
Zero-Based Budget
With a zero-based budget, you have a plan for every dollar you bring in.
First, calculate your monthly income, including any side hustles. Then list out your monthly spending for all your expenses and any savings goals you already have in place. If you have money leftover here, or if you have room to cut from any miscellaneous spending categories or savings goals, throw that money into a holiday spending category.
It may help to keep this amount in your savings, knowing how much is going in there each month to keep track of what you can take out at holiday season.
50/30/20 Budget
The 50/30/20 budget requires you to break down your expenses into three categories:
Your holiday spending can go into your savings category. Keep in mind that you can customize the 50/30/20 budget to fit your needs. If you want to increase the savings percentage to account for holiday spending and decrease the discretionary spending percentage, you can adjust to fit your ideal numbers.
Now that you have a basic budgeting plan, here are some more specific tips for how to create a holiday budget.
How to Create a Holiday Budget

Start planning your holiday budget early
Review last year's holiday spending
List your holiday expenses in categories
Determine spending limits for each category
Save throughout the year in a high-yield savings account
Keep track of your holiday spending
Understand buy now, pay later pros and cons
Use a cash rewards credit card to earn rewards on your holiday spending
Look for ways to free up money for your holiday budget

1. Start planning your holiday budget early.
The best way to avoid a debt hangover at New Year's is to plan your holiday spending early and save up for it throughout the year. Plus, when you save throughout the year, you can put away smaller monthly portions that will add up to a sizable budget come holiday season.
You can also seize shopping opportunities throughout the year. If you see that perfect gift on sale for the 4th of July, put it away for the holidays. You may feel less pressure to do a mass spending at once when the holidays come around.
2. Review last year's holiday spending.
Look at your holiday expenses from the previous year to get an idea of how much you'll need to save. This also gives you an opportunity to see where you may have overspent or could've avoided an expense. Use this review to help you prepare or course-correct for the upcoming holiday season.
3. List your holiday expenses in categories.
When thinking about how much you need to save for holiday spending, break your budget out into spending categories. You don't want to blow your whole holiday budget on gifts, then go to book your flights back home and realize you don't have funds set aside for holiday travel.
When reviewing your previous year's expenses, categorize your spending amount and keep these buckets in mind as you start your holiday expense planning.
Gifts
Travel
Food
Decorations
Charitable donations
4. Determine spending limits for each category.
After reviewing your previous expenses and adjusting for the upcoming year, set a spending limit for each category. This may change from year to year depending on your travel plans or whether you need new Christmas decorations.
5. Save throughout the year in a high-yield savings account.
It helps to keep your holiday savings in an actual savings account for a couple reasons – you'll be less likely to spend it throughout the year and you can take advantage of earning interest on your savings. Keep your holiday savings in a high-yield savings account to get the best dividends on your money.
Let's propel your savings.
Explore our high-yield savings options.
6. Keep track of your holiday spending.
As you purchase gifts, book flights or buy Christmas décor, keep track of all your holiday shopping. Use a budgeting app like Mint or your own budgeting spreadsheet to stay on top of your holiday spending. It won't help if you put money away for your holiday budget but don't pay attention to how much you're actually spending.
Monitoring your spending will also help you be aware of any mischarges that come up or potential fraud issues.
7. Understand buy now, pay later pros and cons
You've likely seen the Buy Now Pay Later (BNPL) options that more and more retailers are providing. If you're considering using this service, it's important to understand what exactly it is and whether it's in your best interest to use it.
Buy Now, Pay Later is an installment loan that allows a buyer to purchase something online or in-store right and pay for it over time. The installment loan is typically interest-free when paid off over a short period of time or may have added interest and fees if spread out over a longer period of time.
A good way to use Buy Now, Pay Later to your advantage is to use it for big ticket items you know you can pay off within the zero-percent payment term.
However, understand that this service still creates a debt that you will owe. With that comes the potential of overspending on your holiday budget. To get the full picture of BNPL, check out our guide on the topic.
8. Use a cash rewards credit card to earn rewards on your holiday spending.
Putting your holiday expenses on a cash rewards credit card allows you to earn cash back or other rewards for all your holiday spending. Who doesn't love shopping that gives you a return? If you're using a credit card for holiday spending, though, the key is to pay off your balance right away. The point of creating a holiday budget is being able to fund your holiday expenses without starting the new year in the red.
Let's set the trend.
Earn points with every swipe with our Choice Rewards Credit Card.
9. Look for ways to free up money for your holiday budget.
If you're struggling to put away enough money for holiday spending, it's time to get creative. Can you cut any subscription services this year? Can you commit to dining out a few less times per month? Can you get a side job or do freelance work to build up your holiday fund? Making small sacrifices throughout the year will be worth it when you're prepared for holiday spending.
Avoid Financial Scams During the Holiday Season
Now that you have plenty of funds in your holiday savings, let's make sure your hard-earned money is protected. The holidays are a peak shopping time, which means scammers can be on the prowl for easy targets. Keep your personal information—and your money—safe this season by following a few simple tips.
Avoid holiday shopping on public Wi-Fi.
If you're booking flights or shopping online for gifts, make those transactions at home on your own password-protected Wi-Fi. Inputting credit card details through public Wi-Fi puts you at risk of a hacker getting your information and having their own holiday spree.
Beware of email or text scams.
A legitimate business or organization will never ask for your personal information, like your Social Security Number, credit or debit card numbers, or passwords over email or text messaging. Never share this sensitive information.
Be wise with retail credit cards.
If you are considering applying for a retail store's credit card, be wary of how they take your information. Paper applications can be lost or stolen, and often contain sensitive information like Social Security Number, address, and driver's license number. If you're unsure whether your paper application will be handled with care, err on the side of caution and skip it.
Monitor your account activity.
Check your account activity in Online Banking to make sure you don't see any unusual activity. Even better, when you use your OneAZ Visa® Signature Credit Card you automatically get 24/7 fraud protection monitoring from Falcon. It's just one more layer of protection to ensure that your money stays right where it belongs.
You're Protected from Fraud with OneAZ
If you're a member of OneAZ, your security is our top priority. If you're concerned that you may have been the victim of a scam, contact our team to begin an investigation.
Call 844.663.2928
Key Takeaways
Put your holiday budget money in a high-yield savings account so your funds can grow as the interest adds up.
Use a cash rewards credit card for holiday spending to earn cash back.
Do your online shopping from home where your Wi-Fi is protected, and still ensure you're shopping on a secure site.
Planning early, setting spending limits for categories and monitoring your spending will help you stay on top of your holiday budget this year. Remember to do any online shopping with password-protected Wi-Fi and protect your hard-earned money from those Grinchy scammers.
Go sleigh your finances this holiday season!
APR = Annual Percentage Rate