Home Maintenance Checklist for First-Time Homebuyers: Costs and Expectations
When buying your first home, you'll want to budget 1-4% of your home's value for maintenance costs.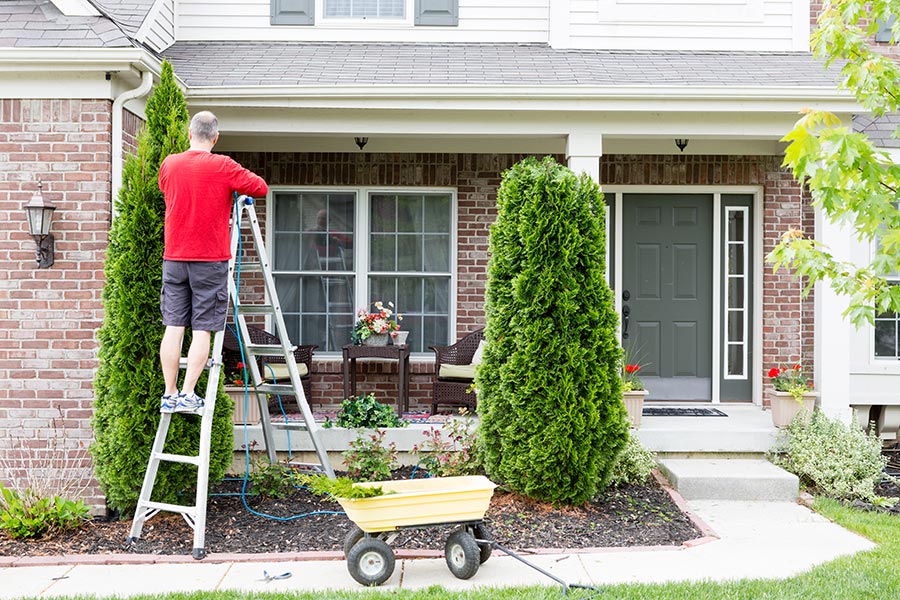 What We'll Cover
How to budget for home maintenance costs
What to expect in home maintenance costs
A home maintenance checklist for your first home
Are you ready to buy a home? You've improved your debt-to-income ratio, you're saving for a down payment, and you've learned about closing costs, but there's another element to homebuying you'll need to be financially prepared for – home maintenance costs.
When saving for a home and planning your monthly house payment costs, it's important to also factor in a budget toward home maintenance. Here's how to save for home maintenance costs and the most common home repairs you may need to address after buying your first home.
Why You Need a Home Maintenance Budget
According to a 2021 homeownership report by Hippo, 77 percent of homebuyers dealt with an unexpected issue that needed repair within the first year, and 53% of those homeowners said the cost of repairs ranged from $1,000 to $5,000.
If you just shelled out thousands of dollars for a down payment and you don't have enough to cover home maintenance costs, you can risk going into debt to cover these repairs. This is why it's important to create an emergency fund prior to saving for a house or creating a budget specifically for home maintenance costs. With the money already put away, you take away a good portion of the stress around home repairs.
Doing routine home maintenance, however, can lessen the need for repairs. While it may seem costly to do home maintenance, not doing it can lead to far more costly repairs.
How Much to Save for Home Maintenance
Even if you buy a home that's move-in ready, it's important to have a "rainy day" fund ready for when the AC goes down or you finally need a new roof.
Pro Tip: Depending on your house's age, homeowners should plan to save 1 to 4% of your home's value each year to be able to cover repair and maintenance expenses that will come up.
This means if your home is worth $400,000, you'll be financially prepared if you save between $4,000 and $16,000 per year to cover home maintenance costs. If saving this much money per year is unrealistic, you can save on the lower end if your home is newer and up to date. But if you have an older home, expect home maintenance costs to be in the higher range.
The good news is that doing regular home maintenance can add value to your home. A study done by the University of Connecticut and Syracuse University found that regular maintenance increases the value of a home by about 1% each year.
Let's propel your savings.
Explore our personal savings accounts.
Home Maintenance Checklist and Average Home Maintenance Costs
Now that you know the importance of saving for home maintenance costs and how much to save, here's a home maintenance checklist to help you keep your home in tiptop shape.
1. Lawn care and landscaping
From mowing and watering to tree trimming and gardening, lawn care and landscaping are important parts of your home maintenance routine. According to HomeGuide, landscaping maintenance costs $100 to $200 per month of up to $300 per month for large yards.
Homes in Arizona vary widely in terms of yards and landscaping needs. These tasks can be time consuming and costly, so if you know you don't enjoy yard work keep that in mind during your home search.
2. HVAC cleaning and maintenance
Cleaning your HVAC system regularly helps improve air quality in your home. Plus, keeping your heating and air conditioning systems in good shape is a good way to help you save money on monthly energy bills. HVAC Maintenance Tips could include scheduling a couple tune-ups per year with professionals, changing the filters every 30 to 60 days, and keeping the outside unit clean and clear.
The average HVAC maintenance costs per year are around $100 to $200, but replacing an entire HVAC unit can range from $3,000 to $6,000.
3. Pool care
If you're buying a home with a pool, be prepared to spend about $960 to $1,800 per year on basic cleaning, supplies and upkeep.
4. Replacing smoke alarm batteries
For your safety, it's best to replace smoke alarm batteries about once per year. If you hear it chirping, that means the battery is getting low. You can also buy a 10-year smoke alarm for around $50 to avoid buying new batteries each year.
5. Clean your rain gutters
If your gutters get blocked by leaves or debris, you could risk water overflow that may damage your roof and walls of your home. It's recommended to clean your gutters one to three times per year, depending on how much rain you get in your region.
You can clean gutters yourself or expect to pay about $160 for a professional. Replacing gutters costs an average of $1,000 to $2,500.
6. Check your water softener and heater
Routine upkeep helps make your water softener work more efficiently and last longer. Check your water softener monthly for salt bridges and mushing, replenishing the salt as needed.
Additionally, it's important to inspect temperatures and pressure relief valves on your water heater monthly. If water doesn't release when you lift the pressure relief valve, you'll need to replace your valve.
You can do these maintenance steps yourself or pay for professional inspections. If you need to totally replace your water heater, expect to pay between $1,300 to $2,300 for the heater tank and installation.
7. Fireplace maintenance
Fireplace maintenance is different depending on whether you have a wood-burning fireplace or gas fireplace. Both require cleaning, and hiring a professional to clean the chimney once a year may be in your best interest.
Average annual maintenance costs for a fireplace range from $125 to $375, and replacing it can cost between $400 and $2,000.
Key Takeaways
Save 1-4% of your home's value for maintenance costs.
Regular maintenance adds 1% in value annually to your home.
Doing home maintenance regularly will help keep repair needs and costs low.
Maintain a solid emergency fund in case you need to do a home repair.
Doing monthly and annual upkeep on these top 7 home maintenance needs may come at a cost but may also keep you from paying bigger costs for repairs. Still, repairs will be needed, especially for older homes. Maintaining a budget or savings for home maintenance costs is the best way to feel prepared as a homeowner.
Let's unlock new beginnings.
Explore our mortgage options.
APR = Annual Percentage Rate