We're currently updating our Online and Mobile banking platform to Next Level Banking.
During this time, Online and Mobile banking will be unavailable. Please delete the existing 'myOneAZCU' app - on Wednesday, June 9th download the new 'OneAZ Mobile Banking' app.
Cash Management users can still log in here.
If you need immediate assistance, please contact our Member Care Center at 844.663.2928, Monday - Friday, 8 a.m. - 6 p.m.

It's here.
Thank you for your patience as OneAZ online and mobile banking received an update. There are many new enhanced features you'll enjoy. Use the FAQ below to learn more and explore through your online banking.
First time sign in.
You will only need to register through one device. Please follow the steps below to login for the first time. For more detailed instructions view the step-by-step guide or watch this video.
Your account will remain open for use during the transition to Next Level Banking!
Items Not Impacted:
PIN(s) for OneAZ cards
Direct Deposits
Debit and Credit Card use
Transfers between OneAZ Deposit Accounts
Automatic withdrawals/payments set up with other financial institutions
If you entered your OneAZ account information in another organization's system, your withdrawals/payments will continue.
Examples of transactions not impacted are:
An automatic payment arranged with Cox Communications | APS | SRP | Verizon | Etc.
A Bill Payment set up with another financial institution to a OneAZ account.
An automatic withdrawal for your non-OneAZ credit card.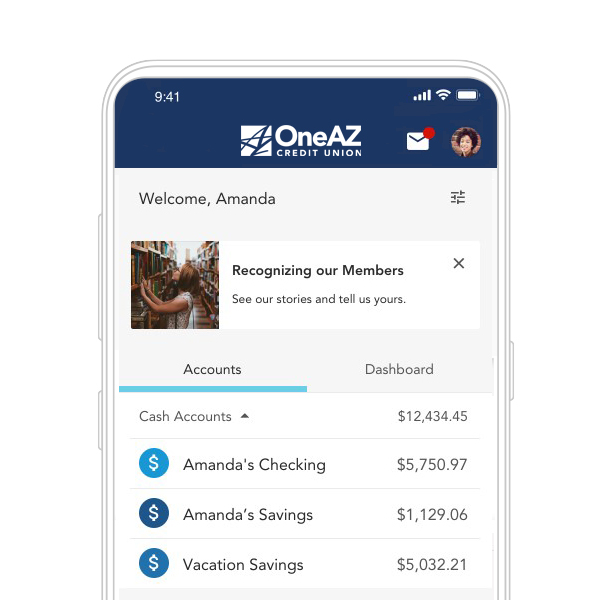 First time sign in and registration.
Current online banking users: To gain access on or after June 9th, you must login to Online or Mobile Banking.
You will only need to register through one device.
Haven't logged in recently? If you have not signed into Online or Mobile Banking within the past six months, you will be asked to register as a new user.
Please note that you may experience intermittent delays in receiving your text or email verification code during the sign-in process.
Online Banking Scam Alert
We have received multiple reports of members receiving a text message and phone call that appear to come from OneAZ Credit Union, with callers claiming that they are employees who are trying to verify activity on the account. The caller eventually claims to need the member's username and password for online banking. Once inside online banking they start transferring funds out of the account.
OneAZ Credit Union will NEVER request your User ID, Password, or any one-time-PINs needed to log in to online banking. This information is personal to you and we urge you to NEVER share that information with anyone. If you are unsure of the identity of the person on the phone, hang up and call us back at our main number, 844.663.2928. Thank you for the opportunity to serve you!
Step 1: Download and delete
Please delete the existing 'myOneAZCU' app. Download the new 'OneAZ Mobile Banking' app or visit OneAZcu.com to login to Next Level Banking.
Apple Phone
Tap on the App Store icon
Search for the OneAZ Mobile Banking App
Tap Get
Authorize the download
Android Phone
Tap the Apps icon
Open the Play Store
Search for the OneAZ Mobile Banking App
Tap Install
Step 2: Sign in
Follow the steps below to sign in.
Enter the username
Enter the password
Provide the last 4 digits of your social security number and 5 digit zip code
Tap Continue
Complete the 2 Factor Authentication
Review and agree to the Online Banking Terms & Conditions
Step 3: Get familiar with Next Level Banking
Once you have completed validation, follow the steps below to ensure a successful transition.
Click on your profile and ensure your contact information is accurate
Set up account alerts for your OneAZ credit card and accounts
Navigate to Bill Pay to review your scheduled payments
Set up automatic payments and recurring transfers
View all your transactions in one place — bring in unlimited account information from other financial institutions with account aggregation
New features include: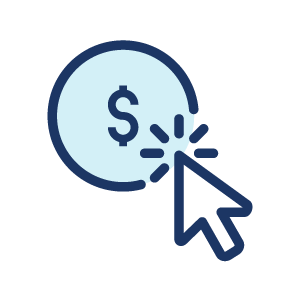 Account Aggregation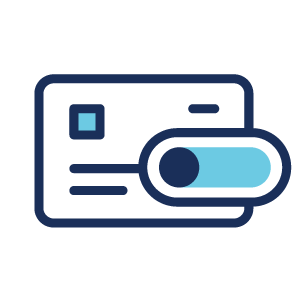 Advanced Card Controls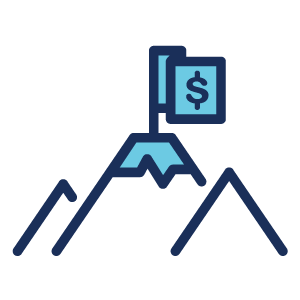 Financial Wellness Tracking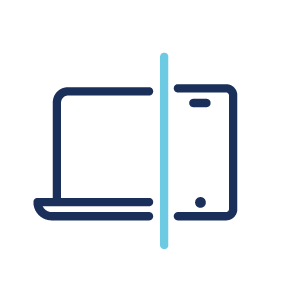 Identical Access on mobile and desktop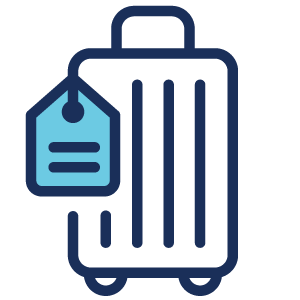 Travel Notices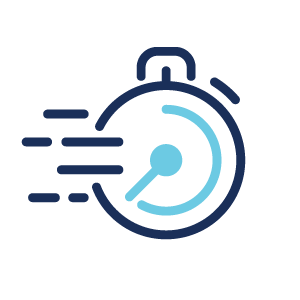 Alerts
Have questions? We're here to help.
Not finding what you're looking for? Please connect with our Member Care Center Monday through Friday from 8:00 AM to 6:00 PM through Live Chat, Secure Message, or phone at 844.663.2928.
Introducing OneAZ Online and Mobile Banking
With a seamless desktop to mobile experience, now your bank is as mobile as you are.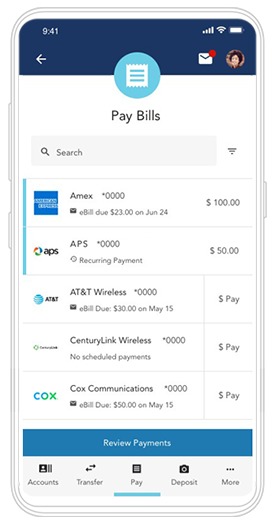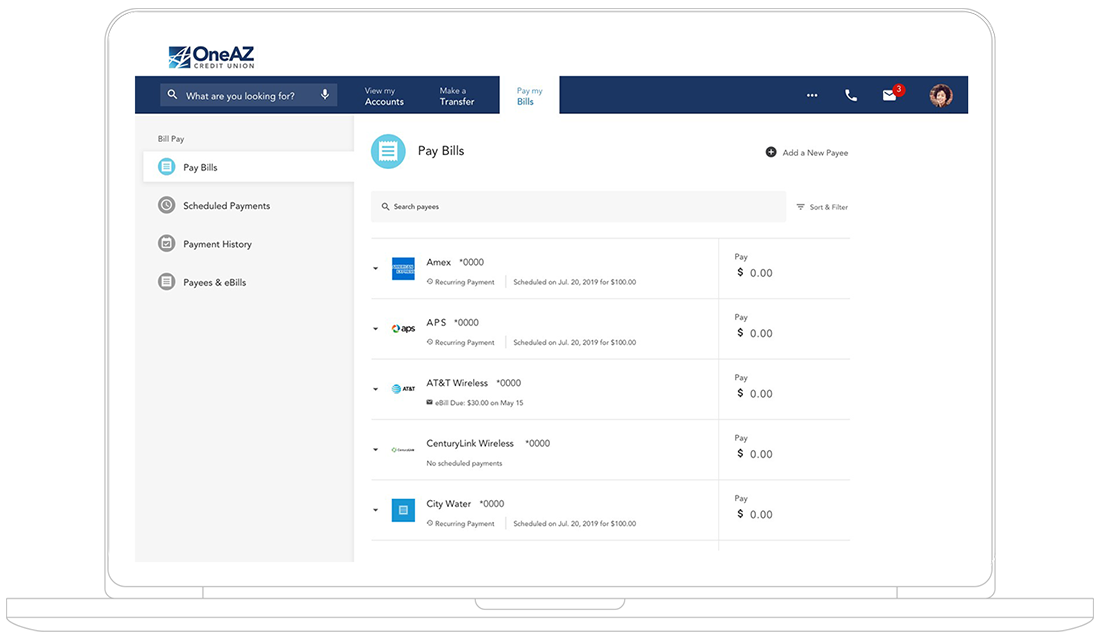 Zelle and the Zelle related marks are wholly owned by Early Warning Services, LLC and are used herein under license.