You bleed blue and gold. Now you can pay with Lumberjack currency!
Northern Arizona University and OneAZ Credit Union are pleased to announce the NAU Affinity Credit Card.
New to OneAZ?
You can submit your credit card application and become a member at the same time.
Existing Members
Existing members can submit a loan application by clicking the link below.
Connecting Lumberjacks For Life 
Giving back to Lumberjacks like you is easier than ever with the NAU Affinity Credit Card. One percent of every purchase you make is donated to the NAU Foundation. That means you're giving back to your alma mater every time you shop!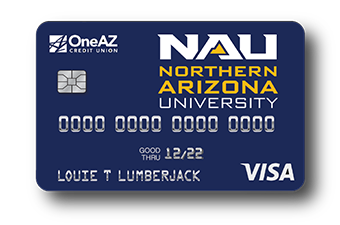 Features and Benefits
0% introductory APR on Balance Transfers, cash advances and purchases for 6 months1
(APR may range from 13.74% to 18.00% based on applicant's credit after introductory period)
Select your reward of choice: cash back, travel, gift cards, merchandise or charity donations
Receive double reward points for balance transfers in the first 90 days
Receive 5,000 points after your first monetary transaction
Cash advances at ATMs
$2,500 minimum limit
Extended warranties on purchases
Online account access
Travel accident insurance
Auto rental insurance
Roadside dispatch program
APR = Annual Percentage Rate.
1 All loans subject to credit and income approval. Please see table below.
INTEREST RATES AND INTEREST CHARGES
Annual Percentage Rate (APR) for Purchases

0.00%

For introductory period of 6 months.
After that, your APR will be

13.74% - 18.00%

, based on your creditworthiness and will vary with the market based on the Prime Rate.
APR for Balance Transfers
Balance Transfer APR:

0.00%

introductory period of 6 months.
After that, your APR will be

13.74% - 18.00%

, based on your creditworthiness and will vary with the market based on the Prime Rate.
APR for Cash Advances
Cash Advance APR:

0.00%

For introductory period of 6 months.
After that, your APR will be

13.74% - 18.00%

, based on your creditworthiness and will vary with the market based on the Prime Rate.
Penalty APR and When It Applies

18.00%

- This APR may be applied to your account if:


Your minimum monthly payment is more than 60 days late
You are in default of any other terms of the Agreement

How long will the penalty APR apply?


If your APR is increased for any of these reasons, the penalty APR will apply until you make six consecutive minimum payments when due.
How to Avoid Paying Interest on Purchases
Your due date is at least 25 days after the close of each billing cycle. We will not charge any interest on the portion of the purchases balance that you pay by the due date each month.
Minimum Finance Charge
If you are charged interest, the charge will be no less than $1.00.
For Credit Card Tips from the Federal Reserve Board
To learn more about factors to consider when applying for or using a credit card, visit the website of the Federal Reserve Board at http://www.consumerfinance.gov/learnmore.
FEES
Annual Fee
None
Transaction Fees:
   Cash Advance
   Foreign Transaction

   3% of the cash advance transaction (minimum $10.00)
   1% of the US dollar amount of the foreign transaction
Penalty Fees:
   Late Payment Fee
   Returned Item Charge

   $25.00
   $25.00 or the amount of the returned item, whichever is less
Other Fees:
   Pay by Phone

   $10.00
How We Will Calculate Your Balance: We use a method called "average daily balance" (including new purchases). We reserve the right to amend the VISA© Credit Card Agreement as permitted by law.
Effective Date. The information about the costs of the card described in this disclosure is accurate as of October 1, 2019. This information may have changed after that date. To find out what may have changed, contact OneAZ Credit Union