At OneAZ we understand that when buying a home, one size does not fit all.
That is why we provide a range of financing options and 100% local underwriting and processing.
Professional Mortgage
Our professional home financing program is specifically designed to give you financial flexibility and significant savings.
Get up to 95% financing, including Jumbo mortgages
Both purchases and refinances qualify
Low down payments with competitive rates
All occupations eligible
HomeReady®
Home Ready® recognizes the diverse make-up of today's households, including multi-generations and boarders, by considering the income of how non-borrowers may contribute to the household.
Purchase up to 97% of your new home's value without a first time home buyer requirement
Take advantage of significantly reduced mortgage insurance requirements and closing costs
OneAZ Credit Union is committed to our communities and that is why we have chosen to rebate the cost of home owner education required for this program, up to $75.00
Government Loans
There are a number of government loan programs that provide special benefits and flexibilities to home owners. At OneAZ Credit Union we can answer questions about these special government programs.
OneAZ mortgages by the numbers.
1,694
Members who said "home sweet home" since 2020
Call a Mortgage Loan Officer
Don't have time for a call? Email an MLO using this form.
See what OneAZ members are saying about our mortgages!
OneAZ Credit Union is not responsible for the content on the ReviewTrackers and Facebook websites.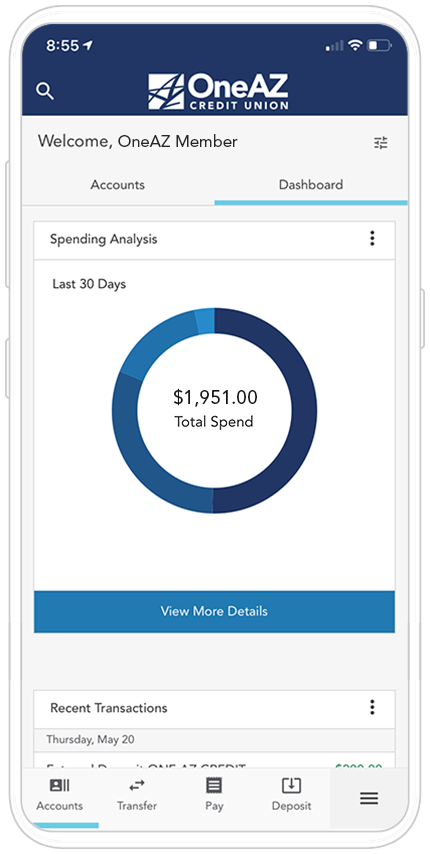 Data rates apply.

Now your bank is as mobile as you are.
Set Travel Notices
Card Controls
Financial Goal Setting
Seamless on All Devices
Alerts
Check Ordering
Compatible with: