How to Finance a Used Car: 6 Steps Everyone Should Know Before They Buy
Published: April 12, 2022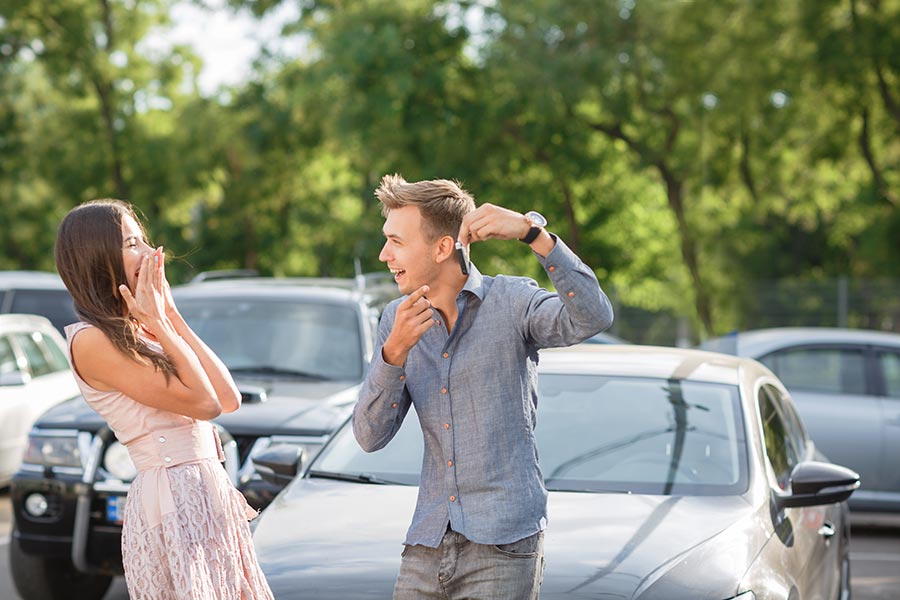 If you're in the market for a new car, you may have noticed that prices have skyrocketed over the past year. In fact, from 2020 to 2021, the average price of a new car jumped $6,220 to an all-time high of just over $47,000.
With that said, you may have found yourself in the market for a new used car.
But, how do you get financing for a used car?
Follow these six steps to make sure you get the lowest rates, best terms, and best customer service when it comes to financing your next used car purchase.
Related: 10 Things You Should Know Before Buying a Used Car
Step 1: Check Your Credit
Before you start shopping for your next used car, the first thing you need to do is pull your credit report and check your credit score.
In fact, you are legally entitled to one free credit report from each of the three credit bureaus (Equifax, Experian, and TransUnion). To get your free credit report, head on over to AnnualCreditReport.com.
Look over your credit report and check for any errors. A Consumer Reports study actually found that nearly a third of Americans found errors on their credit report. Therefore, locating any errors and then fixing them is important before applying for your next used auto loan.
The details in your credit report will affect your credit score, and your credit score will determine your interest rate on your used auto loan. Below is a recent Experian report showing the relationships between your credit score and the average interest rates for used auto loans.
| Credit Score | Average APR for Used Auto Loan |
| --- | --- |
| Superprime (720 or above) | 4.29% |
| Prime (660 - 719) | 6.04% |
| Nonprime (620 - 659) | 11.26% |
| Subprime (580 - 619) | 17.74% |
| Deep Subprime (579 or below) | 20.45% |
Source: Experian
Let's assume you're looking to finance a used car for $20,000 over the next 5 years. If you have a credit score of 600, then you will pay an additional $7,080 in interest versus having a credit score of 700!
Pro Tip: 7 Surefire Ways to Improve Your Credit Score
Step 2: Determine How Much You Can Afford
Once you determine your credit score and have a good idea of your interest rate, it's time to determine how much car actually fits inside your monthly budget.
A good rule of thumb is to keep your monthly auto payment at 10% or less of your monthly take-home pay. For example, if your take-home pay is $4,000 each month, then you should keep your total monthly auto payment at $400 or less.
Keep in mind, lenders will lower your monthly payment by extending your loan term. This may look good on the surface, but this will also cause you to pay more money over the entire term of the loan.
Another good practice is to keep the total cost of the vehicle, including interest, at 35% or less of your annual income.
For example, a $20,000 used auto loan at 6.04% interest over 5 years will have a monthly payment of $387. After five years, the total cost of the used car, including interest, is $23,221.
Using the 35% rule, an annual income of $66,000 would make this used car affordable using the rules mentioned above.
However, if the interest rate jumps to 11.26%, then the length loan would need to jump from five to six years to remain within the 10% rule of your take-home pay. This also causes the total cost of the used car to jump to $27,601, meaning you would need an annual income of $79,000 to afford the car.
Auto Loan Calculator: How Much Will My Monthly Payment Be?
Step 3: Research the Car You Want
After looking over your credit report and determining how much you can actually afford, it's time to start researching the car you want.
When searching sites like Kelley Blue Book or NADA Guides, filter your searches to only show the vehicles that fit within your price range. Also, keep in mind the value of the used car does not necessarily equal the selling price for cars — especially in today's car market.
Once you know the make, model, and year of the car you would like to buy, take it a step further and research what Consumer Reports says about the vehicle. It's also a great idea to research comparable makes and models of the vehicle you have in mind to determine if there is something else that may be a better fit for both you and your wallet.
Step 4: Research Lenders
One common misconception when financing a used car is that all lenders are the same. Typically when shopping around for lenders, you will find the lowest rates and best loan terms from local banks and credit unions when compared to larger national banks or financing at the dealership.
Look for things such as the interest rate, the length of the loan term, and current promotions.
OneAZ Credit Union has some of Arizona's hottest Used Auto Rates!
Another perk of working with a local bank or credit union is the ability to sit down face-to-face with a lender and have a conversation about your individual financial needs.
Unlike the very large national banks where you are just a customer, when you apply for a loan at your local credit union, you are a member. Since credit unions aren't owned by investors and are instead owned by you, the member, they can offer lower rates and better terms for your next loan.
Step 5: Apply for the Used Auto Loan
Once you have chosen your lender, the next step is applying to be pre-approved. When choosing between a pre-qualification and pre-approval, always go with getting pre-approved before attempting to purchase the used car.
Pre-Approval vs. Pre-Qualified
Pre-Approval
Pre-Qualified
The lender has reviewed your credit report, credit score, and other information to determine the loan amount and rate you're likely to receive.
The lender issues a loan at a rate within a wide range based on the limited personal and financial information.

Hard pull on credit
Firm loan offer from lender
Interest rate is likely set

Soft pull on credit
Just an estimation on how much you will be approved for
Interest rate is subject to change
As you can see, getting pre-approved is better for both you and the seller. Pre-approval gives you terms and rates up front so you can determine how much you can actually afford. Pre-approval gives the seller the confidence that you're a serious buyer who has already gone through the process of securing financing before making your offer.
Step 6: Buy the Car
If this is your first time buying a used car, you may be wondering how purchasing a used car works, especially if there is a current lien on the vehicle.
With a Lien on the Car
If you're purchasing a used car from a private party seller, it's important to check the title status of the vehicle.
Common liens could be a car financing loan, a car title loan, or a mechanic's lien. Before you purchase the vehicle, you can search title records on most state motor vehicle websites.
If the vehicle does have a lien, then you should notify your lender and the lender will take the necessary steps to pay off the lienholder first and send the remaining balance (if any) to the seller.
Without a Lien
If there isn't a lien on the vehicle, you should make sure the seller has the vehicle title in hand. If the seller does not have the title in hand, they will need to request a copy of the title in order to transfer the title to you once you purchase the vehicle.
After purchasing the vehicle, make sure the seller signs the title and transfer the title into your name. You can do this in person, through the mail, or online depending on your state's policy.
Live in Arizona? You can transfer the title of a vehicle in-person, through the mail, or online here.
Ready to Get Pre-Approved?
Now is the best time to get pre-approved for a Used Auto loan from OneAZ Credit Union.
Visit any local OneAZ Credit Union branch, apply over the phone 24/7 or apply online and get some of Arizona's lowest rates on Used Auto loans, along with a free CarFax report and no payments for the first 90 days.
Chris "Peach" Petrie is the founder of Money Peach. Money Peach partnered with OneAZ to provide free financial education to members across the state. To learn more about OneAZ's partnership with Money Peach, click here.
APR = Annual Percentage Rate