Are You Ready for Home Ownership?

Upfront Costs to Be Aware Of

When saving for a home, factor in your down payment, earnest money, closing costs and moving expenses to create a realistic budget.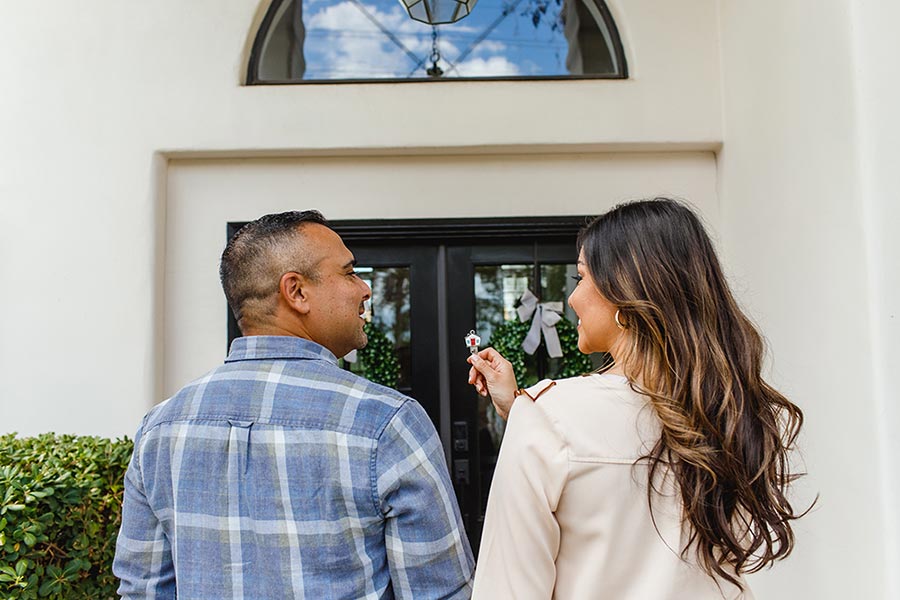 What We'll Cover
Upfront costs that come with buying a home
What to know about making a down payment
What closing costs cover
If you're preparing to buy a home, it's important to know exactly how much you'll need at closing time. Sure, you'll have a mortgage loan that you'll make monthly payments on. But how much money do you need to save to cover the upfront costs of buying a home? Here we'll dive into four costs to be aware of.
Upfront Costs of Buying a Home
When budgeting to buy a home, here are four costs you'll need to pay upfront.
Down Payment
Cost estimate: 3% – 20% of the home purchase price
The down payment is cash you'll pay upfront for your home and is usually between 3% – 20% of the sale price. That's a big range, so here are a few things to help you get an idea of how much you'd like to put down:
Monthly payments: The more you put down, the smaller your monthly mortgage payments will be.
Private Mortgage Insurance (PMI): When your down payment is less than 20% of the home sale price, you'll be required to pay a monthly mortgage insurance premium for private mortgage insurance (PMI) until you have accrued 20% equity in your home. PMI typically amounts to .5% - 1% of the entire loan amount on an annual basis—which could add up to several thousand extra dollars a year. Depending on the loan type, you may have to pay a portion of the PMI up front.
Down payment assistance: Because the down payment is such a large chunk of money, it can be the biggest obstacle of saving for home ownership. Ask your mortgage lender about low down payment and down payment assistance options if needed.
There's a Home for Everyone
Apply for down payment assistance on your first home.
Earnest Money Deposit
Cost estimate: 1% - 2% of the purchase price
Earnest money – also known as a good faith deposit – is an amount you'll submit with your offer to show the seller your commitment to purchasing the home. This amount may be applied toward your down payment or closing costs.
Closing Costs
Cost estimate: 2% - 5% of the purchase price
Closing costs are due at the time you close on the home. These costs cover:
Property taxes: This amount depends on where you live, the assessed value of the property, and if you have an escrow/impound account which are funds collected by the lender for future payment of this obligation. Typically, you can expect to pay two months' worth of property taxes at closing.
Lender application fee: This is the cost to create the application for your loan.
Title fees: The lender will need to verify ownership and validate the current outstanding liens against the property. To further protect themselves, the lender will also require a new lender's title insurance policy to protect them from possible errors made during the title search.
Appraisal fee: The lender will need to verify the property value for the loan. The professional home appraiser will charge anywhere between $600 and $750 for an average home.
Home inspection: A home inspection report indicates the condition of the property to ensure that the home is structurally sound and is in livable condition. Inspection fees can range between $300 and $600.
It's easy to forget about closing costs when you're saving for your down payment but be sure to factor these into your home budget.
On a $400,000 home, you can pay anywhere between $8,000 to $20,000 in closing costs.
Moving Expenses
Cost estimate: $1,000 - $2,000 for same-city moves
The act of relocating will be another cost to factor into your homebuying budget. Whether you're moving across the city or across the state, you may need to pay for movers and a moving truck. HomeAdvisor reports the average cost for a local move is $1,714.
Example: Upfront Costs of Buying a $400k House
Let's look at what you'd pay upfront for a $400,000 house.
Item
Cost
Low Range
High Range
Down Payment
Anywhere from 3% - 20%
$12,000 (3%)
$80,000 (20%)
Earnest Money
1% - 2%
$4,000 (1%)
$8,000 (2%)
Closing Costs
2% - 5%
$8,000 (2%)
$20,000 (5%)
Moving Expenses
$1,000 - $2,000
$1,000
$2,000
Key Takeaways
A down payment is typically between 3% - 20% of the home purchase price. The more you put down, the less your monthly mortgage payments will be.
Earnest money is a sum you'll make in addition to your down payment ensuring your commitment to purchasing the home.
Expect to pay about 2% - 5% in closing costs.
Don't forget to factor in moving expenses.
Now that you know what upfront costs to be aware of, are you ready for home ownership? Contact our mortgage team today to get prequalified.
APR = Annual Percentage Rate