Mortgage Refinancing Basics. Is Refinancing Right for Me?
Published: August 11, 2021
Revised: December 28, 2021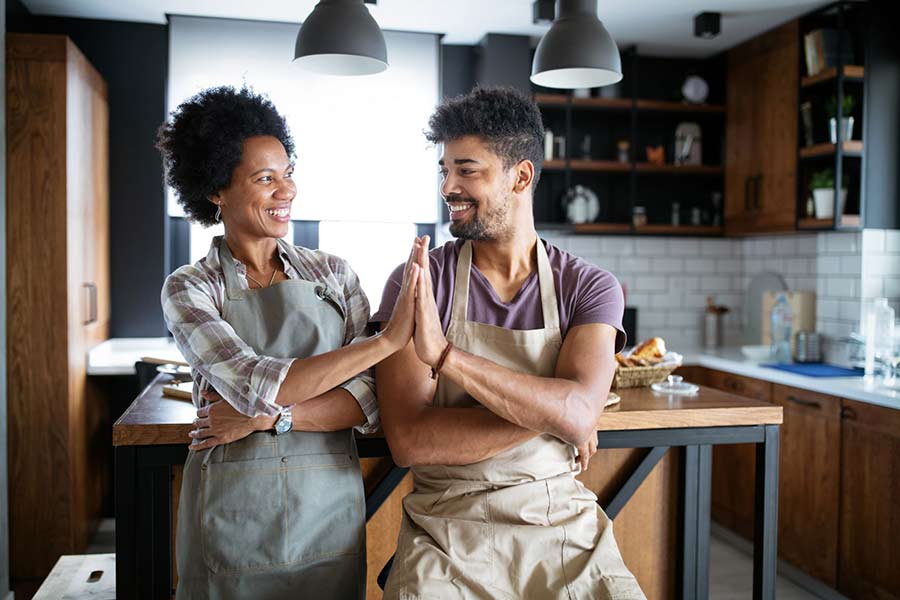 You've invested a lot of time and money into making your home your sanctuary. You've made some home improvements, and even started paying down a good chunk of your mortgage. What if you could use your home to keep more of your hard-earned cash each month? Refinancing your home loan could be the answer and may give you savings on your monthly payments.
OneAZ EVP Chief Lending Officer Ken Bauer explains, "refinancing is replacing your existing mortgage loan with a new loan that better serves your financial wellbeing." It's the home loan version of renovating that old bathroom, clearing out the outdated tile and faucet and rusted piping, and replacing it with new, modern hardware and efficient plumbing. With refinancing, you're tossing out that old home loan you took out years ago and getting an upgrade.
Why Should I Refi?
There are a variety of reasons you might want to refinance your home loan. Maybe you're looking to consolidate debt with a cash-out refinance or you're just looking to cut the amount you're paying each month. OneAZ's Ken Bauer has one simple piece of advice: "Homeowners should refinance anytime doing so will improve their financial wellbeing."
A major reason a homeowner might consider refinancing is to take advantage of lower interest rates. Right now, rates are at near all-time lows. Homeowners who decide to refinance will likely be fortunate enough to have a lower interest rate than they did when they took out their initial loan, meaning they won't be paying as much in interest each month. That difference could translate into actual savings that you can spend on anything from home improvements to vacations. Any way you cut it, having more money in your bank account at the end of the month is never a bad thing!
Another reason for refinancing is for a cash-out to use to consolidate high-interest debt or spend on home improvements. This is typically done when your home has increased in value. Simply put, you're taking out a loan on the new, higher value of your home. That means the new loan will pay off the existing loan and you'll get a cash payout for the difference. Many people use that money to pay off their high-interest debt like credit cards, effectively rolling it into their home loan, which will have a lower interest rate.
Is it the right time to refinance?
It's impossible to give an exact formula for when refinancing is right for you since it involves a complicated mix of your individual financial situation and the overall market landscape. The best way to help navigate these factors is by consulting with a mortgage loan officer. They can help you sort through your current financial health and determine whether it's the right time to refinance your home loan. One good thing about refinancing is that you're not bound to go through your current mortgage lender. So, if you're currently working with a big box lender, you can always refinance with a more community-focused lender like a credit union.
Refinancing is often a good option for a homeowner, but you may want to consider any possible downsides. For example, refinancing will stretch out the amount of time you'll be paying off your loan. So, if you only have a few years left until your loan is paid off, taking out a new 30-year loan probably isn't the best option for you. Also, if you're refinancing to consolidate high-interest debt, you may want to make sure you're comfortable securing that debt to your home.
What can I expect from the refi process?
If you're a homeowner, you'll be familiar with the process of refinancing your home since it's similar to the one you went through when you bought it. That means you've got some work to do to collect all the key paperwork to deliver to your mortgage loan officer. For OneAZ, that means you'll need two years of tax returns and W-2 forms, as well as your most-recent bank statements and pay stubs. You'll also want to gather paperwork related to your current mortgage.
Once you apply, you'll lock-in your new interest rate and wait for the loan to close. One good aspect of refinancing is that there's no time sensitive closing period. Many people buying a new home know that it can be a race to close on time, but with refinancing there's no need to worry about the time it takes to finish processing and underwriting your new loan.
Conclusion
Your financial wellbeing is paramount when deciding whether you're going to refinance your home loan. Refinancing should only be to your benefit, so if you have any reservations about it, you should consult a mortgage loan officer. They'll help you work through any hesitation and help you decide whether refinancing is the right option for you.
For more information on refinancing with OneAZ Credit Union click here.
APR = Annual Percentage Rate