Top 7 Questions You Should Be Asking Your Mortgage Lender
Published: November 09, 2021
Revised: May 25, 2022
If you're thinking about getting a mortgage, it's completely normal to have questions.
Navigating through the mortgage process can be complicated and overwhelming. Not only are you making the largest financial decision in your lifetime, but you're also trying to understand your options, the cost of the mortgage, and what you can afford.
Before you sit down with your mortgage lender, make sure you ask these 7 questions so you have a full and better understanding of how a mortgage works and what you can expect.
1. How Much Home Can I Afford?
The very first thing you need to ask your mortgage lender is the amount of home you can afford.
Your lender will calculate this amount based on your income, your debt, and what monthly mortgage payment you can afford. Then, based on interest rates, loan terms and other factors, your lender will approve you for a maximum mortgage amount.
However, it's also a good idea to compare this to how much home you believe you can afford based on your budget. A good rule of thumb is the 25% rule. The 25% rule states that your mortgage payment cannot be greater than 25% of your monthly take-home pay.
2. Am I Prequalified or Preapproved?
If you are confused when it comes to prequalified versus preapproved, you are not alone.
Prequalification is a quick snapshot of the mortgage loan amount based on a very basic review of your income, assets, and liabilities to determine your creditworthiness. This often happens when you fill out an application online or simply have a conversation with your lender.
Prequalification will not impact your credit score because your lender will only make a soft inquiry, which doesn't have the same impact on your credit score as a hard inquiry..
Preapproval on the other hand will require you to do a much more in-depth application, followed by a more complex review process. This could include W-2s, previous year tax returns, bank statements, and other financial documents your lender will require.
Preapproval on a mortgage typically results in a hard inquiry where your lender requests a copy of your credit report as part of the process to issue credit. Therefore, you can expect this to negatively impact your credit score.
3. Which Mortgage is Best for Me?
Every borrower is going to be different when it comes to deciding which loan is best for them. This is why it's important to always ask your lender about different mortgage options available to you.
Here's a list for some of the different mortgage options available to you:
Conventional Loan
A conventional mortgage is a mortgage that is not guaranteed by the federal government. Instead, conventional loans conform to the requirements of either Fannie Mae or Freddie Mac.
Best For: Someone with good credit and the ability to put down a larger down payment. When the borrower has at least 20% down, the borrower will not have to pay private mortgage insurance (PMI).
FHA Loan
Most first-time homebuyers choose the FHA loan because they have access to a mortgage with a lower credit score or credit history. FHA loans will allow borrowers access to a mortgage loan with 3.5% down, however the borrower will also pay a mortgage insurance premium for the life of the loan.
Best For: Those with little credit or poor credit, and a lower down payment.
VA Loan
VA loans help service members, veterans and surviving spouses with access to a mortgage with no money down.
Best For: Those who are active duty, veterans and surviving spouses.
USDA Loan
This is also a zero-down payment mortgage for those who live in rural areas of the country.
Best For: Those with lower income and who wish to live in rural areas of the United States.
Loan Terms
When inquiring about the different types of loans available to you, make sure to ask your lender about the loan term options.
How long do you want your mortgage loan to be (30-year or 15-year)?
How is the interest paid?
What is the difference between a fixed-rate loan and an adjustable-rate mortgage (ARMs)?
4. How Much Will I Need for a Down Payment?
Lenders typically like to see borrowers come in with at least 20% down, but this is not always the case.
The loan you choose will determine the down payment. Also, it's important to talk with your lender about different options when it comes to choosing the down payment amounts.
Ask what it looks like with:
3.5% down
10% down
20% down
Lastly, make sure to ask your lender if there are any down payment assistance programs available. Your lender should know about both national and state-level assistance programs and how or if you can qualify for them.
5. What is My Interest Rate?
Maybe you already saw the email, ad, or flyer showing you the interest rate, but there is much more to your interest rate than meets the eye.
You need to ask your lender about the payment interest rate and the annual percentage rate (APR).
Payment Interest Rate
This is the rate the monthly mortgage payment will be based on. This is also the rate you will use when calculating your monthly payment and to determine how much goes towards interest versus the principal each month.
Annual Percentage Rate
This rate will be higher than the payment interest rate because the APR includes the payment interest rate, discount points and any other fees charged by the lender.
Ask your lender about discount points — upfront fees to pay down the interest rate.
Before you choose your lender, always be certain to understand the effects of the discount points and what that looks like with the overall interest paid on the loan. When asking the right questions, you may find that the lower advertised APR is not always the better option.
6. How Much Are My Closing Costs?
When purchasing a home, you will be required to pay closing costs. Closing costs typically range between 2-5% of your home's purchase price.
These fees are made up of mortgage taxes, lender application fees, attorney fees, title insurance, and appraisal fees.
Some lenders will allow you to roll the closing costs into your loan, however this is not usually a best practice. When you roll closing costs into your loan, you are financing the closing costs for the life of the loan — typically 30 years.
7. What Will My Total Monthly Payment Be?
Often borrowers will see an advertised monthly mortgage payment, however this monthly payment could be well below the actual payment.
Did you know your monthly mortgage payment goes towards a lot more than just principal and interest?
Your monthly mortgage payment typically includes:
Principal
Interest
Property Taxes
Homeowner's Insurance
Private Mortgage Insurance (FHA loan or less than 20% down with conventional)
A good way to remember your mortgage payment breakdown is to remember P.I.T.I. — Principal, interest, taxes and insurance.
For example, in Arizona a $350,000 mortgage at a 3.5% interest rate will have a principal and interest payment of $1,572.
However, once you add in taxes at $181, home insurance of $70 and private mortgage insurance of $146, your total monthly mortgage payment is $1,969 — 25% more than just the principal and interest payment.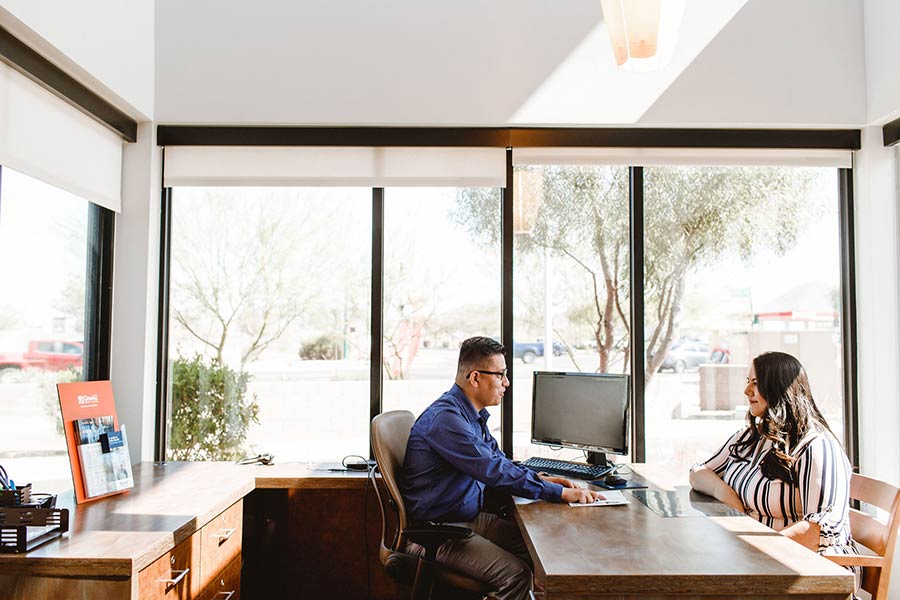 Still Have More Questions?
Now that you know which questions to start with, it's time to meet with your lender and ask these 7 questions. Whether online, in person, or over the phone, the next step is to get in contact with a professional mortgage lender.
Congratulations! — You've made it this far and now you're ready to take that next step to becoming a homeowner.
Chris "Peach" Petrie is the founder of Money Peach. Money Peach partnered with OneAZ to provide free financial education to members across the state. To learn more about OneAZ's partnership with Money Peach, click here.
APR = Annual Percentage Rate