The Top Tech Features for Your New Car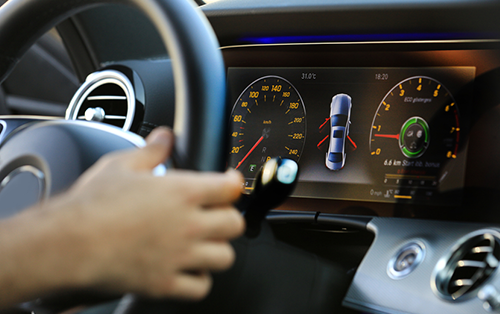 Picture this: you're at an Arizona dealership holding the keys to your brand-new car. After weeks of research, you know you chose the car with the best gas mileage, safety rating and even paint color. You're ready to cruise the streets in your new ride.
If you're in the market for a new car, you've probably put a lot of thought into the perfect vehicle. But these days, it's as much about the technology features that improve your driving experience as it is about fuel economy and safety. Here are five features that will take your morning commute or weekend road trip to the next level.
Keyless entry
Trying to get into your car with an armful of groceries or a toddler on your hip? That's no time to be digging in your purse or pockets to fish out your key. A car equipped with keyless entry means you can gain access with the touch of a button on the handle or a keypad on the doorframe. Many vehicles even have buttons or sensors that make accessing the trunk or back cargo space easier than ever.
Parking sensors
If you've ever bumped a rogue shopping cart or hit the brakes to avoid a passing car when backing out of a parking space, you know the value of sensors that beep when there's an object in your blind spot. Paired with backup cameras, which now come standard in all new cars, proximity sensors mean safer driving for you and everyone around. Plus, it makes backing into a spot or parallel parking a breeze!
Smartphone integration
Bluetooth audio has been a common feature in cars for years, but Apple CarPlay and Android Audio take this to the next level. Cars can integrate useful smartphone apps that make getting directions, playing music or answering calls easier than ever while keeping your eyes on the road and your hands on the wheel.
Remote start
This feature might seem like a luxury, but think about those 115-plus-degree afternoons in the middle of summer, or freezing winter mornings. Get the car cooling off—or defrosting—with the push of a button so it's ready to go as soon as you are.
Dual-zone climate control
This is the ideal feature if you and your passengers can never agree on the perfect temperature. Many cars offer dual-, tri- or even quad-zone climate control so passengers can adjust their own heating and air conditioning to keep everyone happy.
Whether you're looking for a commuter car, a rugged truck or an SUV that can fit the whole family, OneAZ Credit Union can help you get the best low-rate auto loan to match your new ride.
Meet our Virtual Team and apply for an auto loan today!
APR = Annual Percentage Rate